It's true that the smallest bits of bacon can add worlds of glamor to a dish.  It blends in and augments sauces, soups and salad, and even beverages; and I'm not talking about gruesome extravaganzas like the bacon explosion.   I love the smoky aroma and variety of textures contained within each deliciously sinful strip of cured pork belly.  Crispy burnt edges, chewy ribbons of meat entwined with luscious velvety bands of fat that melt in your mouth…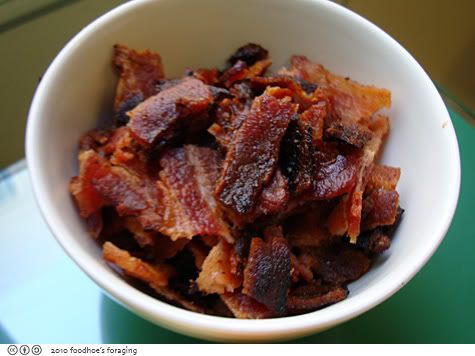 Mariposa Kitchen offers the class Everything Tastes Better with Bacon which has been constantly sold out, so last weekend JT organized a private cooking class for a small group of us. We met at Mariposa Kitchen, which is located in the beautiful marina district in SF, where we learned to make the following menu:
Bacon, Cheddar And Chive Gougeres

Butter Lettuce Salad with Peppered Bacon, D'Anjou Pears
and Gorgonzola Vinaigrette

Pan Seared Sea Scallops over Haricots Vert with Brown Sugar Bacon Lardons, Toasted Hazelnuts and Apple Cider Reduction

Petite Filets Wrapped in Bacon with Herb Butter

Bacon, Sweet Onion, Goat Cheese and Potato Galettes

Maple-Bacon Ice Cream with Bacon Brittle
That's quite a lineup… so for the next three hours, we worked under the tutelage of Caroline Fey, who supervised us in the most friendly manner.  We were similar to anxious children who needed frequent direction and praise…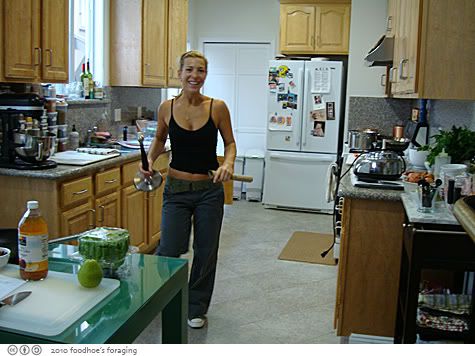 When we walked into the building, we all inhaled deeply and sighed…. the smell of bacon was in the air because Caroline had been busy prepping everything for our class.  A pile o' bacon fried to that perfect point where the thin parts are brittle and crisp and the thick meaty parts are deliciously chewy.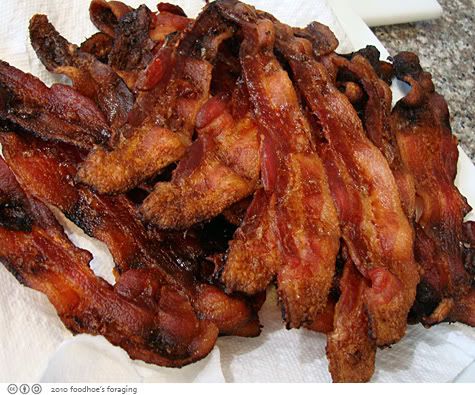 Pepper bacon was broken up into pieces to go into the salad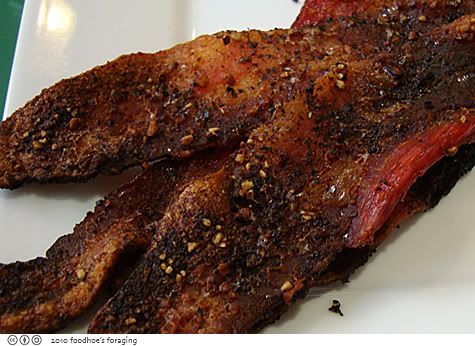 thick pieces of lardons cooking in the pan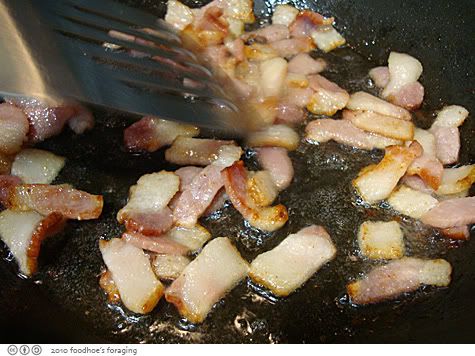 And so we began working in teams of two or three on the seven dishes.  Daisy tackled Maple and Brown Sugar Ice Cream, which combines heavy cream, whole milk, brown sugar, maple syrup, and egg yolks to form a rich custard after heating on the stove
Once it cooks to the proper consistency, it is strained into a bowl to rest over an ice bath, then into the freezer to chill until it's cold.
Once cooled, it is poured into the ice cream maker for whirling around until it thickens up to the consistency of soft serve ice cream.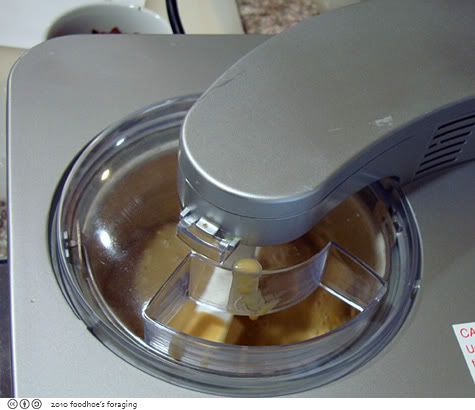 It's important that the consistency is thick enough so that the bacon bits don't settle at the bottom.  She folded in a generous bowlful of finely chopped crispy bits o'bacon to the mixture and then into the freezer to firm up.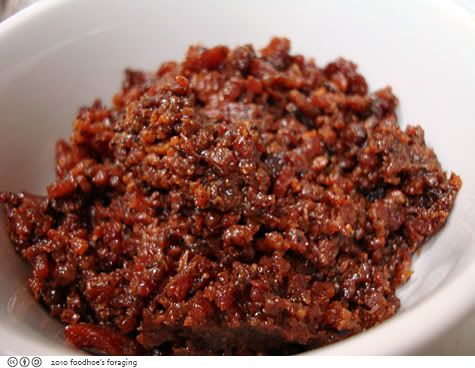 It was still a bit soft but scoopable and was served with delicious shards of bacon brittle, which was dark, crunchy and salty, almost bitter.  I might like this with an additional drizzle of maple syrup or something sweet to balance out the salt…but I have a sweet tooth when it comes to desserts.  Click here for the recipe.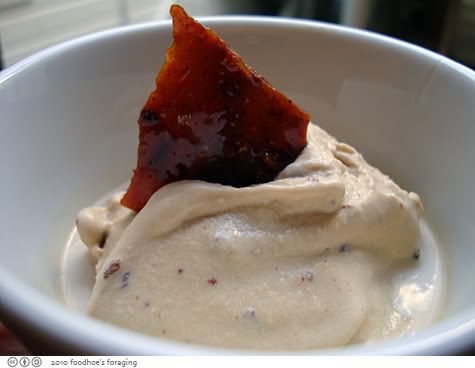 Here's the spread for the potato galette team.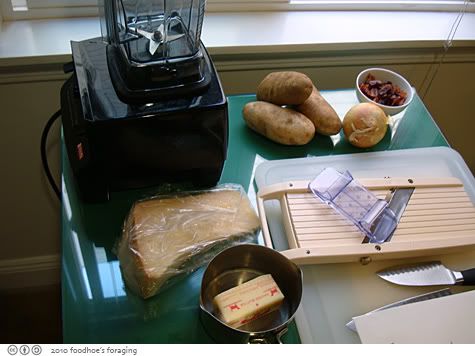 The mandoline is essential for thinly sliced taters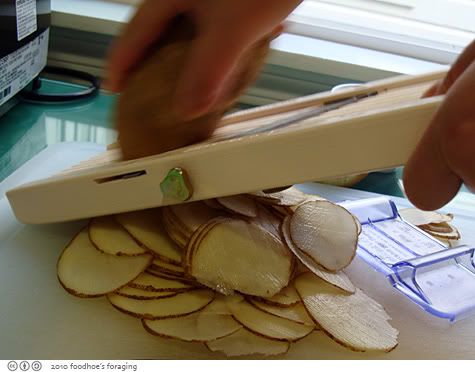 Layers of the artistically arranged potatoes with thin slices of onion, pieces of bacon, goat chese and parmigiano reggiano, fresh thyme, salt and black pepper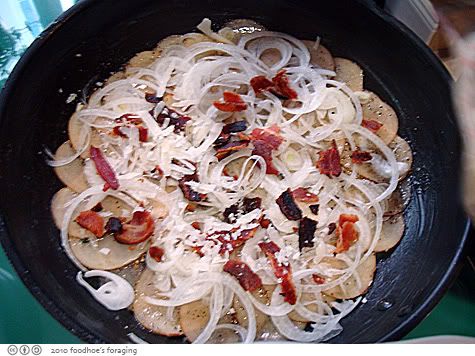 Great care was taken in the placement of each potato slice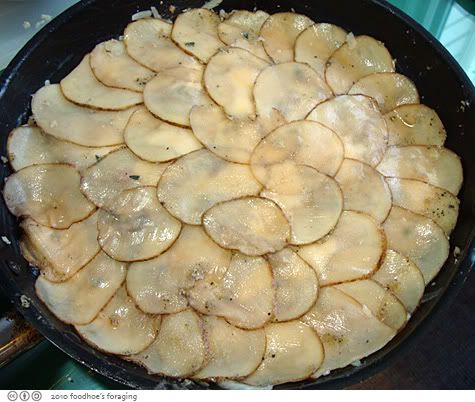 Each side was cooked in the nonstick pan to achieve a delectably crispy crust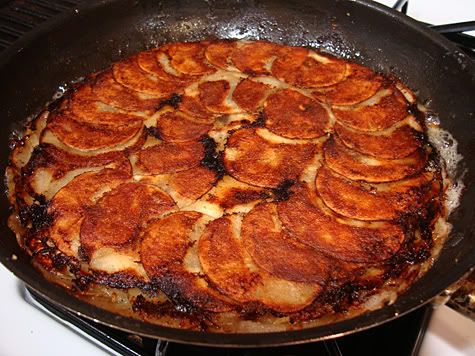 This was the most impressive dish of the meal.  We all swooned over how good this dish was.  I posted the recipe here.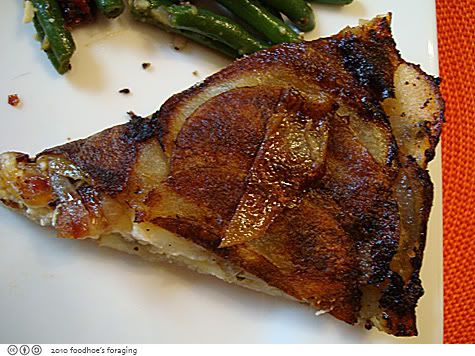 JT and I tackled the Cheddar Cheese, Chive and Bacon Gougeres, neither of us had made anything like it before, but it was surprisingly non-traumatic.  Good thing JT was such a hard worker, because I was off flitting about trying to take pictures. The batter cooked very quickly in the pan and was then tossed into the stand mixture.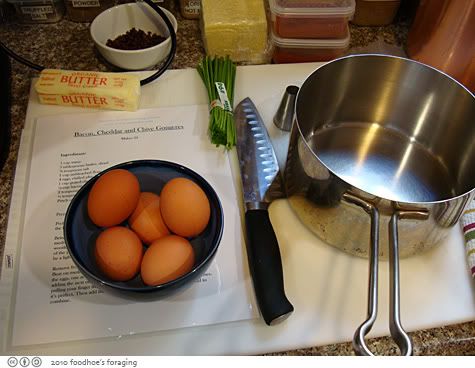 The kitchenaid professional stand mixer has a crank that lifts up the mixing bowl.  Way cooler than my frumpy artisan mixer… now I have mixer envy but since I have only used it like three times in five years, I don't think I can justify an upgrade.   Anyways, trying to get over my fear of power tools, this made the task a breeze…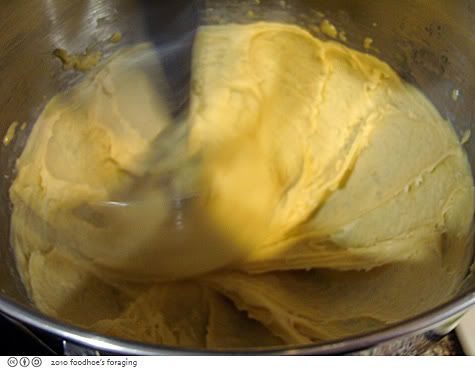 The funny thing is that both of us have taken cake decorating classes at Sugar and Spice (long ago when it was still on Balboa), so had some experience with using a pastry bag. We quickly piped two trays of cheesy blobs onto parchment paper lined trays, which were put into the preheated oven.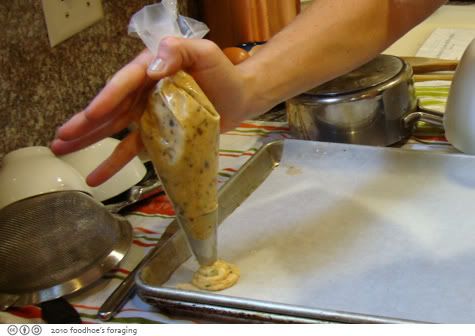 The aroma of baking cheesy chive bread filled the kitchen.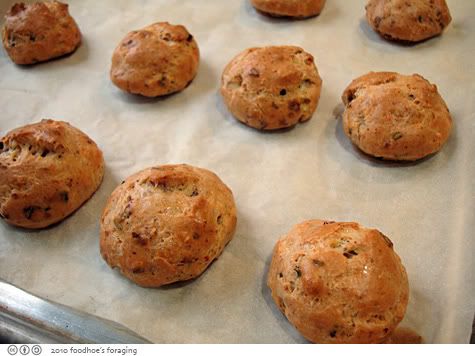 Delicious and eggy poufs, Caroline said that this batter (choux pastry) is the same as that which is used for eclairs and cream puffs, but savory in this case…  I put the recipe here.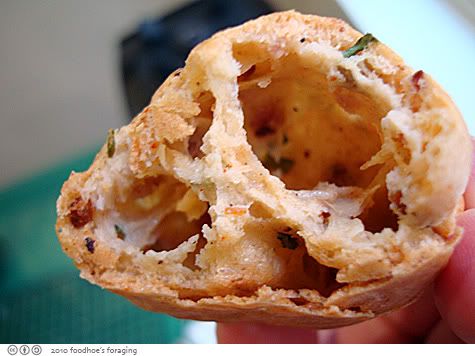 These thick cut slices of bacon are intentionally left underdone because they were wrapped around filet mignon and finished cooking on the grill.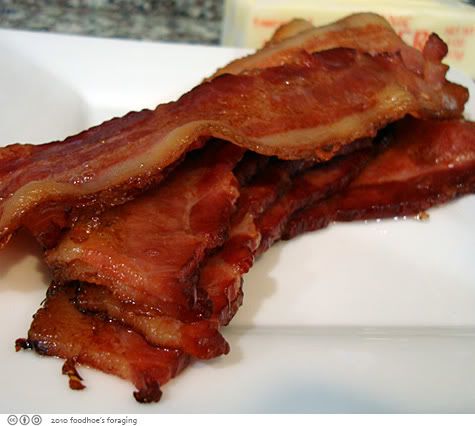 like so…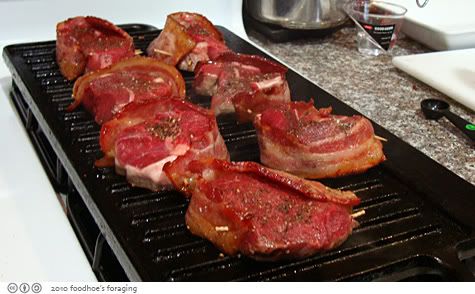 Cherie seared the scallops to perfection, while Daisy kept a watchful eye on the filets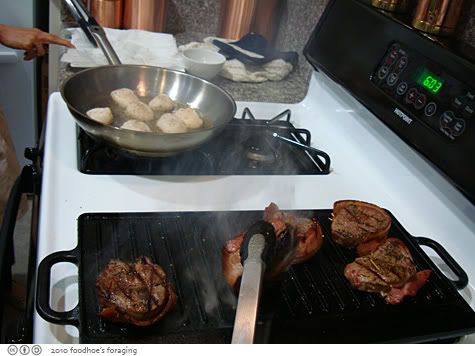 We used all of the herb butter, generous dollops on each fat filet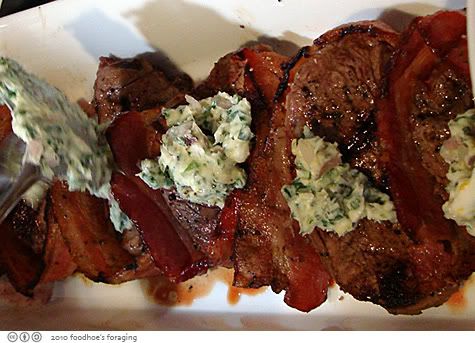 Daisy did a fine job, my filet was cooked just the way I like it…  and I admired the crispy browned edges of the bacon.  Click for the recipe.
The beautifully seared scallops were served on top of blanched haricot verts with toasted hazelnuts, caramelized lardons and drizzled with a tart apple cider reduction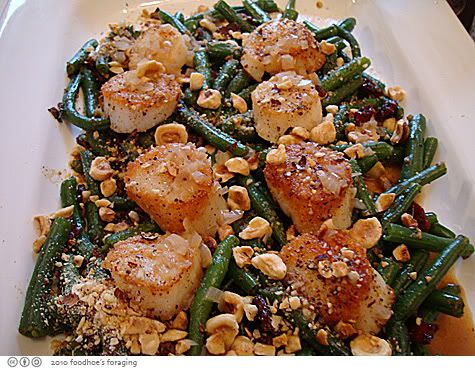 JT and I whipped up the salad dressing by tossing everything in the blender.  It was so easy, my biggest stumbling block was figuring out how to work the salad spinner…  Get the recipe here.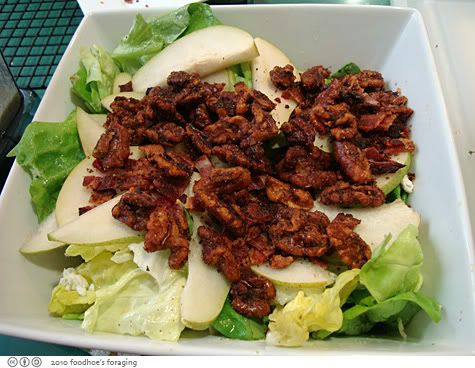 Some running around ensued, but Caroline had everything under control and soon we were gathering around the table ready to enjoy our meal…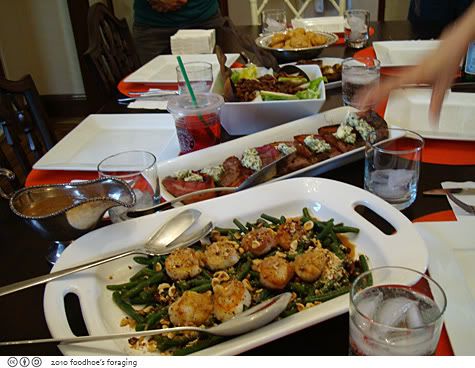 Here's my plate, everything was delicious and very well cooked too I might add.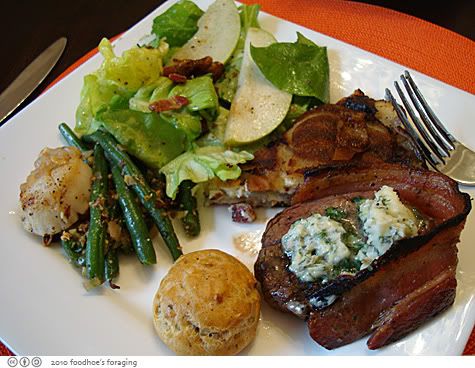 JT surprised us with these strange and wonderful Maggie May's Bacon Beer Caramels (made with dogfish head 90 minute imperial ipa) that she picked up at the last Underground Market.  They were oddly floral and had the faintest hint of effervescence…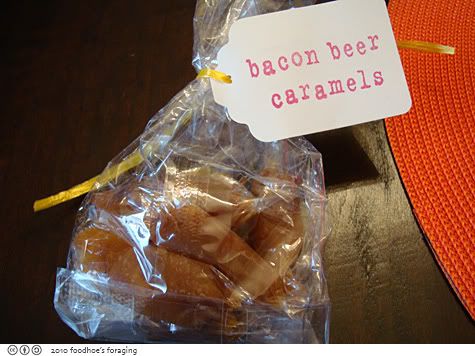 It was so much fun and the best thing is that we didn't have to do any of the cleanup… one of the perks of paying for the privilege!  It seemed very reasonable at $70 each, we couldn't have dined as well for the price, and we were each given an envelope with all of the recipes to take home.  We had a lovely time in Caroline's gorgeous flat, she is a gracious host, an excellent instructor and her recipes were all delicious and approachable.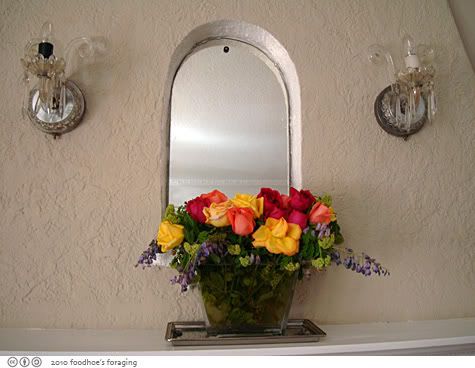 and yeah, it's been confirmed – everything tastes better with bacon…