699 22nd. St. @3rd, SF, CA, 94107 | 415.970 .0750 | facebook, no website yet… | Hours: Tues thru Sat 11:30 am-8pm. Sun 11:30-5pm
I was in the City this weekend enjoying the lovely weather at the 7th Annual Crawfish Boil and Ho Down with my friend the food blogging Single Guy Ben, along with steadfast dining posse Daisy, P and JT.  The sun was blazing in an unusually summery way and after spending several hours in the Marina Green trashing our fingers cracking open mountains of spiny little carapaces and sucking the heads of spicy mudbugs, we headed out to Potrero Hill to the cozy little dogpatch neighborhood to check out a newish ice cream parlor that the Single Guy had read about.  It is located on the corner of Third and 22nd streets, across from Serpentine restaurant.  You can tell it is new by the temporary sign taped to the window and I just love the name, Mr and Mrs Miscellaneous.  It sounds old fashioned and magical, full of promise and mystery.  We got there slightly before the 4 o'clock rush, which Ben said was the time that everyone would begin to scream for ice cream.  True enough, a line did form all the way to the door around then…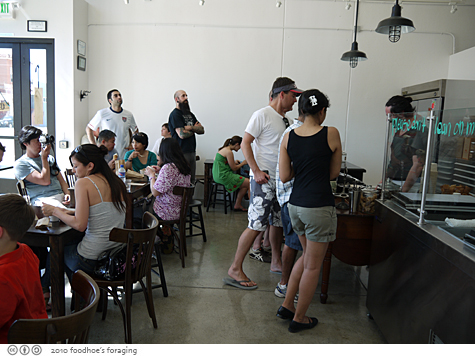 It's hard not to compare with other ice cream purveyors Humphry Slocomb and Bi-Rite Creamery, as they all make small-batch ice cream with organic, seasonal, and local ingredients, but the Miscellaneous Couple offers something more in a new old-fashioned ice cream and sweet shop.  The ice cream is served in scoops or cones, as hot fudge sundaes, banana splits, root beer floats, or with homemade toppings like caramel, hot fudge, pineapple, strawberry, and toasted marshmallow.  The flavors listed on the menu (which changes daily) all sound delicious, nothing outlandish here, but Chai Tea, Ginger Glace and Lemon Verbena are adventurous enough.
They also offer a variety of sweets, candies, and delicious looking cookies.
The small store is run by a two person staff, who must be Mr. and Mrs., as indicated by matching tattoos and earlobe disks.  The diminutive Mrs. is obscured behind the counter, but the couple, Annabelle Topacio and Ian Flores, both have a pastry background at places like Spago and CUT in Los Angeles, and locally, at Postrio and Brick Maiden Breads in Pt. Reyes.  Flores and Topacio make all their ice cream, confections, and baked sweets from scratch at the store using organic, seasonal, and local ingredients
I couldn't resist the  peanut butter malt balls because I love good malted milk balls, and was curious whether the peanut butter was inside as a filling.  I asked for a half pound, which was poured into a brown paper bag.
At first I was apprehensive when I bit into the ball, because my teeth encountered very little resistance going through the chocolate coating into the thick layer of soft peanut butter, but the two flavors combined and melted in a voluptuous mouth tantalizing way as I crunched the maltball nugget in the center.  Is very good this…
Daisy got a bag of the Almond Brittle, which we sampled and got our teeth glued together and our fingers all sticky.  She said it wasn't as good as the stuff she got at the Farmer's Market, which is only heresay to me until I see it!  It was lovely and golden and delightfully crunchy.
I got two scoops, the Ballpark, which is made with Anchor Steam beer, and studded with chocolate-covered pretzels and salted red-skinned peanuts, along with a scoop of Chocolate Malted Crunch which was dotted with Vahlrona chocolate coated crispy pearls.  The texture was creamy and rich and the ice cream was not very sweet and blended nicely with the variety of candies contained within.
P had a cone of Bananas Foster, which he let me sample.  It was bursting with banana flavor and I decided that I prefer to lick my ice cream, even if it is messier and drippy.
Licking is a much more satisfactory way to eat ice cream, but I don't think it is socially acceptable behavior to lick your ice cream when it is served in a cup.  The ice cream was good, parking was easy and Piccino is just up the street.  I will definitely come back as I'd like to see what miscellaneous marvels are on the counter, and perhaps try the candied violet ice cream if it's on the menu…