3500 Cedar Avenue S., Minneapolis, MN  55407 | 612.722.7072 | website
Do you know what a Jucy Lucy is?  It is a Minnesotan delicacy, a cheeseburger constructed from two thin ground beef patties that are sealed together with the cheese on the inside.  The Jucy Lucy along with hotdish casseroles, fried things on a stick from the state fair, cheese curds and walleye comprise Minnesota's claim to fame in the culinary arts.  Matt's in Minneapolis, is the home of the original Jucy Lucy, which has been documented in John T. Edge's book Hamburgers & fries : an American story, and voted #1 in the Travel Channels epic burger battle Food War.  We recently traveled to the land of great lakes to celebrate a happy  family event and using my phone's indispensable GPS, found Matt's Bar in a very unassuming building located in a residential neighborhood in southern Minneapolis.
It's a very popular spot.  We got there on a weekday around 1:30 and were surprised at how busy it was.  The menu is simple and includes tax and makes no mention that the Jucy Lucy is a half pound burger…  I love how sodas are referred to as Pop here.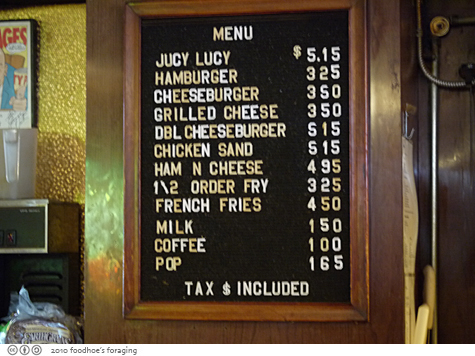 Here you can see the grill piled full of burgers in the various stages of doneness.
We sat impatiently waiting for our orders, which took a while considering the size of the grill and the amount of people waiting in the dining room…
When the Jucy Lucy finally arrived, it looked a bit charred but I imagine they have to grill the burgers very well in order to cook each patty through, as well as melt the cheesy center.  It left a smoky charred flavor on my lips, which I liked.  Our waitress warned us, as she warned every other table, to wait a few minutes to let it cool down, because the Jucy Lucy has a molten cheese core that will melt your lips off.  She said to start off by taking little bites off the edge and that said molten cheese will begin to spill out.
I had to take a few bites before I reached the cheese.  So here it is, cheesy molten core a gushing… and having the melted cheese infused in every bite reminded me of a philly cheese-steak burger.  It was good, very very good even… The bun seemed like it came straight out of the bag, but did manage to hold up to the double layer patty spurting out molten cheese.
The fries were a large pile, our waitress said it was big enough to feed three and came with a stack of tiny paper cups to pour ketchup into for dipping.  How very civilized!  They were good too, we split one order between two adults and two 13 year old boys, and it got a bit competitive towards the end.
Here is Nick's burger, I don't think he waited very long to bite the edges, thus the cheesy puddle around his plate.  He added some fries to make an all-in-one.  Mr.K was a bit grossed out and said once was enough, but I distinctly heard Nick say he wished he could hit the rewind button and start over with another jucy lucy on his plate…
Part of the reason I chose Matt's Bar is because my brother in law wanted a t-shirt from here (his name is Matt)…  But I'm so glad we made the effort, and I'm surprised this inside out burger has kept such a low profile over the years.  Sadly, I've never seen this rendition of cheeseburger in my many years of research on the subject here in California