65a 29th St, SF, CA 94110 | 415.695.7800 | website
It would be really easy to miss this restaurant because if you didn't know any better, you might think someone was having a garage sale or frontyard bbq…  The driveway has been converted into a open air porch where you can hang out and enjoy the cold clammy weather, it looks a bit chaotic but very inviting at the same time.
I met up with Liz and BG and their friend, dragonboat Lily who drove us over the bridge for the fried chicken, which is famous throughout the land. We entered the restaurant which is dark but very charming and cozy once your eyes become accustomed to the subdued light.  There are glowing lamps and candles that reflect onto the shiny vinyl booths and gleaming linoleum flooring.
Look at this this lovely chandelier, there are many little touches like this that add to the restaurant's many charms.
We sunk into our cushy booths and looked over the menu. Lily had one ambition for the evening, and that was to try okra… so we began with an order of Deep Fried Okra that was served with jalapeno lime aioli to dip ($4).  I'd never tried okra either and it was such a treat to sink my teeth into the thin crackly batter which provided a lovely contrast to the okra, which had a firm, slightly sticky-creamy consistency that was augmented by the firm crunchy texture of the seeds.  These delectable nuggets were smoking hot fresh from the fryer and had us flapping our lips in an attempt to cool off our tortured tongues.
We decided to share everything and ordered the Spicy Shrimp and Grits, ($11) which we loved.  The dish is a Carolina low country dish of sauteed shrimp with bacon, mushrooms and garlic over Anson Mills grits. The grits were creamy and rich and the spicy sauce was bursting with flavor, every bite was a delight.  The garnish of chopped green onion added a fresh bright touch.
We all loved the ooey gooey Mac and Cheese ($6.50) which had the most deliciously browned melted cheesy top.  The macaroni was firm and the curved tubes were filled with the rich and creamy sauce.
We ordered the Gumbo with andouille sausage and chicken ($10) mostly because it had okra.  It came with just a little bit of rice and was rather plain when compared with the glamor of the other dishes.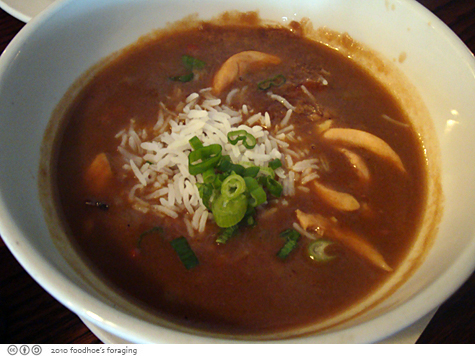 The Green Bean Casserole with Parm bread crumbs($6) looked so delicious with the crunchy breadcrumb topping and creamy cheesy filling, but had an unexpected sour flavor that jarred our tastebuds.  Fortunately, our fried chicken arrived so we moved onto the main event.
The highly anticipated Bucket ($33-1/3) was served in a popcorn tub that you usually see at the movie theater.  How absolutely charming, it really invites you to dig in!
And the chicken made from momma Clara's recipe with rocky jr chicken was delicious.  The meat was juicy and succulent, most probably brined, then coated with a spectacularly crisp and flavorful batter that compelled me to pull off and eat every last bit.
We inhaled the fragrant Garlic Mashers with gravy served along with Collard Greens.  I loved the greens, they melted in my mouth and had a silky texture flavored with rich chunks of pork belly
But my favorite thing from the whole meal was the popcorn.  The greasy pieces directly under the fried chicken were coated in a rich layer of schmaltz that was better than butter… seriously!  I couldn't stop eating this…
That bucket was incredible and I am inclined to agree with these amusing stickers I found at the front desk…  I'd get the bucket just for the popcorn!
but we're not done just yet…
We continued on for dessert at Mitchell's Ice Cream, which is a couple of blocks away.  The desserts back at the Front Porch featured scoops of Mitchell's ice cream, but we elected to stretch our legs for a bit of a walk to the source.  Mitchell's is really the first ice cream parlor where I had ever experienced exotic flavors like avocado, ube, ginger and halo halo.  They opened in 1953 and make the best ice cream cakes and pies too and even if it's cold and foggy outside, there's usually a line.
After my last experience eating ice cream from a cup, I have vowed to only eat ice cream on a cone.  There is something about licking up the ice cream that just tastes better.  I got my favorite  delicious combination of Macapuno ice cream (the King of coconuts) dipped in chocolate on a sugar cone.  I was so full, but so in love…
Liz had a 2 scoop cone with banana and chocolate caramel.  She liked the banana best.
Lily, the dragonboat warrior, got a pint of chocolate and something that might have been coconut…  BG got a pint of Cantaloupe Ice Cream that he tucked away for future use.
We were so dang full…