1745 San Pablo Ave (@ 18th) Oakland, CA 94612 | 510.444.2626 | online reservations | website
I met some xcoworkers at this lovely new restaurant in the Uptown district in Oakland for dinner a couple of weeks ago.  The chef Sarah Kirnon is known for her boldly flavored menu featuring the flavors of her heritage which includes the Caribbean and the American South.  She is especially known for serving the best fried chicken in the land.  My friend DebbieG loves Caribbean flavors, and the rest of us love fried chicken, so it was a most auspicious and happy gathering of friends.  We arrived in time for Happy Hour which runs from 4pm 'til 7pm and features $5 Violet Mules, Caipirinhas, or Summer Calypsos.
I got a $2 Red Stripe beer and perused the shelves lining the walls that are filled with interesting tchotchkes and beautiful and at times edgy artworks.
I believe this is the Summer Calypso, served in the old fashioned cocktail glass that looks so festive, but is so easy to accidentally slosh over the low shallow edged brim.
The dining room is airy and elegant, brightly colored paintings line the walls, and beautiful faceted hanging lanterns glow softly overhead.  Once seated, our server told us we could continue ordering drinks from the happy hour menu even in the main dining room, how cool is that?
We looked over the menu which offers Chef Kirnon's homage to Caribbean Creole cuisine  with an emphasis on seasonal produce.   The Watermelon appetizer was brilliantly yellow and so sweet…
We split a few appetizers, beginning with Sweet Plantains with garlic oil ($4).  These were marvelously dense and creamy.  Both Liz and DebbieG said that these are what you dream of when you think of fried plantains… the intoxicating  flavor from the garlic balanced the caramelized sweetness of the fried plantains.
The Spicy Lamb Topped Grits went down like velvet.  The  tender minced lamb was sauteed and tossed with fresh herbs, leeks and carrot coins and made a savory topping to the rich creamy grits.
Liz said she would share her fried chicken with me if I ordered the pepperpot, this is her pile of Miss Ollies Fried Chicken ($21) served with fingerling potatos in a lemony sauce, and a pile of summer succotash made with Brentwood corn, english peas, carrots.
We marveled over the thick, crunchy batter and I was compelled to gnaw every possible savory and delicious bite.  Hidden inside, the tender meat is juicy and full of flavor.  The chicken is fried but in no way greasy.  I am a dark meat girl and snagged a thigh, which meant that I missed out on the wonderous breast meat, which was stuffed with fresh herbs (parsley, cilantro, and thyme).
I steered clear of the House hot sauce made with habanero peppers which are 50 times as hot as a jalapeno pepper, which I find challengingly hot enough to my wimpy tastebuds.   The brightly colored pungently aromatic sauce was served in a repurposed glass Coke bottle.
Brennan enjoyed this big fat Molasses Brined Pork Chop served over braised black eyed peas, house cured pork belly, mustard greens, salsa verde (22).
The slightly pink meat made sweet by a brine of molasses, ginger and butter.  I just love brined porkchops and look at the nuggets of pork belly…
Amerindian Pepperpot ($22) was an soulful stew of slow cooked oxtail, pigs feet, short rib, duck leg topped with dense chewy leaves of kale.  It looked dark  and mysterious, full of jiggly wiggly stewed meats.
The stew is dark sweet and spicy thickened with cassareep, a cassava-based syrup, infused with the pungent flavors of cloves and cinnamon.  The trotters were gooey and gelatinous.  Secretly, although I enjoyed this dish?  I was a little bit jealous of  the porkchop and fried chicken plate, but that's what friends are for – sharing…
My dish came with a side dish of Rice and beans that I barely remember tasting.  I think they were spicy.,,
For dessert, I ordered the Buttermilk Panna Cotta, topped with tiny grapes (6.5).  The texture was firm and gelatinous, but didn't quite wobble enough for me.  It was rich and creamy and tart and the tiny gemlike grapes were sweet and juicy.  They were so small at first I thought they were pomegranate seeds.
We shared the Pumpkin and Pecan Skillet Cake topped with whipped cream (6).  This disappeared in the blink of an eye.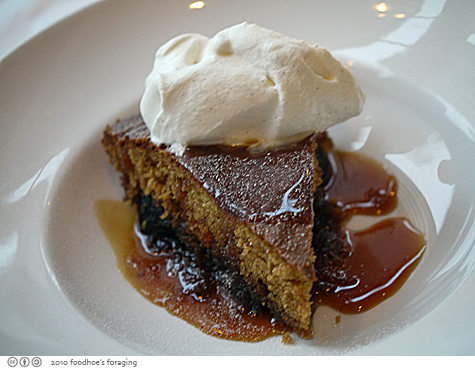 We made Cody share his Warm Soft Chocolate Cake, with Lucero Farms strawberries, vanilla ice cream (7.5).  Warm molten chocolate, need I say more?  Things got competitive…
Rum Raisin Bread Pudding ($7) topped with chocolate ice cream. I must have been too full because I don't remember a thing about this.
We had a wonderful meal, the service was very friendly and around when we needed it.  What I especially loved is that we ran into Kristina, another xcoworker who recently moved back to the Bay Area.  Afterwards, we walked past an old ice skating rink to a rather empty lounge where we enjoyed a nightcap before parting paths.