55 Webster Ave, Oakland, CA 94607| online reservations | 510.444.1233 | website | twitter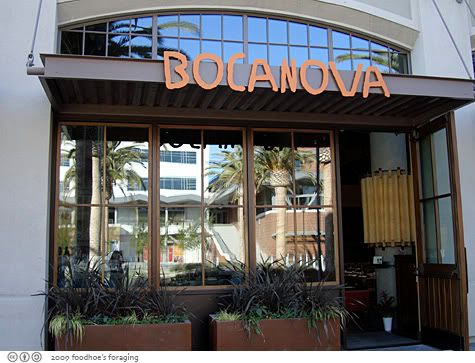 Bocanova opened in September 2009, replacing the Old Spaghetti Factory, and ending an era of chain restaurants like Tony Roma's Ribs, El Toritos, and TGIFridays that had plagued Jack London Square with bland mediocrity for many years.  JLS really is poised on the brink of a rebirth with a new six-floor, 72,000-square-foot Jack London Market scheduled to open maybe next year, artisan Blue Bottle Coffee opened a cafe in their nearby roastery on Webster, even Miette Patisserie opened up a lovely storefront location where you can take a variety of baking classes!  I love the changes going on at the square, and can't believe I still haven't posted about this restaurant, which is one of our favorites.  I'll start with our most recent dinner and then some photos of our previous visits, just a warning – it's a long post… Here's the view from the outside patio which is a delightful spot on a warm sunny day.
The husband and wife team of Chef Hackett and Meredith Melville are alumni of local restaurants
Chez Panisse
,
Oliveto
,
Enrico's
, and
MarketBar,
and their 6,500 square foot restaurant serves an inspired and delicious menu that spans the Americas, with an enthusiastic salute to the contribution Latino cooks have made to the diverse culinary heritage of the Bay Area. It celebrates the new and the old worlds with the best and freshest local ingredients.  The restaurant has been beautifully remodeled into a big airy space with an expansive bar/lounge area, an open kitchen, and features revolving exhibits of local artists.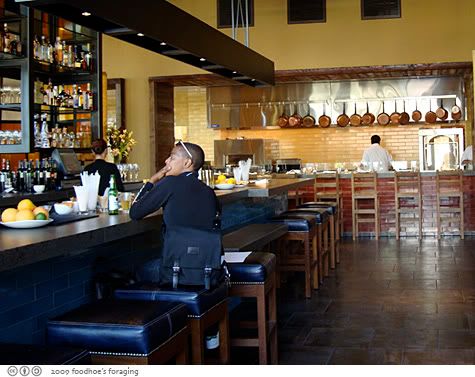 Mr. K and I visited last Friday to celebrate his birthday and sat at the chef's counter where we had a great time watching the chefs prepare and assemble good looking plates of food.
The only downside was the fierce heat radiating from the rotisserie and oven, it's no wonder the chefs were wearing headbands…
We shared a plate of Fried Shishito Peppers sprinkled with large crystals of Trapano salt ($7).  Really large crystals, like rock salt sized pieces…  There was only one really hot pepper in the bunch, which of course I bit into…
The Garden Lettuce Salad ($11) with creamy caper dill vinaigrette was full of unusual and refreshing flavors, I haven't paid attention to a salad like that in a very long time…
I had a hankering for beef and ordered the Kobe Style Bavette Steak ($19) which had a marvelously charred exterior. Each bite was succulent and tender and good dragged through the spicy chipotle mushroom sauce.
Mr. K chose Duck Breast served with a spicy, savory prune mole and a brussel sprout apple slaw on the side.  I especially loved the strands of chives, which added a flavorful punch; the sauce was so addictive that we cleaned every drop from the plate.
We opted to skip the side dish in order to enjoy dessert, and split the Bread Pudding which was topped with a scoop of the most decadent chocolate ice cream that began to melt and turned into a heady sauce.  The textures were incredible: the crisp flaky edges of croissant mixed with rich gooey custard.  Mr. K said that was the best dish of the evening and he isn't really a sweets person… that surprised even me!
Our server asked if we wanted coffee or something, and I asked her to bring us something to go with our dessert, and a suave gentleman returned bearing two glasses, saying he brought the port to go with the chocolate ice cream and a madeira to go with the bread pudding.  It was incredible and really made the dessert taste even better.
While I was fiddling with my phone trying to find the secret password to unlock my Blackboard Eats discount (30% and if you don't know about Blackboard Eats, you need to look them up), the owner came by with delicious chocolates that looked like stylized lips.  The interior was a rich hazelnut chocolate ganache covered with a pearlescent dark chocolate coating that was the perfect ending to our meal.  Now, I want to tell you that I completely forgot that I had the discount and had already signed the check, but our server was very gracious and accommodating in getting our bill amended.
My first visit was last Fall with my sister in law Casey, and we sat out in the patio to enjoy the warm weather and view.  The restaurant was fairly new at the time and so it was easy to walk up and get a table outside.
We split an appetizer of their Dungeness Deviled Eggs served with chipotle aioli ($7).  The flavors blended together very well and we enjoyed each savory bite, although we found this to be also very filling…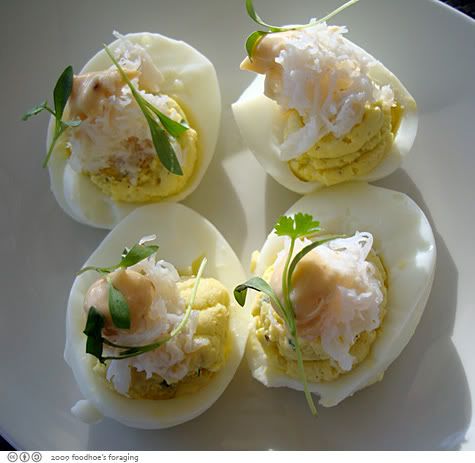 Mexican Wild Shrimp Cevich, poached and served with corn, onion jicama, chiles & cilantro ($9) was a rather large mound served with plantain chips.  This was my favorite of the two ceviches that we tried, it had the spicy, tart, crunchy elements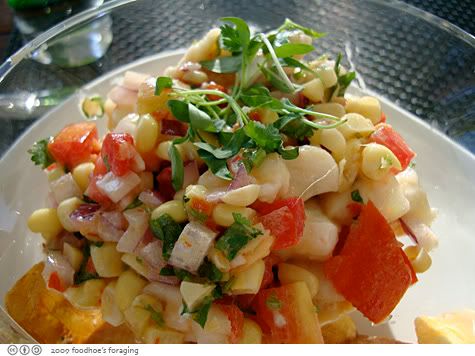 The Halibut Ceviche–tomato, zucchini, cilantro & aji amarillo ($9), was a bit flat in comparison.  It wasn't zesty or spicy, and tasted bland.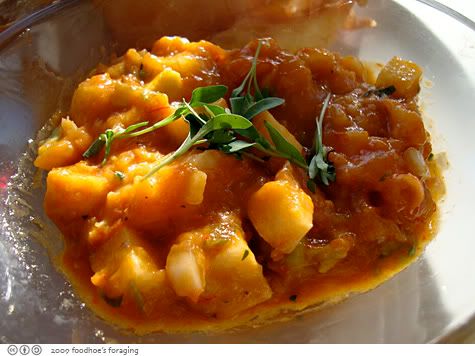 Casey wanted the Prather Ranch Mini-Burgers ($9) which were served with guasaca sauce.  These were very good, the tiny burgers were fatty and rich and the surrounding buns had the perfect weight and crust.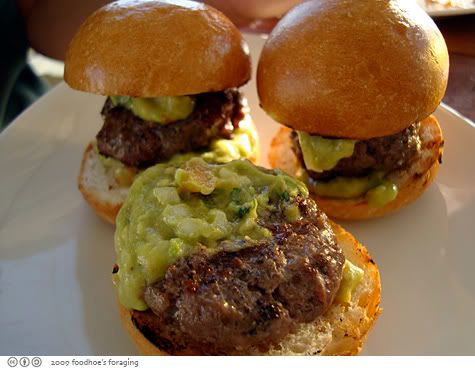 I had the Peruvian Marinated Chicken which came with an interesting sounding guajillo & banana salsa ($21).  I don't remember anything about this dish as I was too full and had it packed to go.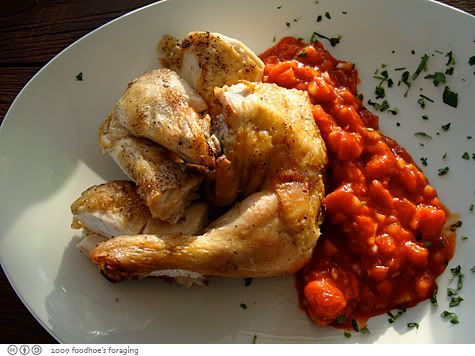 I visited with Mr. K last spring on a gorgeous sunny day and we were seated inside (the patio was full).  We loved the Jicama Wedges with Lime Juice ($3), which were zesty with lime juice and spicy chiles and chopped fresh cilantro.  This classic preparation was an eye and tastebud opening experience and we now make this often at home.  A sprinkle of salt really makes the flavors pop.
The next visit they were noticeably not spicy with the barest flecks of chiles and a lame squirt of lime – quite a disappointment.  Between this version and the one before, you can guess which one was better…
Mussels were fantastic topped with crusty bruschetta to dip into the flavorful broth.
We were served a complimentary treat for dessert, delicious little bars full of chopped nuts, dried fruits bound with a sticky caramel.
And we finally got to sit outside on the patio for a late lunch last summer.  BTW, they will bring a nice basket of epiloave with butter if you ask for bread.
We really enjoyed the Marinated Sardine appetizer, which had a colorful and unusual topping of fried crunchy things.  The sardine was alarmingly large, but it was soft and buttery and had a zesty bright flavor.
We enjoyed the Rescoldo Vegetable & Caramelized Cheese Plate ($15) a summery salad made with roasted vegetables (tomatoes, onions and zucchini) drizzed with black olive vinaigrette and topped with a slab of roasted cheese.
The cheese was gooey inside with a browned crust that was fantastic spread over bread.
We split the Sea of Cortez Scallops ($21) served over a Brazilian curry sauce, which did not taste like curry as I know it.  It actually was not spicy and almost bland and herby.
We watched the suave man in a suit come by and serve a delicious looking roasted fish to a nearby table, a nice touch.
The lovely interior has quite a variety of glowing lights that soften the industrial and lofty heights, I especially love the hanging Edison lanterns that remind me of Frankenstein's laboratory.   But I prefer sitting outside when the weather is nice, or at the chef's counter if it's cold out.
It's really nice to walk around afterwards and enjoy the views… or before to work up your appetite.