116 Kenyon Road (Intersection of HWY 169 & HWY 20), Fort Dodge, IA 50501 | 515.576.2290 |
This post is from the drafts archive from a couple years back about the only restaurant I have eaten at in Iowa, which is so much in the news these days…  While visiting Mr. K's parents in southern Minnesota we made arrangements to hook up with his cousin Christy along with her daughter and niece, who all live in nearby Des Moines, Iowa.  I was charged with finding a suitable restaurant in Fort Dodge, Iowa which is located somewhere in between Fairmont and Des Moines (our respective starting points).    It was more than an hour drive for each party to get to the restaurant, we traveled along country roads dotted with farm houses and I felt like Laura Ingalls Wilder traveling through the prairie.
I searched long and hard online for Iowan cuisine and found a list of 100 things to eat in Iowa before you die that was compiled by the Des Moines Register.   This list features regional/house specialties and unique dishes no other place serves (or does quite as well).  At the top of the list is taco pizza and some standouts were sauerkraut salad, spaghetti soup, loose meat sandwiches or sloppy joes from Maid-Rite and an apple dumpling from a truck stop.   I was dismayed to note that not one specific item of the 100 could be found in the Fort Dodge area or even Webster County; however, the breaded pork tenderloin is an Iowan specialty that has been documented here, here as well as on the fabulous Roadfood website, so I could only hope that item could be found on most menus.  I called the Chamber of Commerce of Fort Dodge, who directed me to their now defunct website, which listed menus and even had photos of the food.  In this age of electronic media, I found it to be extremely challenging to gather much information online at all… even on Yelp.com.  Also, in consideration of some of our parties dietary restrictions, I nixed trying to track down the taco pizza and we decided to meet at the Cellar, a small steakhouse which features old-school American cuisine.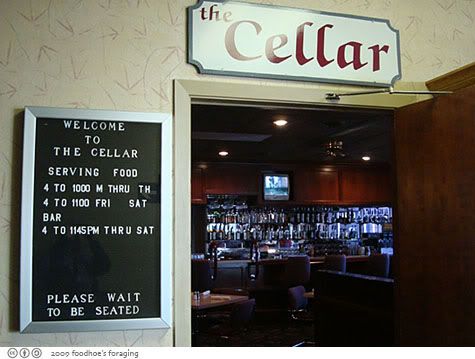 The restaurant is attached to a motel which was conveniently near an off ramp at the junction of two highways.  The entrance was gloomy and a bit shabby with the feel of a bowling alley or casino ambience, but we were seated in a brighter dining area.  People in Iowa take their pork seriously, and I found that the chef, Kevin Moore,won the designation of Premiere Chef at the  Taste of Elegance this year, which is probably the most prestigious culinary competition in Iowa.  He humbly said, "One of the things I've always kept in mind is that I cook in Iowa, and I cook for people who really like their 'meat and taters.' So I can only go so far out on the limb…"  Read about the competition here and a local version here.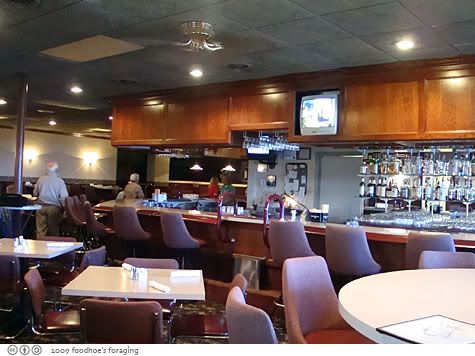 The Cheeseburger Chowder is considered to be a regional specialty, which I had to order.  It was a thick soup,
like cheesey cream of velveeta with browned bits of hamburger.  Chunks of chopped pickle, fried onion, tomato and lettuce would have made it more interesting…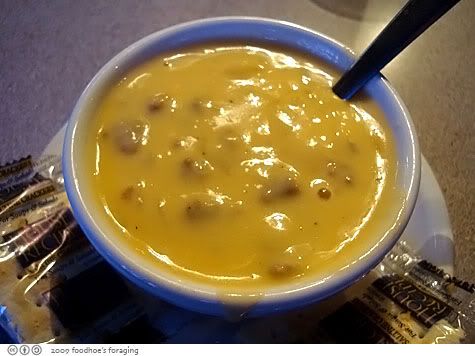 Since we were in pork country, there were plenty of options on the menu.  I was pleased to be able to order the Breaded Pork Chop which was served in a bun with fries on the side.  The meat is lean, a tenderloin-cut pork chop which is pounded flat, breaded, and deep fried and served on a bun with ketchup, mustard, mayonnaise, and dill pickle slices. It is very smilar to schnitzel and as such, may be related to the large population of German immigrants that originally populated central Iowa.  Tonkatsu in a bun to me…
My father-in-law Don had a bowl of cottage cheese as a first course, which was served with saltine crackers.
Mr. K's salad was a pile of ice berg lettuce and some dry shreds of carrots and red cabbage on top, along with a cellophane wrapped packet of saltine crackers placed directly on the lettuce.  It was very cold like it had been sitting in the refrigerator.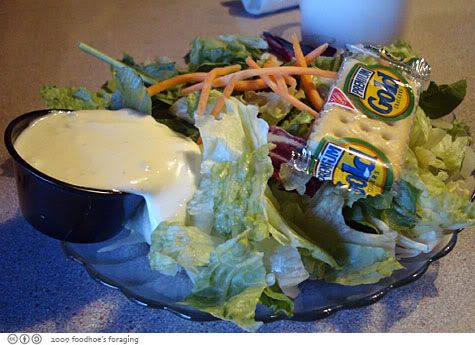 Both Mr. K and his father ordered the Baby Back Ribs, which Don said was very tender, although Mr. K thought it wasn't spicy enough.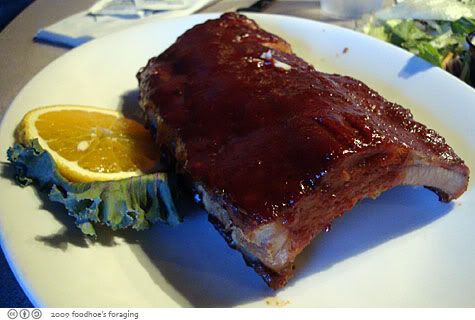 Don had this enormous mound of cheesy mashed potatoes that looked like it may have spent some time under a heat lamp.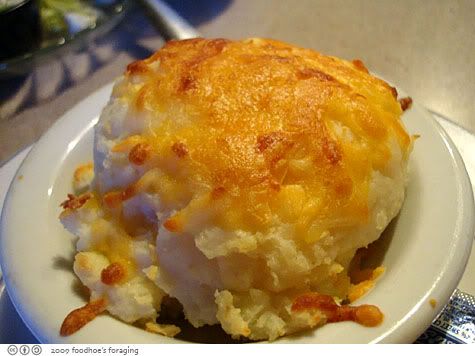 My MIL (mother in law) Harriett had the "Iowa chops," nearly two inches thick.  She said it was a bit tough and dry.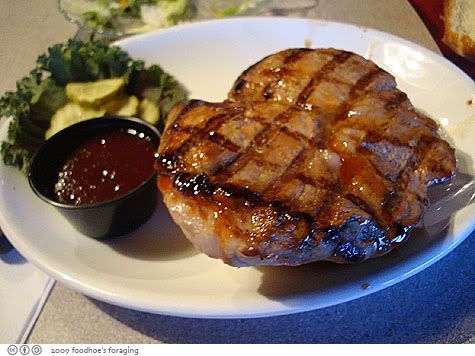 I shared dessert with the two girls, a chocolate volcano cake drizzled with chocolate and vanilla sauces.  It was good for a few bites, very sweet, the kind of dessert that is meant to be shared…
By the time we were finished, the restaurant had begun to fill up with a mix of regulars, some in fancy evening wear, many in jeans and baseball caps.  It was a very interesting experience for me to travel out to this somewhat remote area with very few dining options.  Next time we are out in the midwest, I would love to explore more of the regional specialties, like the little diner serving hot dish…