20669 Santa Maria Ave, Castro Valley, CA 94546 | 510.500.9182 | website
While perusing the unreliable oracle known as Yelp, I happened upon Cloud 9 Teahouse which recently opened in Castro Valley, an area that is not generally known for progressive taste in dining.  The teahouse serves Hong Kong style milk tea, boba and specialty snacks that people were raving about and repeated mentions of an ice cream burger and especially their Taiwanese shaved snow (also known as snowflake), caught my attention.  It is in the old Swiss Delices cafe (which moved over to the main boulevard), and they have not changed anything with the storefront, which has a charming old fashioned appeal.
Inside it is a clean and modern cafe with a back patio with covered tables to hang out at and there is a separate game room where you can play board games with a selection of comfy chairs and a sofa.  This room really kind of feels like you are in someone's family room.
Here is the menu from their website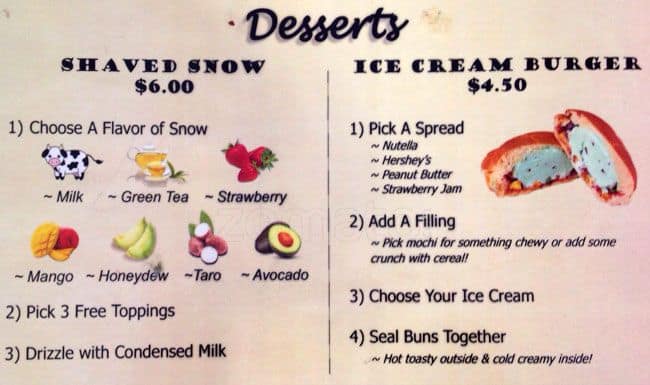 Shaved snow is a popular Taiwanese frozen dessert, similar to shaved ice but it is made of sweetened milk mixed with flavorings (green tea, taro, strawberry or mango), which is then frozen into cylindrical blocks. The blocks are mounted onto an ice shaver which slices it off in paper thin ribbons that are gossamer thin, with a soft and fluffy texture that is light and rich.  It is quite different from traditional shaved ice, which is more like eating snow as it occurs in nature.  Toppings include taro, popping boba (small edible balloons filled with a sweet syrup that pop when you bite into them), sweet red beans, cubes of chewy mochi, jellies, regular boba (chewy pearls made of tapioca) and more.  My sister and I tried the green tea flavored snowflake, which actually was a little bitter, but the sweetened condensed milk that was drizzled over and the sweet red beans helped offset this and I loved the chewy tapioca pearl boba even more than the cubes of sweet mochi.
My cousin Megu and her kids shared a strawberry snowflake, which was far more flavorful and refreshing than ours.  They also had chewy mochi and boba, but had a scoop of the deliciously flavorful lychee fruit along with sweetened condensed milk drizzled over everything.  This was a brightly flavored feast for the senses and next time, I am getting one of the fruity snowflakes and recommend that you do too.  I forgot how much I like lychee, they have a juicy sweetness similar to grapes but are slightly tart with an intoxicating tropical fragrance.
We were excited to try the Ice Cream Burger, which consists of an exterior bun that is similar to gigantic Chinese egg waffles, spread with a filling like nutella, jam, hershey chocolate syrup or peanut butter.  Then you can add a crunchy cereal or chewy mochi and a scoop of ice cream of your choice. Finally, they seal the buns together in a special contraption, which gives it a crunchy outside and a creamy inside.
Cookies and Cream ice cream, nutella, and cinnamon toast crunch cereal made a fantastic treat!
I am really happy to have this in the neighborhood.  The snowflakes are a super refreshing treat that seem like they have less fat than ice cream, which means less guilt… right?  And definitely should be enjoyed while we still have the warm summery-fallish weather.