1700 Laguna St, San Francisco, CA 415.474.2866
It is a little hard to find as they have a very low key front, but it is on the northeast corner of Laguna and Sutter. The interior is very cozy, bright and airy with tall ceilings and spare minimal decor. Though it's quite small – I counted only 12 chairs on the floor, we didn't feel constrained to keep our voices down, as they had jazz playing in the background. From what I hear reservations are essential.
We looked over the menus and were dizzied by the unusual selection of not your average run of the mill sushi bar food, not even edamame! We had alot of questions about the dishes; does it have this, what is this dish like blahblahblah, so we ended up going with the omakase, deciding to leave such decisions to the chef, Naka-san's, authority.
Our first dish was a small exquisite dish of seaweed mixed with sliced bamboo shoots, very good textural combinations flavored with dashi and topped with crisp, razor thin slices of carrot.
Beautifully presented, our next course was tofu salad served in a perfectly carved out persimmon. It was a cold and refreshing dish of creamy, slightly tangy tofu combined with ground sesame seeds then tossed with crunchy cooked spinach and occasional small bits of sweet and spicy fuyu persimmon.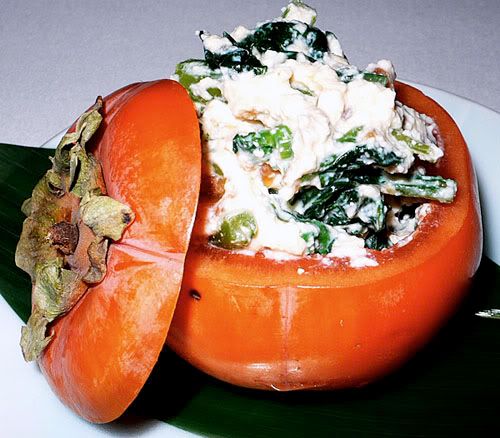 Then we enjoyed a very fine assortment of sashimi, served with freshly grated wasabi (this stuff rocks!!). Everything was incredibly fresh although I had textural problems with the ika which just turned into rubber bands that had to be spat out.

The fried calamari was quite a departure from the standard western style dish, instead they are prepared chopped, mixed with slices of burdock and possibly other vegetables, then dipped in a slightly denser than normal tempura batter and fried. They are served in a bowl of broth (that normally is served as a side dip) and topped with a nice crunchy green snow pea.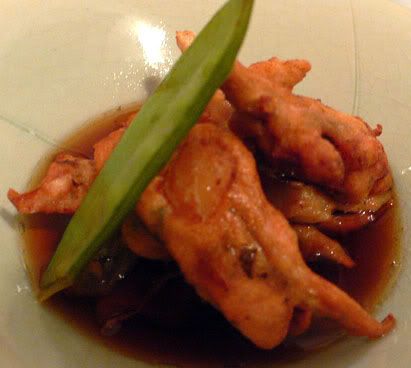 Next came the chawan-mushi, a soft egg custard in a steaming fragrant dashi broth that is fun to dig through to unearth gingko nuts and morsels of chicken, shrimp or crunchy vegetable.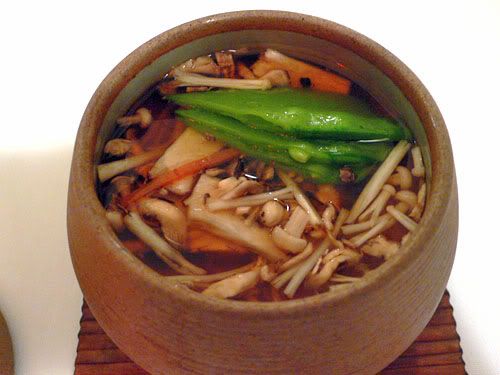 Then we sampled an assortment of sushi, which was again brilliant buttery cuts served with the very addictive freshly grated wasabi.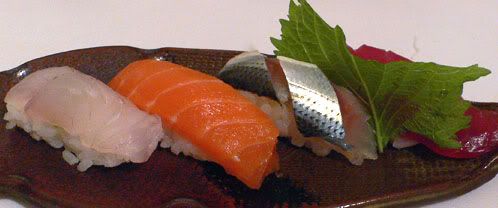 Just when you think it's over, you are served miso soup in a very small elegant covered laquerware set. They use a red miso paste, which has a dark dense flavor with wakame and enoki mushroom. The very last dish was a succulent slice of honeydew melon.
That was a very very good kickass meal. Next time I want to sit at the sushi bar and get the chef's choice of sashimi! I think we paid $60-70 a person which included quite a bit of beer and sake…