NOTE:  This restaurant has closed…

previous visits: 11/07/06; 3/04/07; 10/17/07
I decided to splurge and lunch here again and it was even more exciting than the first visit. We got there early when they open at 11:30, so our service was very attentive.
The menu overflows with girlish abandon; the appetizers are called flirtations, entrees are commitments, desserts are seductions. But the flavors are pure boldness, in combinations that energize your taste-buds, zinging with astounding clarity. Each bite was a joy.
CK enjoyed this refreshing beverage with lime, mint and ginger.
The Tuna tartare flirtation was small but very tasty, served with an astonishing cucumber-melon sorbet and a little blob of spicy sambal. The sorbet was was intensely cucumber flavored with a fluffy light texture and was very refreshing. It tasted a little salty and tart.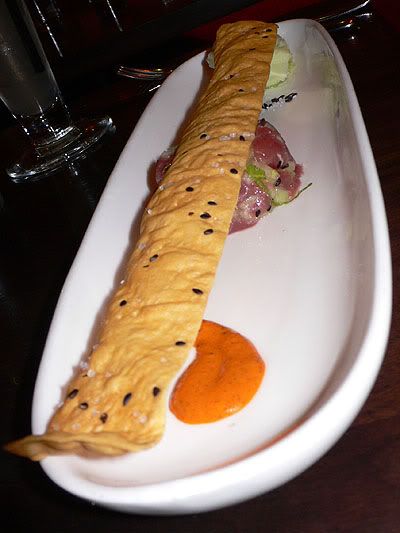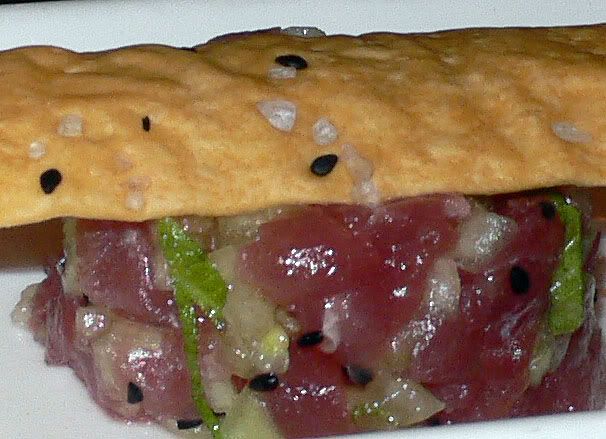 I had the Seared tuna nicoise, served over house-made black pepper noodles, crisp french beans, black olive & rosemary tapenade, served over a large mound of capers. The combination of tapenade and capers was a little overwhelmingly salty, but the tuna was buttery soft against the crisp beans.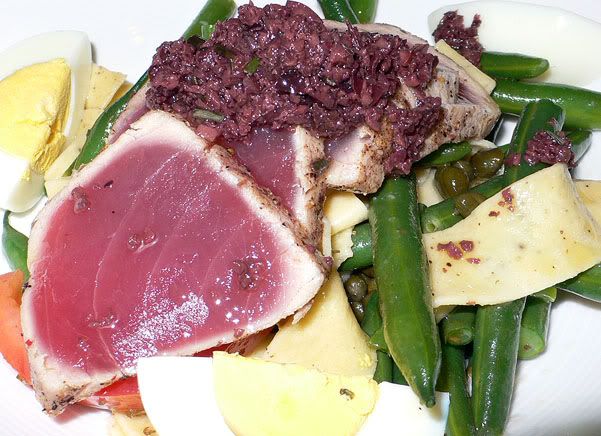 The Hazelnut chocolate parfait was a rich and luscious frozen cylinder reminiscent of the old astro pop shape, on top of a small dense cocoa noir cake, served on a plate along with with poached meyer lemon peels, a small scoop of lavender ice milk amidst swirls of a rich dark chocolate sauce.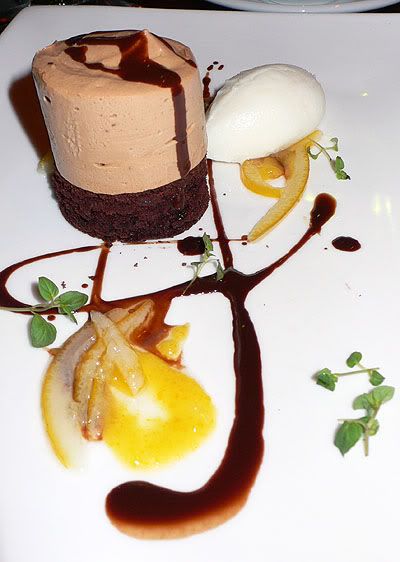 The Grapefruit granite was very refreshing served with blobs of pomegranate gelee (which had the thick consistency of finger jello with an intense jammy flavor), strewn with shredded shiso leaves & grapefruit slices, along with a light frothy yogurt sorbet. The combination of shiso (which is an herb that is hard to describe but has distinctive taste of its own that is a combination of mint/cinnamon/dill but even that is not quite right… ) and grapefruit is a perfect pairing of tart/sweet and that elusive pungent flavor. This was an explosion of flavorful tasty bites and was one of the best desserts in recent history that I have enjoyed.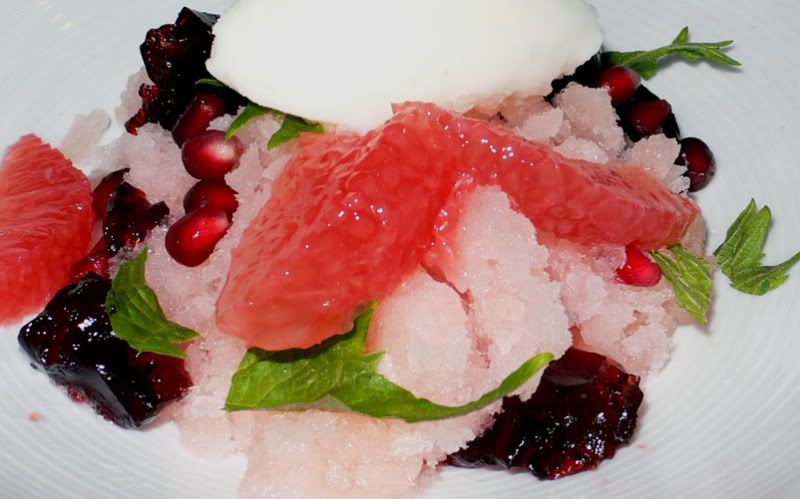 The interior is really stunning and I noticed a small atrium/garden towards the back. Still need to go check out their happy hour for the $5 drinks and $5 appetizers. We spent about $30 each for lunch (no alcohol…).