This beautiful refuge is located in the tourist packed Fisherman's Wharf/Ghirardelli Square area. Yes, it is expensive like all of the restaurants in the area, but it is probably the only one that doesn't cater to the tourist industry with jacked up prices, crap food and poor service. They exist primarily as a restaurant and serve refined vietnamese cuisine that is very well prepared.
The interior is elegant and casual with architectural elements and colonial style that captures the romance of a bygone era.
Along with the high ceilings, are high tall windows with teak wood plantation blinds.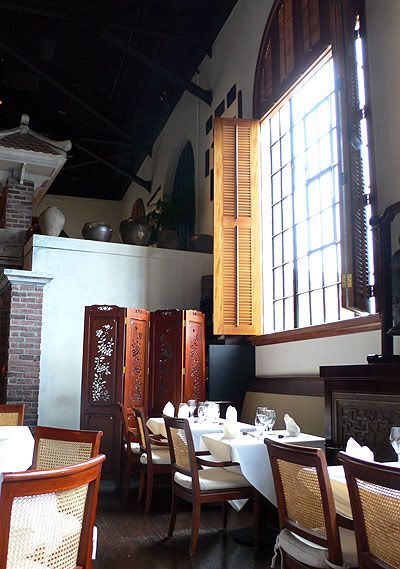 They always offer a very fine 3 course lunch for $21.95.
The first course was a combination plate of crispy rolls with crabmeat, shrimp & shitake mushrooms, Vietnamese steamed crepe with chicken and shrimp, vegetarian bo bia, rice paper wrapped with julienne vegetables and tofu. This is a big plate for one person! Everything was very fresh, the various elements are well thought out; each item is paired with its own complement – the crispy rolls had a dark tangy tamarind sauce, the crepe was topped with crispy fried shallots and shredded basil, the bo bia roll had sriracha chili sauce mixed with hoisin.
The lemongrass chicken served with vermicelli noodles and snap peas, had a rich coconut base with a spicy herbal/floral taste
I enjoyed the seared Mekong Basa with spicy lemon sauce, it was a huge piece of delicately flaky flesh with a light coating that absorbed the tangy sweet and spicy sauce. It was served over lightly sauteed pea-shoots with garlic, that added a very nice fresh crispness to the dish.
I ordered the valrhona dark chocolate semifreddo, served with a vanilla sauce with raspberry coulis. It was a very rich and dense.
House-made vanilla ice cream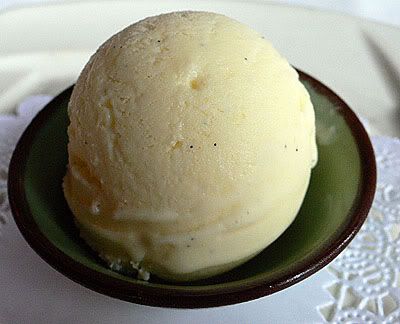 house made caramel ice cream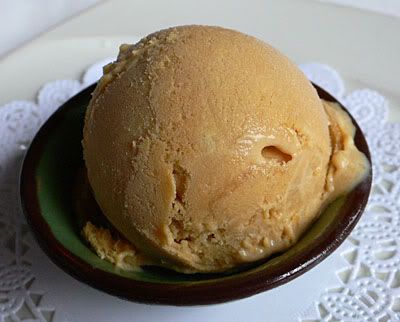 I really like this restaurant, the quality of its food is consistently good, and the service is never rushed (not the best for a work day lunch…)
The wokked tournedos of beef tenderloin with seared onions and peppery cress is one of my favorite dishes here, and the seared salmon with fresh mango and tamarind sauce is also excellent.