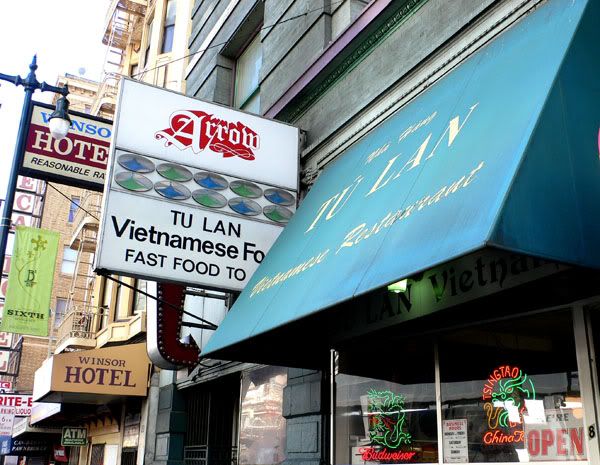 Tu Lan is a hidden gem that has achieved a sort of cult-status. It is located on a very downtrodden block barely south of Market, and it takes a certain amount of determination to walk the gauntlet on 6th Street and to ignore the obvious health code violations, which keeps it from getting to be too much of a foodie mecca. It is for those of us who are unable to resist the siren song of the imperial rolls… Tu Lan has been there for a long time and sports a very old image of Julia Child on their menu that has been copied over so many times that it looks like a line drawing. Apparently, she went there in the 80's and gave it her enthusiastic endorsement.
If you go during lunch, there is always a line of people, half of whom are getting it to go. While you stand in line, you see an alarming torrent of greasy smoke billowing out of the exhaust fans over the entrance. The line moves along, people are here for the food and tend not to linger…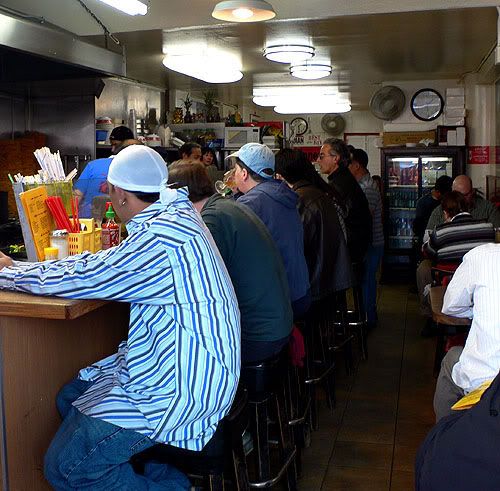 The interior is very utilitarian- dark and cramped and the clientele cuts a wide band through the human strata. Everyone gamely ignores the dingy floors and walls and the sticky coating of grease that is everywhere. It is the grease that holds this place together and enfolds you with the aroma of well-seasoned frying oil that will linger for days on whatever clothes you are wearing.
I hadn't been here in a couple of years, and when I went to Macworld I knew I would have to make the pilgrimage for the imperial rolls…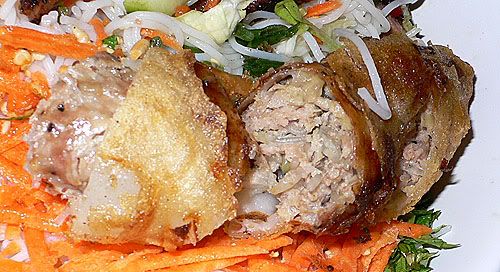 The rolls are wrapped up in dense rice paper that develops into a crisped golden skin that is chewy and sticks to your teeth a little when you bite into it. The previously mentioned well-seasoned oil, from which the flavors of countless ancestral imperials rolls have been distilled, adds depth and character to the dishes served at Tu Lan. The pork filling with bean-thread noodles is peppery and garlicky and usually is very hot, but you can dip it into the bowl of sweet and sour fish sauce to cool it off while also adding a nice zesty zip and cuts some of the grease (but the grease really is so good)…
Since I didn't have much time, I ordered #17, the vermicelli bowl with grilled pork and imperial rolls. This is a very satisfying lunch, and feels vaguely healthy as there is a pile of chopped lettuce, cucumber, bean sprouts and carrot under the noodles (built in salad!)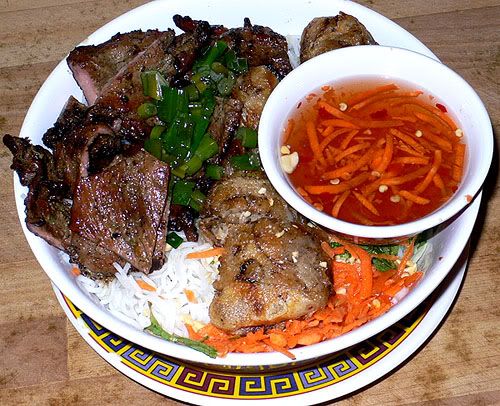 mmmmm, it was as good as I remembered… now I have hankerings for their fantastic curry fried rice, spicy ginger chicken, and the thin crispy noodles with tofu.