Bette's Oceanview Diner, 1807 Fourth St. (near Hearst) Berkeley; (510) 644-3230. Breakfast and lunch daily.
This is an Institution, having been there for over 20 years, and is arguably the best place for eggs, pancakes and french toast in the east bay. They are located on the 4th Street corridor, which is low-key but posh and swanky in that Berkeley sort of way… and since you will undoubtedly have a 30+ minute wait, it's very handy that Peet's is just across the road.
The waitstaff takes their job very seriously, bordering on maniacal in their need for order in the galley and to keep things moving. Don't bother the boys in the front section, they don't even have time for a smile, and sometimes their brusque professionalism is borderline rude… but I digress, I certainly don't come here for their company, and I'm happy that they are trying to expedite getting food on the tables as fast as possible.
I had french toast with a side of chicken apple sausage. The sausage is browned and very well cooked, the sweetness of the apple helps caramelize the outside. The inside is meaty and juicy and snaps when you bite into it in a very satisfying way.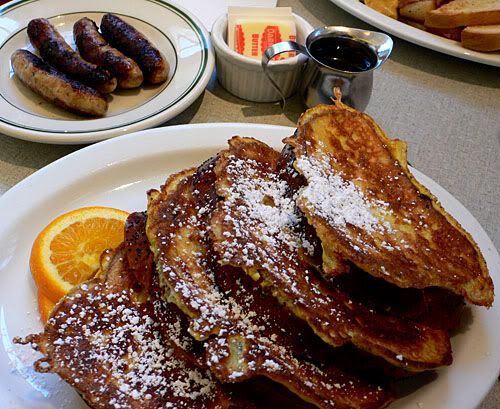 The perfection of how well the french toast is prepared takes my breath away… Consider how crisp and browned the exterior is, but how the inside is creamy and gooey, but cooked through so it is firm and not too custardy. It goes very well with the jam that is most likely housemade served in a little pot on each table.
Mr. K had the herb and cheese omelette with home cooked potatoes that were crisp, crunchy on one side and mealy and potato-ey on the other, and they went so well with the sour cream.
They tend to cook the eggs until they are creamy in the center, so they are succulent and never rubbery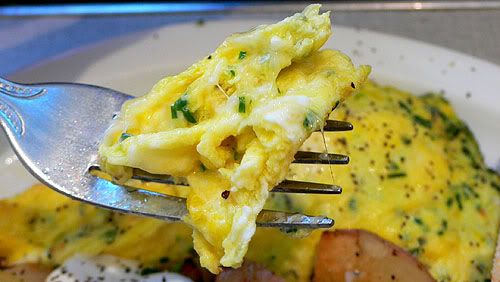 They are known for their pancakes, and have even published a cookbook of pancake recipes, and I believe that they are marketing pancake mixes as well at fancy purveyors of food. It's well worth the wait, I think you have to get there while it's dark out in order to not wait in line.