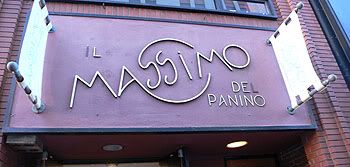 tucked away on 441 Washington between Sansome and Battery | website
I have noticed their sign in the morning for a $4.95 breakfast special which is an egg sandwich and cup of coffee. I'd been here for lunch which I enjoyed quite a lot, so decided to check out breakfast.
It is a large space, but feels like a grotto due to lack of natural lighting and low ceilings… however, they have a nice lounge area with a fireplace that was burning brightly at 7:00 am – a very good spot to hang out while waiting for my omelette!
For breakfast, you order at the espresso bar where they had a basket of very good looking housemade bagels. Unfortunately they were wrapped in plastic wrap so I didn't' take a picture. I checked out the menu and decided to order an omelette, which was well executed, although I was disappointed with the innards. It was a big fluffy pillow of egg with a chewy exterior crust and filled with gooey melted cheese and thinly sliced ham, served with a green salad and sliced avocado (per my request).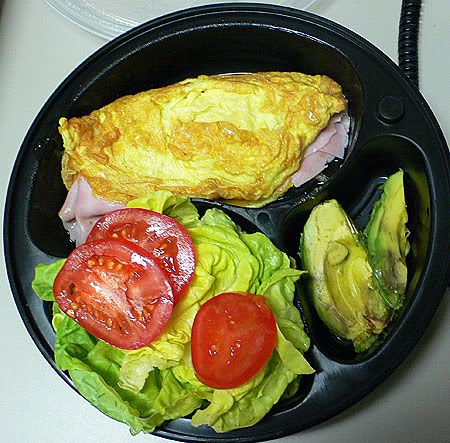 The cheese though was very processed and tasted like american cheese, and when I tried to reheat it a little (a mere 10 seconds mind you) in the microwave, it melted into a puddle. However, before that, it did look good and melty in a velveeta kind of way…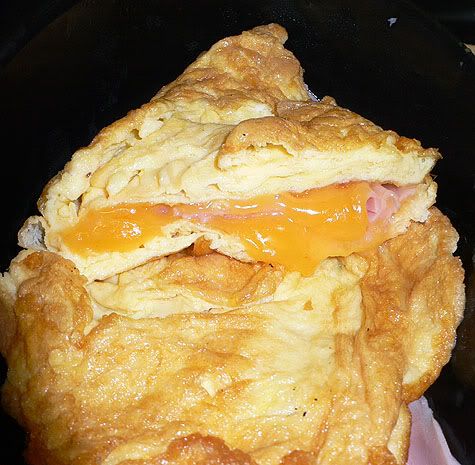 This little breakfast was $12 for the omelette and coffee, very not worth the price! I will go back to try their $5 breakfast special another day and definitely to check out their house made bagel…