1 Embarcadero Center, 3rd floor | website
This is a global palate concept chain restaurant owned by Chevys. They have a few good dishes like firecracker fusilli which is pasta with ginger-braised pork flavored with habanero pesto and sour cream, very exciting stuff when they opened in 1996. The flavors they combine span the globe, ranging from southwest chipotle cream, shanghai noodles with lemongrass, spaghetti with meatballs, chicken marsala, mediterranean salmon, and chicken picata. They actually do a pretty good job, considering the many styles of food they serve.
The Happy Hour menu with $2 appetizers is a great deal, so we had the thai mussels & clams which came in a mild green coconut curry
The mussels were hit and miss, this one was succulent and perfect, but the next one had a hairy ball that I almost broke a tooth on. The flavors were a little bland.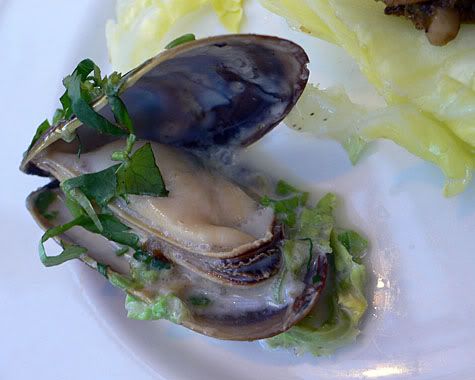 The Crispy calamari are buttermilk battered and served with a surprisingly zippy lemon garlic aioli. They were a little on the scrawny side so that the rings were dry and insubstantial as were the tentacles, but they were chewy and fried and served with a rich fatty mayonnaise-y dip, the fry factor itself redeems them.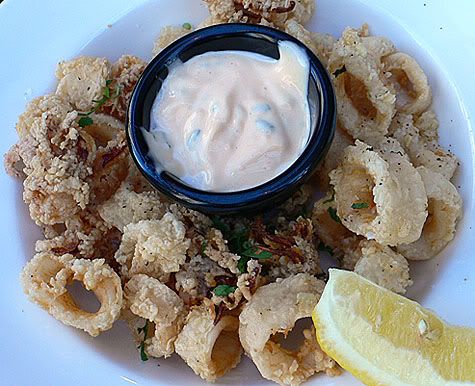 I greatly enjoyed the firecracker lettuce wraps, which are comprised of marinated cubes of chicken with chopped mushrooms and water chestnuts that you scoop up and wrap with iceberg lettuce leaves. On the side is a tangy carrot-ginger salad, a fluffy pile of fried rice stick noodles, and a couple of sauces to dip in. One was a sweet chile vinaigrette and the other was a spicy hoisin.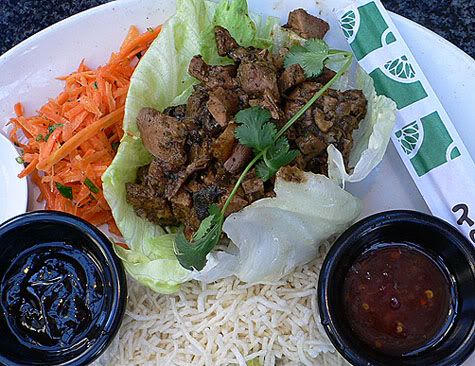 Very fine indeed at $2 a plate! We had a lovely time, 2 beverages each and the tab was only $14 each.