I'm sad to report that this cafe has closed…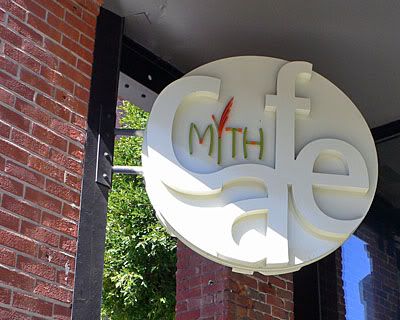 Corner of Pacific and Montgomery
I have been a few times and it seems to get better each time! The interior is bright and open with high ceilings and sleek modern design. The pace is very busy at lunch, but it was not hard to find a cozy table right next to the pitchers of water filled with either sliced cucumber or lemon (very convenient).
CK ordered the combination of Carrot Ginger soup with crispy sweetbreads and mint cream and Wild mushroom quiche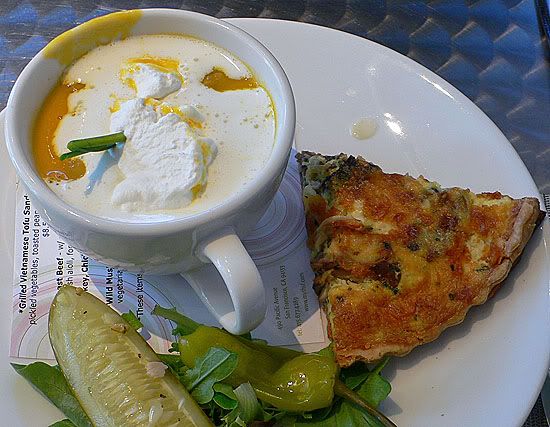 Closeup of the wild mushroom quiche, which had a rich buttery crust, and gooey layers of cheese mixed with egg, herbs and the tender shrooms.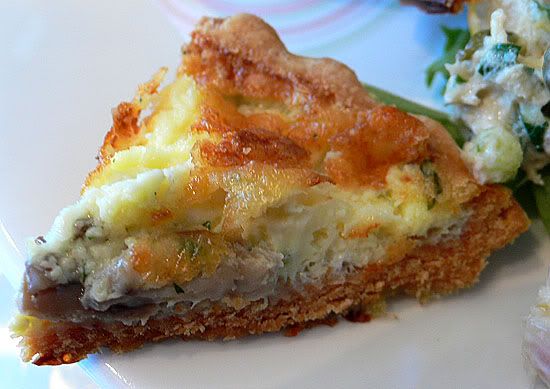 I had the combination Potato Leek soup with abalone mushrooms and thyme and half Petite Mediteranean Tuna plate w/charred fennel, oranges, watercress pesto, hummus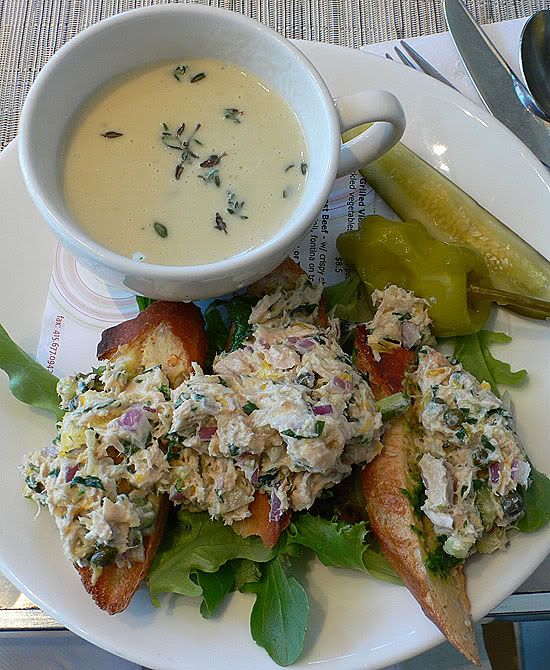 The open faced sandwiches were well composed with a light coating of hummus on the baguette slices, topped with watercress pesto and then mounds of the tuna salad, which was full of crispy bits of onion, celery, and unexpected bursts of bright flavor from oranges and capers.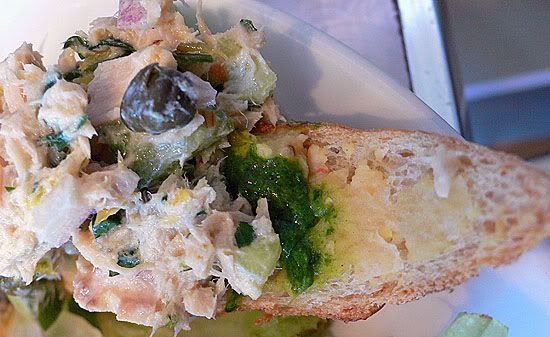 I also had the Peanut Butter Sandwich Cookie filled with chocolate ganache, the exterior cookies were intensely peanut buttery and huge!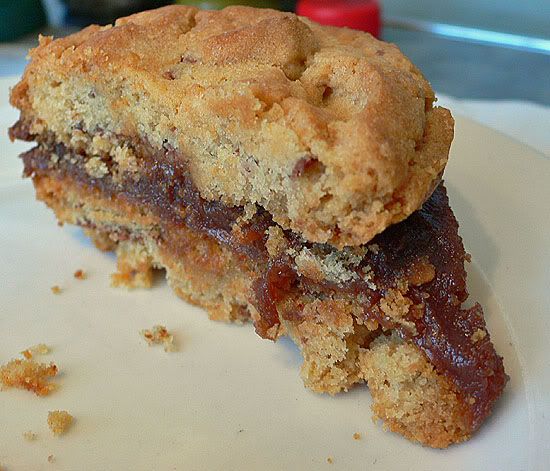 Other items I have enjoyed that come up on the menu occasionally: the curried squash soup is light but creamy and very flavorful especially when you encountered a bit of shredded duck. The nicoise salad had a generous amount of seared ahi on top of paper thin slices of fennel, purple onion and other delightfully crunchy vegetables mixed in with delicately small diced bits of hard-cooked egg and a few kalamata olives strewn about, all perfectly coated with a piquant vinaigrette.
You can tell that the person chopping and assembling is focused on the task at hand. But I save the best for last… the macaroni and cheese with parmesan and focaccia bread crumbs was perfect when I had it! It tasted freshly made, quite a feat during the lunch crunch in the financial district. The noodles had a nice bite to the tooth and the cheese sauce was creamy, each bite was a delight.
For sure I will be coming back. They have a very good brown bag lunch deal that includes a cookie or some freshly baked treat, and the baked good are always delicious. Lunch ranges between $10-20.
Also, we took the scenic route back to the office (trudged up the hill trying to see the landslide)- pretty nice view!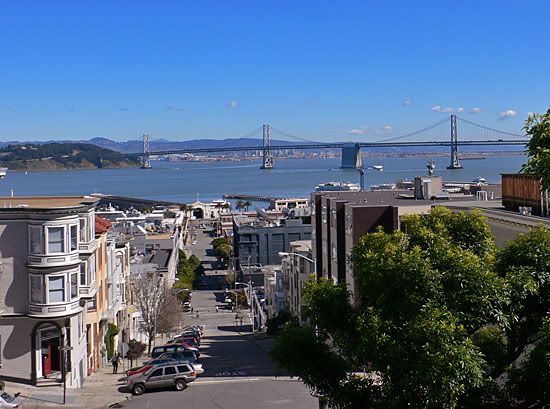 Click here to read about their fantastic whoopie pies.