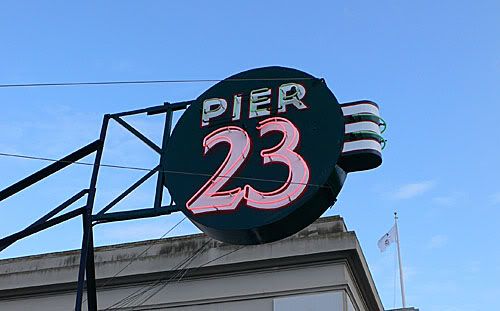 On the waterfront, Embarcadero at Pier 23, SF website
I went here with some co-workers for a happy hour, but the happy hour menu had only a few food items, fried oysters, a Po boy and tomato clam chowder… We ended up getting the Cafe Nachos, which were surprisingly good. They came with a scoop of guacamole that had good texture and was zesty with the flavors of lime, cilantro and avocado, along with a scoop of sour cream and a small tub of salsa. The chips were thick and crispy, covered lightly with black beans and lots of gooey cheddar cheese.

It looked daunting, but pulled apart nicely and I was able to assemble a nicely proportioned bite of chip with cheese and black beans with a dab of sour cream, guacamole and then a good blob of salsa…
We also tried the deep fried artichoke hearts that came with a lemony sauce (notice how BG just couldn't wait…)

They were lightly breaded and the aioli-ish sauce was deeply infused with the bright flavors of lemon.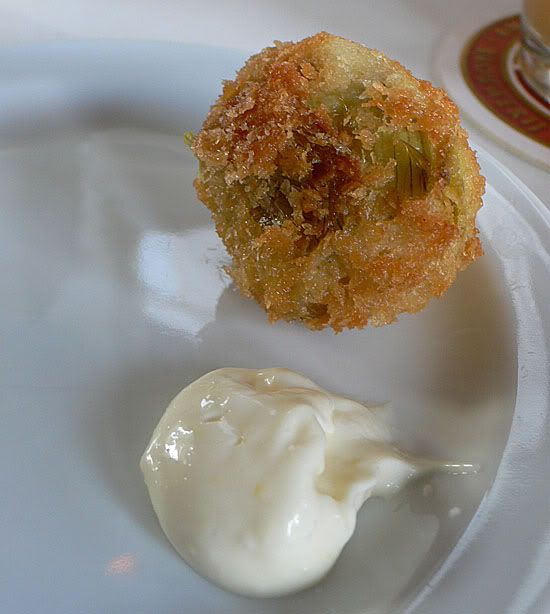 The restaurant has a large outdoor dining area with nice views of the bay, and even has stacks of scruffy straw hats available to wear on a sunny day. They have a fine if somewhat unimaginative menu, and are conveniently close to the office.