Located in a parking lot at the corner of Pacific and Sansome. The truck is gleaming stainless steel with blue plastic windows and skylights, very uplifting for a taco truck… one really big plus is that they proudly post their rating of 100 from the public health department in the window.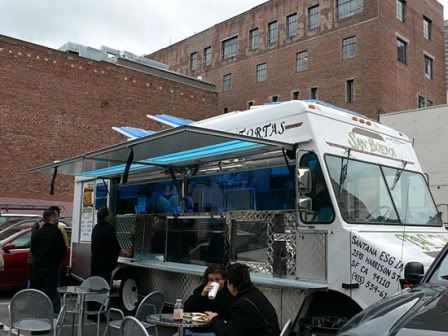 There's always a line at lunch, they have tacos, burritos, quesadillas and tortas for very reasonable prices. The tacos are very basic, just two small corn tortillas wrapped around a generous heap of your choice of meat, with some onions and your choice of hot or mild salsa – but they are only $1.50 each! If you want chips and salsa, they charge $1.00 but you get a big paper bag full of the good kind of chips that are thick and crunchy and the bag contains about 3 times more than you can possibly eat.
I had a Pastor Taco served with a mild green tomatillo salsa. The pork was very flavorful and spicy, a little overcooked and rubbery but the overall package was very flavorful and tasty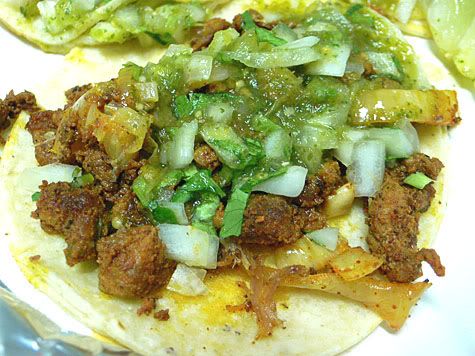 This is a carnitas with the same salsa verde, the meat was tender and a little fatty, which I love, and crisped around the edges so it has a good chewy texture. This goes very well with both the hot and mild salsas.
I decided to try the Cabeza (beef cheeks) but found the flavor to be too gamey and there was a fair amount of gristle, gelatinous stuff and fat (must be from all that chewing of cud – damn cow)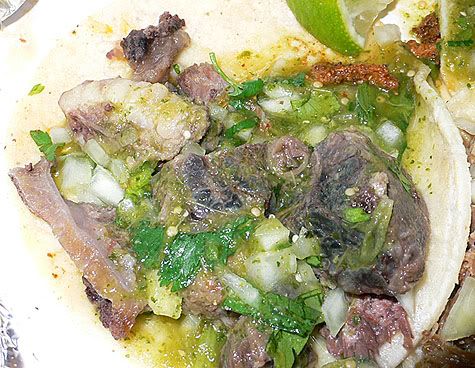 The spicy salsa is red and packs a small wallop of creep-up-on-you heat. I had the Carne Asada, which was chopped up in bits and was alternatingly rubbery and tough… I won't order it again in a taco, but it's fine in a quesadilla where the cheese and flour tortilla showcase it better.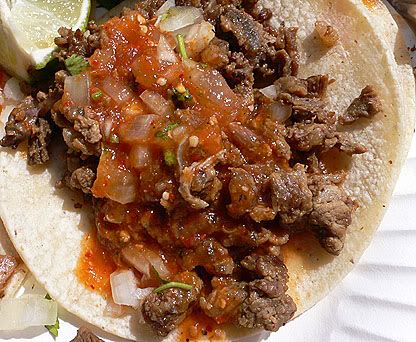 The Carnitas pairs very nicely with the spicy salsa, but I had to pick through to remove a couple of blobular chunks of fat. Just be aware that it is better to look it over first and just take out anything questionable, you'll enjoy it much better.
This is truly a good deal, and very tasty too, although the lines keeps getting longer every day…