see previous post. Japantown, in the back hallway near the Miyako Hotel.
I got an email from CDR a few weeks back suggesting it was time for girl's night at the Kabuki Spa for massages, sauna, and soaking in the hot and cold pools. Heaven! We were kneaded and pummeled, then soaked and euphoric. We had intended to try out Kappa Sushi but were turned away at 7 pm without reservations. Fortunately, Ino Sushi had room for us.

Since the weather turned cold and misty outside, we ordered warm and sustaining miso soup, which had squares of custardy tofu, wakame seaweed, enoki mushrooms and I tasted the slightest hint of ginger.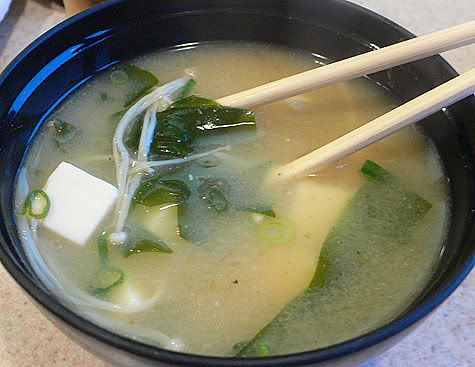 We were lucky and came at a lull. There were only two other couples, so we had a lot of attention from the Mrs who had time to tell us that Ino-san hand toasted the nori (seaweed) for the handroll, and that the ankimo is their house specialty. The entryway has a lovely ikebana flower arrangement with dramatic lighting.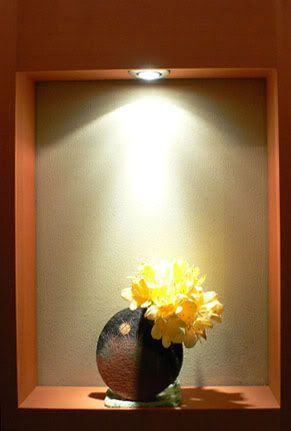 We ordered the Tako Sunamono (Octopus salad with cucumbers). The octopus was perfectly cooked, it was firm and a little chewy but not rubbery, and was served in luxurious and succulent slices.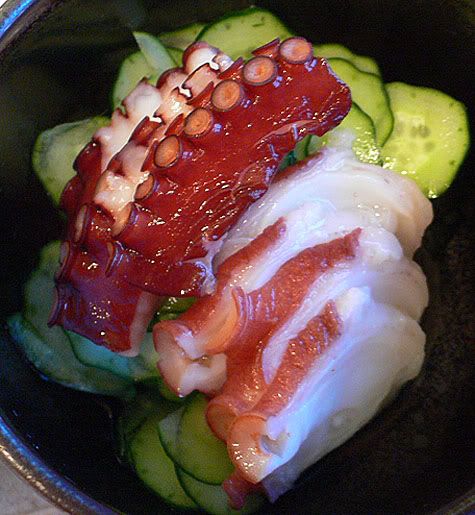 We also shared the Combination Sunamono with taco (octopus), ebu (prawns) and eel (unagi) that was still warm from the grill. It really is a joy to be served well cooked food, you can just sit back and relish every bit. The unagi had been lightly coated with a sweet, gingery soy sauce and cooked so that the edges were crisped and the coating had thickened and caramelized a little. The meat was rich but flakey and practically melted on your tongue, leaving just the crisped edges for you to chew on.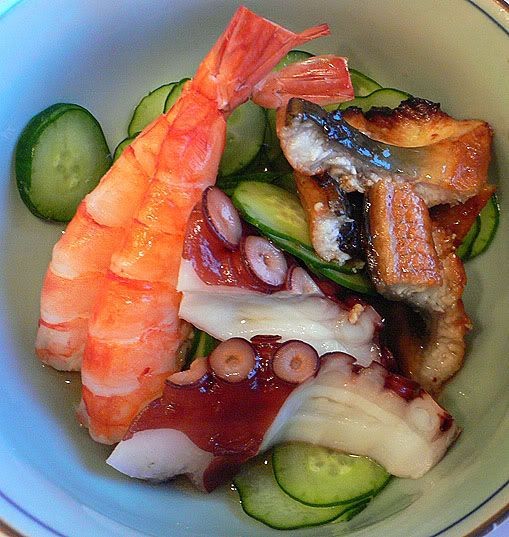 The cucumber was sliced gossamer thin – crisp and refreshing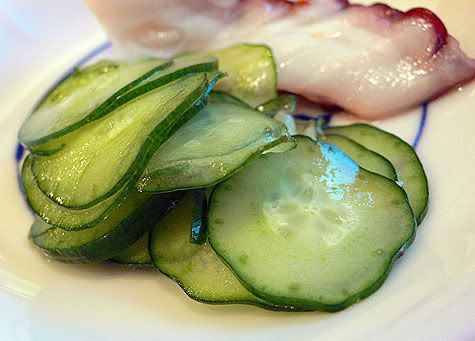 The unagi was splendid on nigiri, the ratio of rice to fish and sauce is perfect.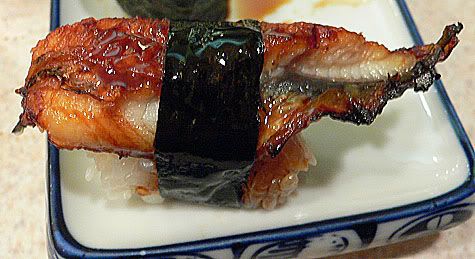 Of course for the sake of good times, we shared a few large beers, served in tiny little glasses, which requires many refills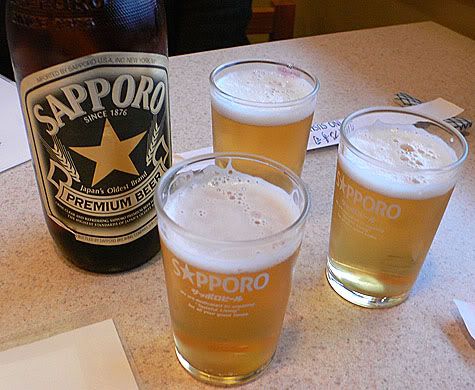 Ino san is famous for his ankimo, or monkfish liver, so we had to try it and were so happy that we did! It was buttery and rich, but not fishy at all.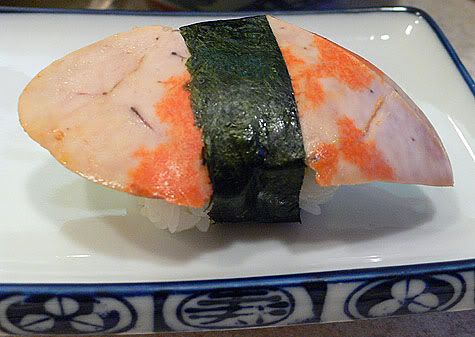 Closeup, you can see the layer of wasabi… he packs it in. I didn't need any extra in my soysauce and many times we all were sniffing and dabbing at our eyes as we wept, overcome with wasabi-angst.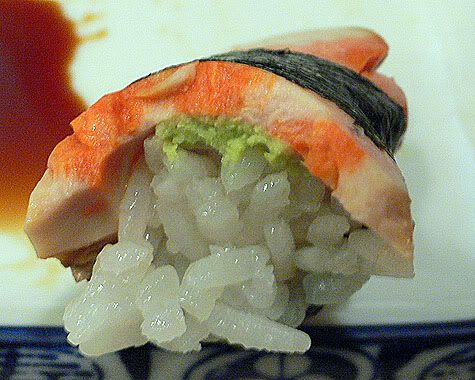 We had my favorite Ika with Shiso leaf nigiri and it was the best ever. It melts away as you bite into it – no threads that you need scissors to cut through, no crunchy stringy issues, or need for floss. Ino-san has somehow managed to tame the beast. Look at how meek and submissive these nigiri are; no stiff ridged surfaces, these are smooth and silky.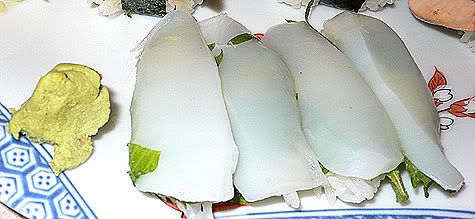 Another house specialty is the Ikura, or salmon roe, which the chef prepares using a special soy sauce marinade that is distinctive and quite different from regular sushi houses. I think that the smaller sized portion of rice served here is perfect. You don't need a sledgehammer to know what it is you are eating.
There are plenty of mesmerizing golden orbs that catch the light giving the illusion of mysterious flickering interiors which enamor your eyes first then tongue as they burst in your mouth followed by the good blast of wasabi. Sometimes all of the little air pockets at the top of each egg seem to follow you like eyes…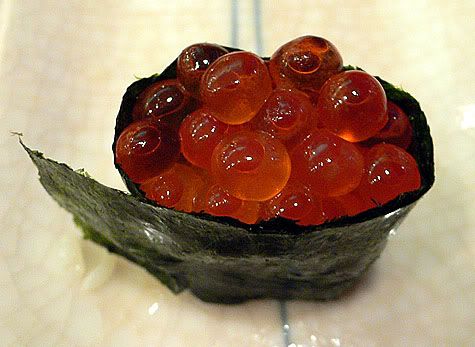 The geoduck clam Mirugai was in fine form, it was fleshy with a good crunchy texture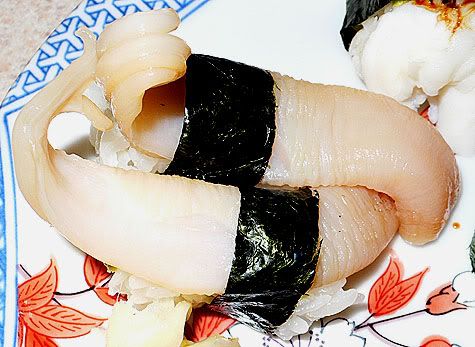 Ann ordered the Squid Legs (ika geso) nigiri, which were gorgeous firm crunchy stalks with tickly curled tips. This was also served with a piquant and zesty sauce and required no dipping (per Mrs instructions). Such grace and beauty!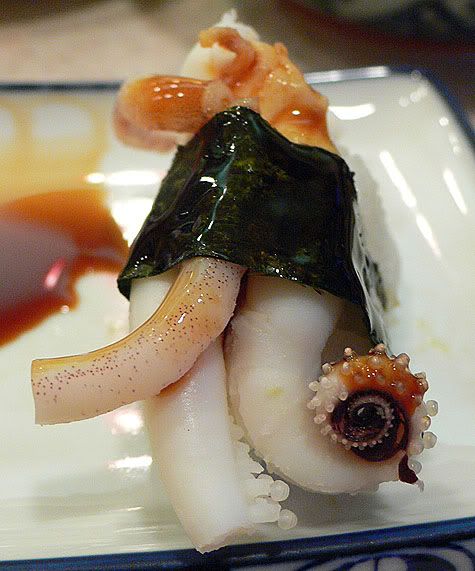 We decided to be adventurous and ordered the the Kazunoko handroll with shiso leaf. The seaweed was freshly toasted with a glorious crispy edge to it. Mrs advised us to eat it right away so that we could enjoy the best effects of the toasting.


The kazunoko (translates to many children) is a dense, crunchy sack of pickled herring roe and like Japanese pickles is an acquired taste. I believe that these egg casings are laid directly onto seaweed from which they are harvested…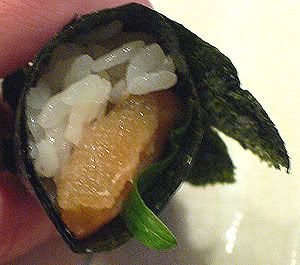 I am again humbled by the beauty of Ino-san's sushi. There's really nothing more to say. I'm coming back for the chawan mushi that I noticed at the table next to us. (I think all of those disappointing lunches I had this past week were to prepare me for this)