see previous post. One day I must check out the restaurant proper as I read the chef Sean O'Brien has been named Food & Wine magazine's 2007 Best New Chefs.
The soup and sandwich combo is a very good idea, especially when the food is prepared well. The food coming out of the kitchen generally kicks ass and is made with quality ingredients.
The ginger carrot soup came with a big dollop of rich sour cream topped with spices and pistachio nuts
I ordered the lemongrass chicken sandwich, which was really a chicken salad of chopped chicken with onions and celery, topped with melted cheese and a layer of sliced avocado. Very tasty to me, CE thought it was horrid because of the onions which could not be picked out…
It was a good thing that we ordered a supplemental side of Macaroni and Cheese, which was rich and gooey.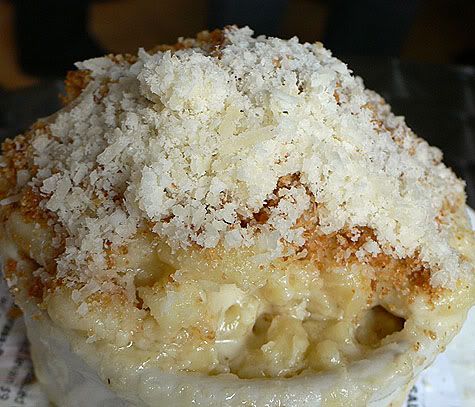 They also have a great brown bag lunch which includes a cookie. The pastry case looks amazing and everything is baked fresh daily in house.