505 Washington Street, (between Hotaling St & Sansome St)

Hmm, recently it seems that I am gravitating towards Asian food, so it's a good thing I have so many choices near my office. Sai's is always busy with a line out the door unless you get there really early or late. It's not the finest, but it's pretty good and easy to get to. They have some really good combination rice plates that include variations of rice, imperial rolls, crispy fried prawns, bbq beef or pork, and various preparations of chicken (bbq, lemongrass or 5 for $9.25.
In my continued efforts to eat lighter, I ordered the Goi Ga, chicken salad, which had shredded chicken breast mixed with sliced cabbage, celery, carrot, mint and basil leaves, and onion in a nouc mam dressing (um, I don't speak a word of Vietnamese, I got this off of their menu)…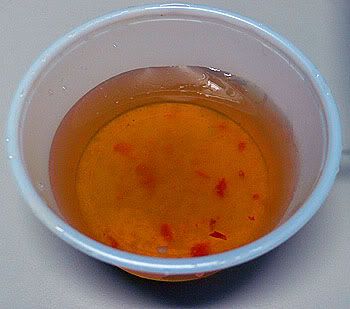 It was arranged very nicely and looked fresh and vigorous with exciting shrimp chips as garnish. I love shrimp chips and the way that they stick to your tongue and crunch so satisfyingly.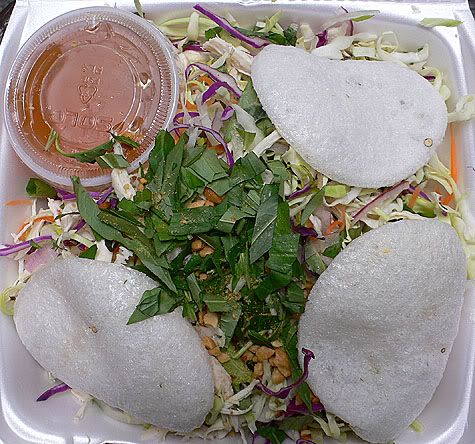 The chips had become soggy on the way back to my desk and the chicken was unrepentantly bland. Looking at the menu it says boiled. It would be much better if they used 5 spice chicken or something with more flavor. I think I found the equivalent of 1 whole peanut in the whole dish, which was regrettable as the few bits I found really added a burst of rich flavor which was lacking with the salad. There was an overabundance of sliced raw onions that I ended up picking out because they were harsh and bitter. Still, it looks pretty good…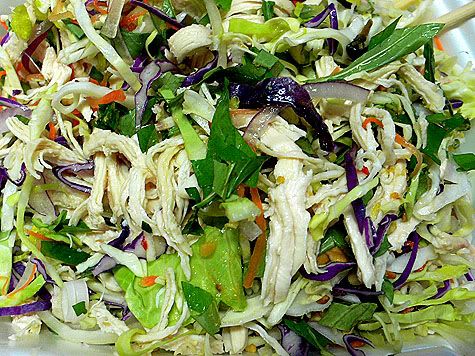 But it wasn't good. I made it about halfway through and decided to call it a loss and chucked it away. I plan to never going to order this dish again!
I have eaten here many times and this one dish does not discourage me from future visits. I am looking forward to my favorite dish, the Pan Fried Crispy Crepe w/Shrimip and chicken. It's kind of a fritter, crepey dish with a crispy exterior that sucks up the nuoc nam sauce and develops a chewy, spongey, crunchy texture that I just get hungry thinking about.