The grounds and facilities of the resort are definitely dated but they are scheduled to close at the end of May for a huge 2 year rennovation and plan to reopen as a 5 star hotel. I liked the retro tikihut feel… We stayed here for 4 days and tried their various restaurants.
The breakfast buffet was a little sparse, but included the porridge bar, fried rice, fried noodles and hot dogs that I had come to love for breakfast. The breads and pastries were baked fresh every day, which was a very nice touch.
The dining room was open and overlooked the grounds with a view of the ocean beyond.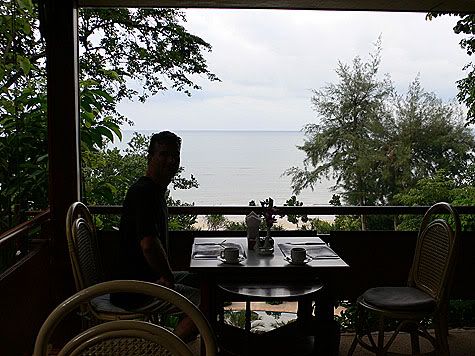 The staff was very attentive, but it felt that they were inexperienced and definitely didn't work as a well oiled machine. It would take a long time for special requests like a glass of ice or a coffee refill although there seemed to be proliferation of servers on the floor.
We also had a couple of meals downstairs at the beachfront restaurant for lunch that were delightful. Our first day, we tried the Grilled Beef Salad, which was very different from the Thai style beef salad we expected. Instead, it had a hamburger patty dusted with curry spices and topped with a satay sauce alongside a green salad. It was all right, but not at all what we had been anticipating.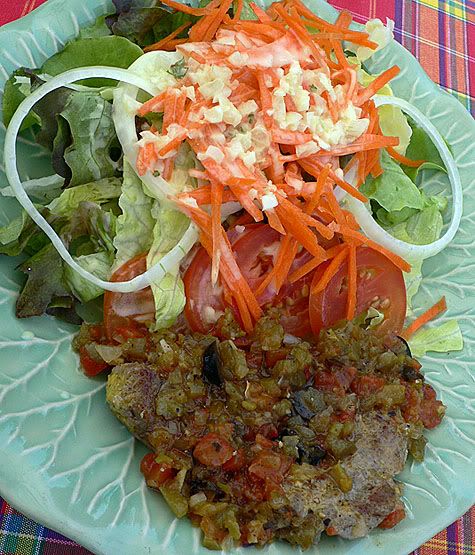 The next time, we tried a plain Green Salad, which came with asparagus and a very good light vinaigrette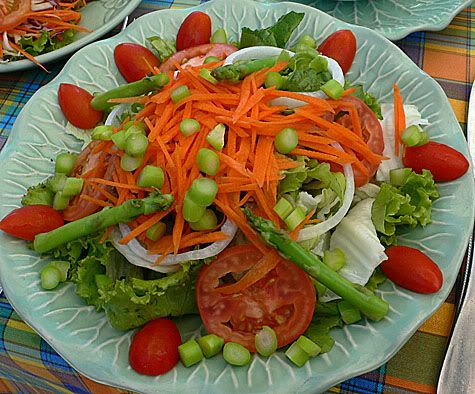 The Grilled Chicken Satay was very good and we ordered that a couple of times. One of my favorite things was to eat the pineapple that the skewers were stuck into once we finished with the chicken.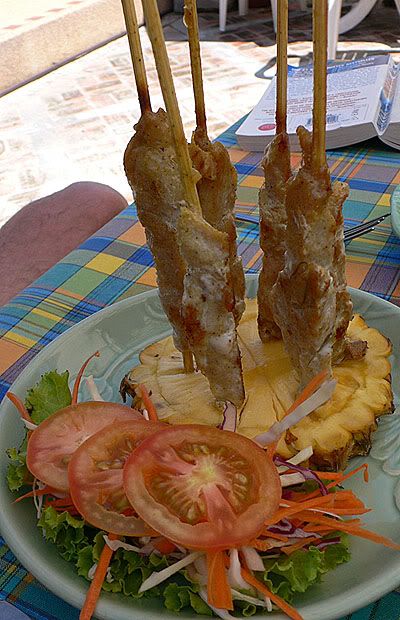 The peanut sauce was sweet, savory and spicy and was thick and gooey and better to slather directly onto the kebabs rather than try to dip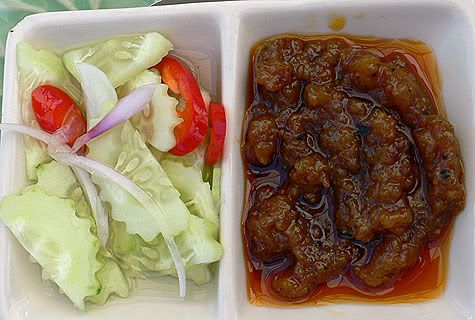 One day we decided to order sandwiches for lunch, which were prepared with the crusts removed and came with crinkle cut fries. Mr. K had a Grilled Chicken Sandwich, which he said was serviceable.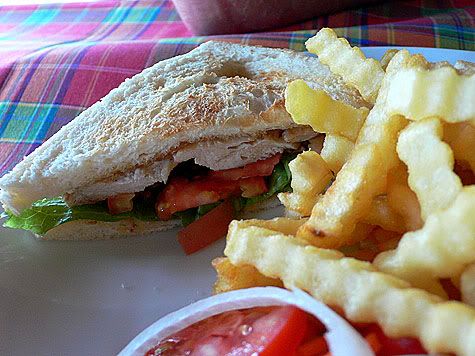 I had a hankering for a BLT, but ordered the Club Sandwich, which seemed the closest thing on the menu. It was all right, but also included a fried egg, ham and chicken, which was overkill in comparison to what I had in mind. It just didn't hit the spot…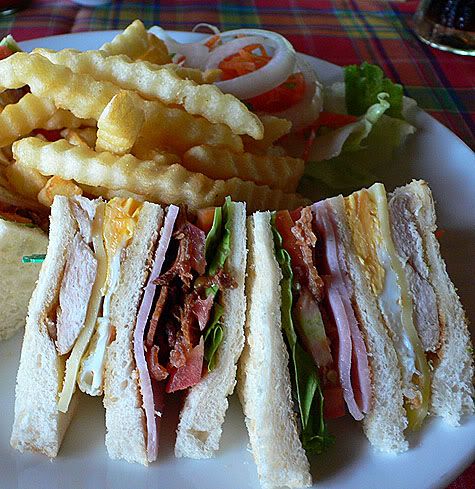 Grilled Seafood Dinner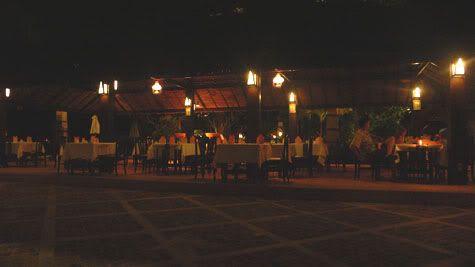 We had such high expectations our first night at the grill as Mr. K had seen the menu for a BBQ seafood platter which sounded fabulous. He went over and hand-picked the freshest looking seafood for our dinner. He came over to the table and said significantly, This, is going to be good. We wandered over to watch them cook.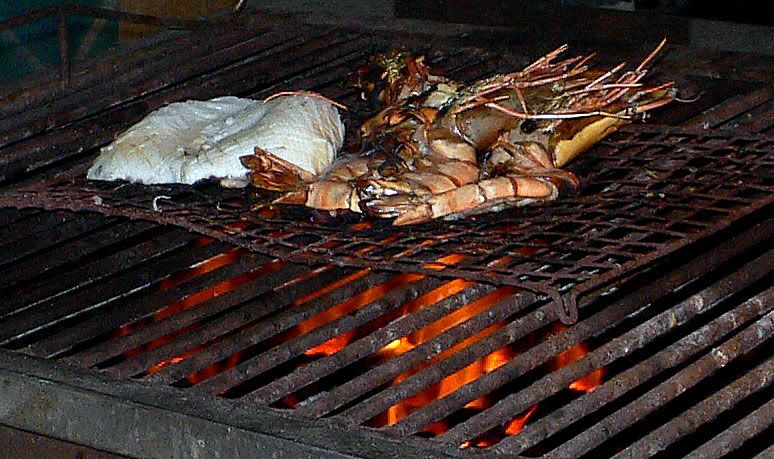 We noticed that they were still cooking over a very hot fire with no one in attendance and that things were beginning to look a little burnt…
We went back to our table and enjoyed a lovely Green Salad that had a surprisingly light and sophisticated dressing with the freshest juicy sweet cherry tomatoes.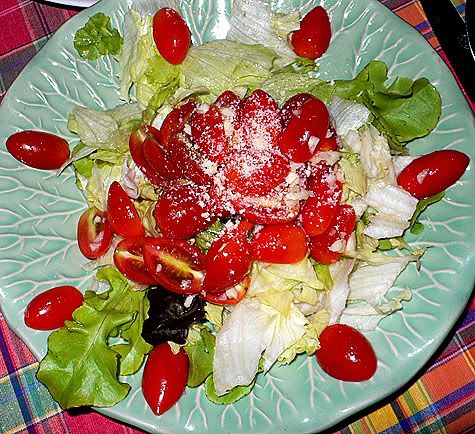 We also enjoyed a basket filled with two warmed buns that were very tasty with butter
Whoever was working the grill was an overzealous pyromaniac because both the Grilled Calamari and Prawns below cooked into dry rubbery shriveled carcasses that were chewy and barely edible. I don't mind charred and in fact think it can add a delicious crisp smoky element when done correctly, but in this case it was burnt and scorched beyond redemption.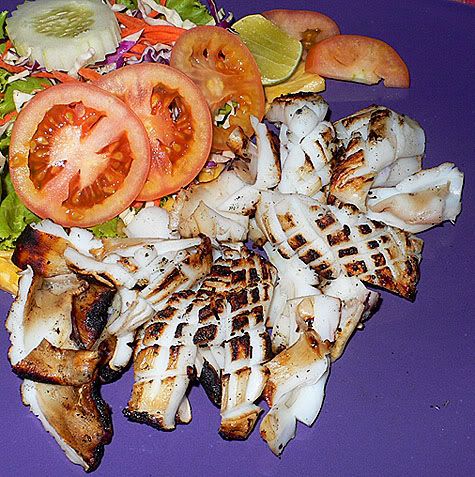 The Grilled Tiger Prawns were a charred and overcooked disaster. We worked our jaws and choked down the rubbery shriveled flesh and wondered what happened… Even the garlic butter or chilies didn't help!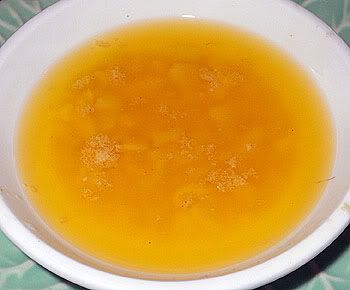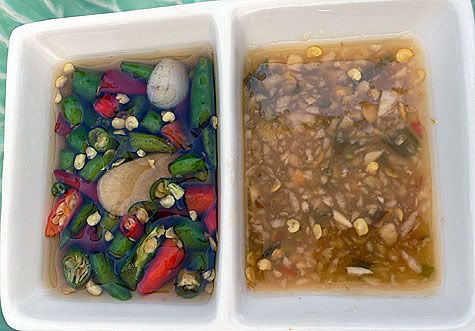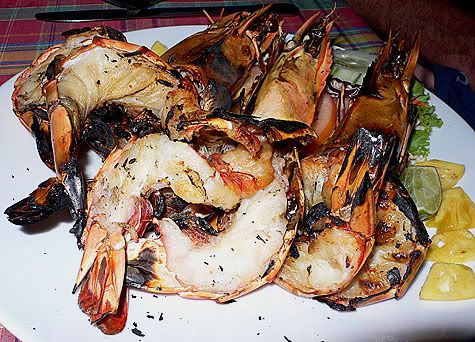 We imagine that by this point in the scheme of things, where the resort is on the brink of closing down for a 2 year renovation, that we are not being served by the A-crew, as they must have moved onto a more secure arrangement by now. For the record, the food was pretty good except for the dinner. We only had dinner once on the grounds and after that found some very good nearby alternatives…