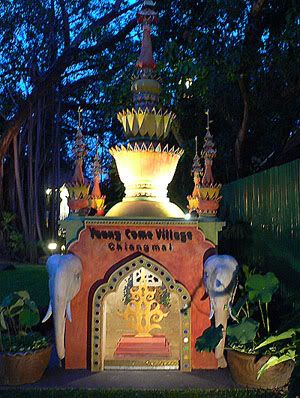 90/3 Sridonchai Road, T. Changklan, A. Muang Chiang Mai, Thailand
This hotel was an oasis. It's set back from the street within a beautiful garden surrounding a pool and the 2 story guesthouses are scattered throughout the lush grounds.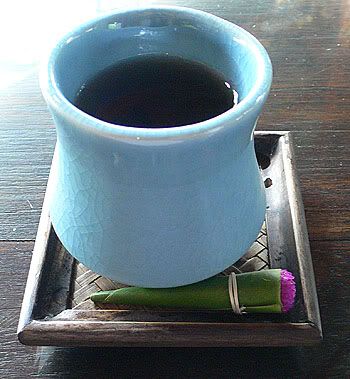 We were given refreshing ice cold ginger-lemongrass tea along with cold towels, when we checked in.
Everyday this lovely fruit plate in our room was replenished. The fruit was always perfectly ripe and I really liked the hairy looking rambutan. It is very like a lychee with sweet, succulent, juicy flesh.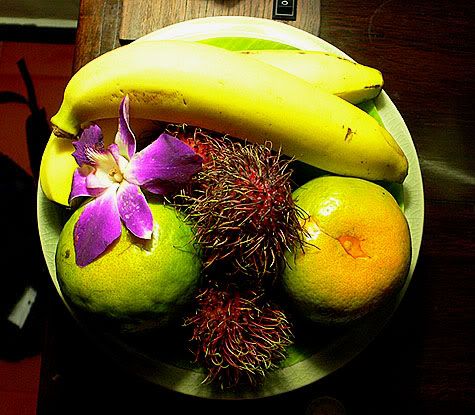 The fruit in Thailand is very sweet right now as the rainy season hasn't started and the flavors seem super concentrated. Every morning the breakfast buffet had a variety of sweet local fruit. The mangosteen is referred to as the queen of fruit and looks like a clove of garlic inside of the plump dark purple skin. It has sweet juicy flesh with a strong citrusy perfume. Another visually stunning fruit was the dragonfruit with creamy white flesh studded with black seeds, it had a flavor similar to honeydew.
The dining room was bright and opened up to the garden and pool area.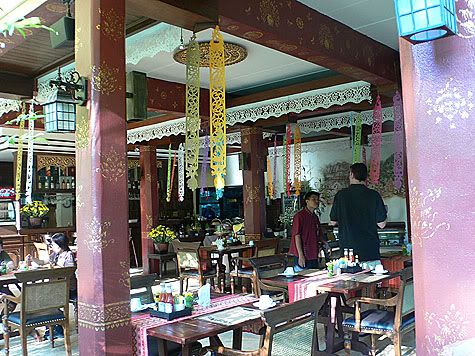 Granted, there were no bagels or oatmeal and the toast was not very inspiring, but the main spread is pretty magnificent, with gorgeous fresh fruit, a made-to-order omelette station and vats of hot food of the most exciting kind.
There was french toast and pancakes filled with macadamia nuts and fruits, which were small, light and fluffy. They had the most beautiful eggs with dark golden yolks, the produce is definitely locally raised and not the mass commercial stuff that we are used to in the states. Piles of bacon, ham and sausage (they were really hot dogs), juicy broiled sliced tomato and variations of potatoes that were always well cooked and spiced. There was a variety of fried rice or noodles and different sauteed vegetables and exciting new dishes daily.
Mr. K had an especially fine plate, he was quite happy to have bacon with his fried tofu and chili sauce.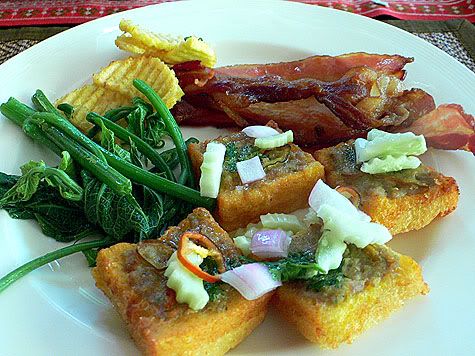 We really looked forward to breakfast every day…