146 Prang Pu Thorn, Tanao Road, Bangkok | website is no longer working…
Chote Chitr is a hole-in-the-wall food shrine whose name kept popping up when I was researching restaurants to visit in Bangkok. I really could not make heads or tails of any of the downtown Bangkok maps to figure out how to get there, but found the following description on the web:
It's on Tanao Road which is the large street heading south off the east end of Khao San Road. One block north of Bamrung Muang Road, straight down from the Giant Swing
Armed with this description, we headed out and found a commuter water taxi that took us down a filthy canal past rickety shacks and decrepit buildings and eventually landed in the general area by the Grand Palace.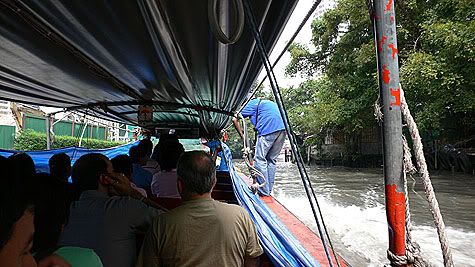 We walked around and toured a couple of beautiful temples, Wat Po, with the Reclining Buddha and then Wat Arun before we began our search to find Chote Chitr in earnest. We hired a tuk-tuk to bring us to the Giant Swing which is located at a large intersection with many roads converging. He dropped us off on Tanao Road where we backtracked 4-5 blocks and suddenly I saw it down a side alley.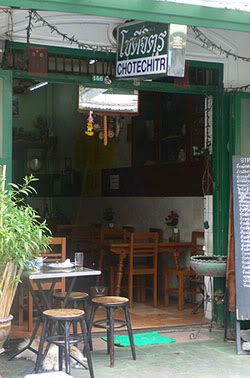 We couldn't believe that we actually found it. A woman appeared as I started to take pictures, motioning us in and gave us cards with the address and a map on back in Thai for future reference.
Mr. K was rewarded for his efforts with an icy cold beverage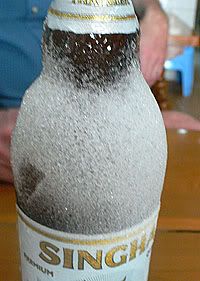 The proprietress welcomed us with many wais and told us what we would be eating for lunch today. The menu apparently has over 300 items and is written in Thai, so we left it to her to feed us. Three courses plus rice and beverages for $10.
The first dish she brought out was a steaming bowl of Massamun Curry, with tender chunks of beef, potato, and onion. The stew was dark and mysterious; a blend of curry, star anise, cinnamon and crunchy whole peanuts. There were also pieces of gooey tendon and we ate every last drop.
She brought out one of their signature dishes Mee Krob with Chicken and Shrimp, vermicelli rice noodles that are fried until they puff into delicate crisps and then tossed in a sweet, tart mixture of tamarind, garlic, ginger with some grilled vegetables that I couldn't identify. This had addictive contrasting flavors and textures with an amazing sweet sticky crunch that I just couldn't get enough of.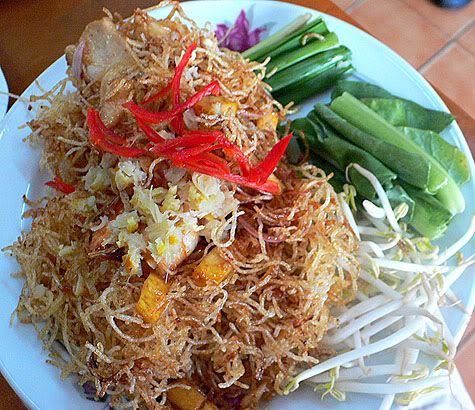 Another signature dish, the Banana Flower Salad, which was piled with generous strips of chicken breast and shrimp along with caramelized shallots, lemongrass and slices of delicate banana flower. It had a fiery, sweet and sour sauce that was harsh and overpowered everything which was unfortunate because all subtlety was lost.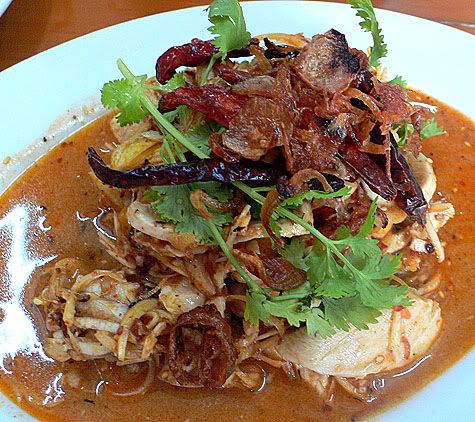 There were several dogs that came and went during the course of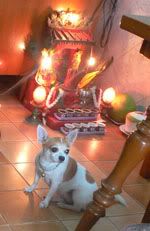 our meal and this chihuahua had a little bell that chimed as it pattered around with the pack.
We really enjoyed the food and hope that we can make it back before we leave. The food was very memorable and I can't get those crispy noodles out of my mind…