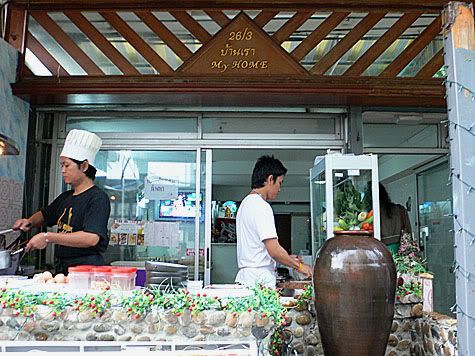 While we were waiting for the tailor to finish up Mr. K's suit, we wandered down the street to find a bite to eat (as in small snack from a street vendor…) We were drawn towards the enticing smells from the bustling little storefront kitchen near the end of the road.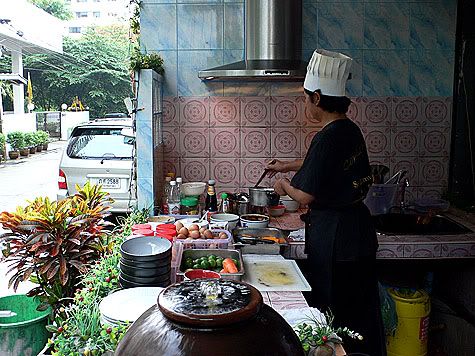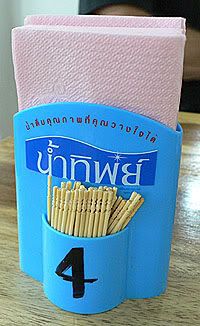 There's one thing about Thailand that I really don't get. The napkins that are offered at the table are equal to two sheets of toilet paper or roughly one half of a kleenex. This is especially perplexing because after eating chilies and spices my nose begins to run and I seem to use all of the tissues for that purpose before I even am trying to wipe my hands or face (being a notoriously messy eater)… I wonder if the cost is really high and worry that I am being incredibly rude by using all of their tissues. At one spot I spilled coffee and another some soup and one place even gave me a bowl filled with water to wash off with, but I digress…
I ordered Spicy Shrimp Salad with Silver Noodles but asked them to make it mild/not too spicy. It was pretty spicy and then I mistook one of those little green birdseye chilis for a basil leaf and popped the whole thing into my mouth. When I bit into it my face melted off from the incinerating heat in my mouth causing my nose and eyes to also weep and I thanked the gods for all those little tissues…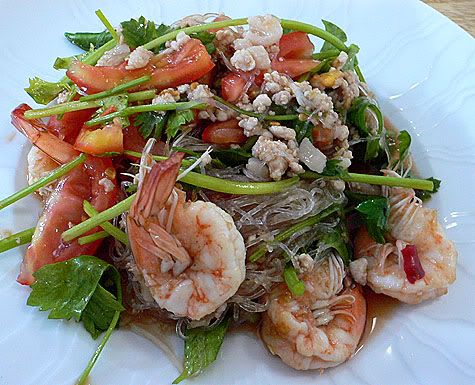 Mr. K thought he was getting curry, but ended up with Tom Kha Gai, the chicken soup with coconut milk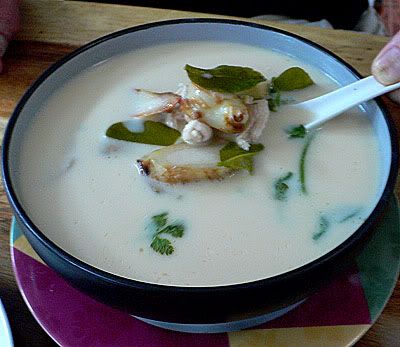 It was very good and I slurped it up hoping that the coconut milk would cool down the fire burning in my mouth.