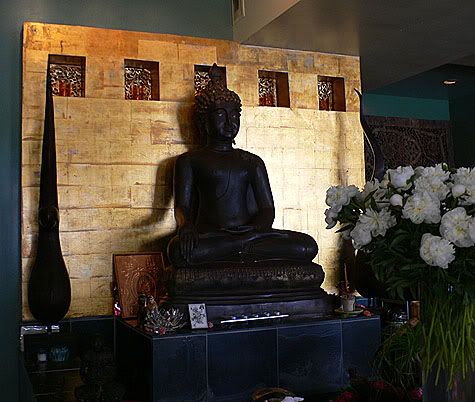 NOTE: This restaurant has closed | see previous post
One faction of my lunchmates has determined they prefer this restaurant to Thai Chef, which I tend to go to from both habit and convenience as there is an additional sharp turn and two uphill blocks to get here. These are about 3 blocks away from each other, but Thai Chef is in the chaos of Chinatown and Citizen Thai is in the heart of North Beach. It is worth the extra uphill effort, the restaurant is upscale and bright with beautiful pieces of art displayed everywhere and the menu is different as well. The Monkey Noodle bar offers food in the style of what would be found on the street of Bangkok, noodles and rice dishes for a quick lunch, dinner or take-out.
JY had the Green Curry with Chicken. I could smell the coconut and basil when it passed me… He dug in but had to order an extra bowl of rice (notice how small the portion is that came with that big bowl of spicy curry)
We were seated against this vibrant red wall displaying a series of whimsical praying figures.
CS had Beef with Mangoes and Cashews, sauteed with onion, carrots, bell peppers and green onion.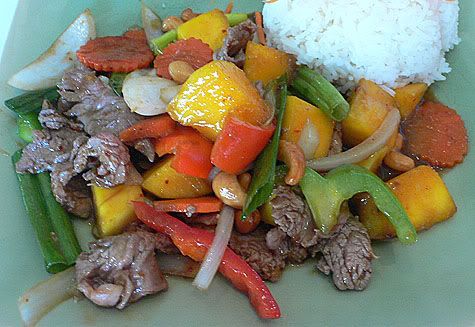 ES and I both had the Pad See Ew with Chicken. It is less sweet and has a darker soy flavor than is normally served and had lots of big pieces of tender white meat and crunchy broccoli. The proportions between noodle, meat and vegetable were perfect.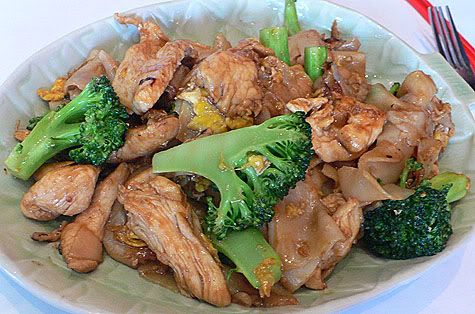 The walls dance with sculptures from northern thailand and invite you to linger over dessert if you have the appetite and time…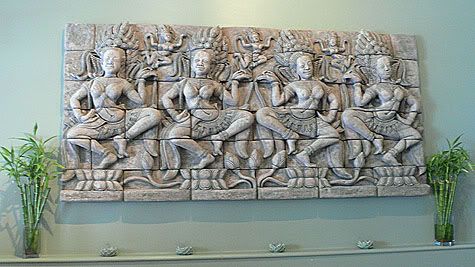 I still want to come back to try items from their Citizen Menu which has some very interesting sounding appetizers, including a section for Mieng Kum which I have yet to sample.