544 Castro Street (between 18th and 19th), San Francisco | website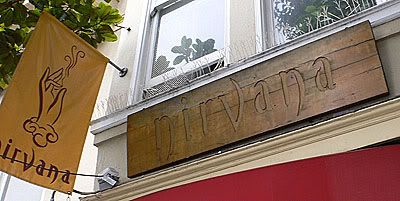 The menu provides several descriptions of nirvana, I like this one:
a place of contentment due to the cessation of all earthly cravings
Ahh, I'm always striving for contentment… It feels like you are entering into a modern colonial oasis with the teak carvings, orchids and lush green foliage. A golden buddha smiles at you as you enter and walk past a sacred shrine filled with flowers and offerings and sticks of incense burning.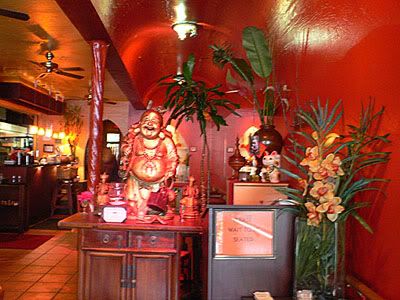 We were glad for the heaters as the wind was blowing and the sun was obscured by clouds… there is also a high tentlike cover that protects the area and helps keep the heat in. We're talking San Francisco in the summer after all… and we wanted to sit outside!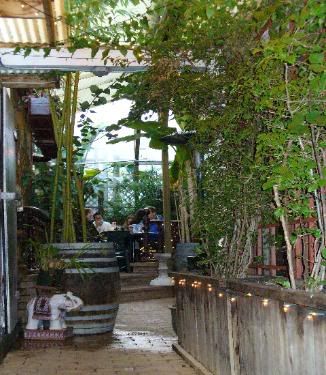 We decided to just order from the appetizer menu for a light lunch and started with the Ginger Salad, which was a nice crunchy mix of shredded cabbage, onions, peanuts, split peas, toasted coconut and tossed with a garlicy dressing spiked with citrus. It was lively and crunchy although not quite as good as the tea leaf salad at Burma Superstar.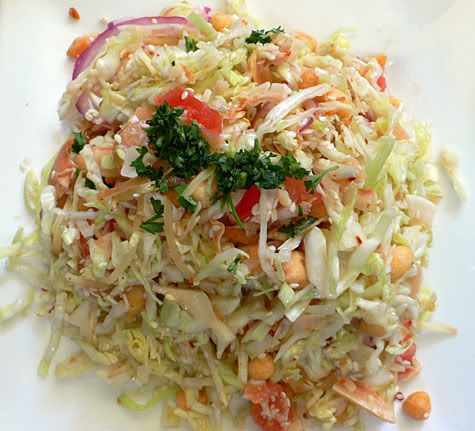 The steamed Dragon Dumplings were filled with shredded vegetables and silver noodles and served with a garlicky ponzu dipping sauce, which really perked things up. These were a little bland otherwise, but very well made. The wrappers were tender and chewy and had a beautiful handmade appearance.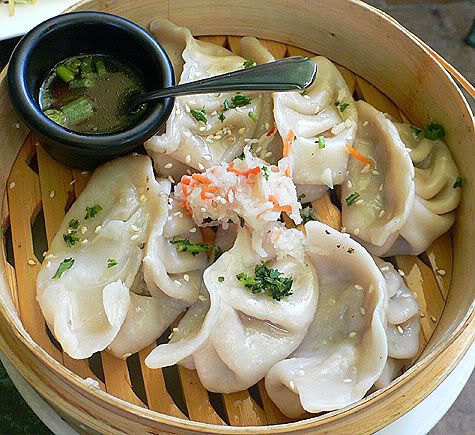 Chicken Satay Tortilla Rolls were filled with slices of grilled marinated chicken breast and melted cheese with carrots, green onions and drizzled with hoisin sauce. It was accompanied with a peanut sauce that had a hint of coconut and ginger.
The Firecracker Rice Noodle Soup was very lackluster. The soup was bland and thin textured with a harsh sour flavor and although it was full of tomato, mushroom, carrots, onion, and fresh coriander, nothing could pull it up and out of its funk. There appeared tp be hard cooked eggs tossed into the dish which never incorporated into the soup, leaving very unappetizing floating bits and a unpleasant aroma. Neither of us ate more than a couple of bites…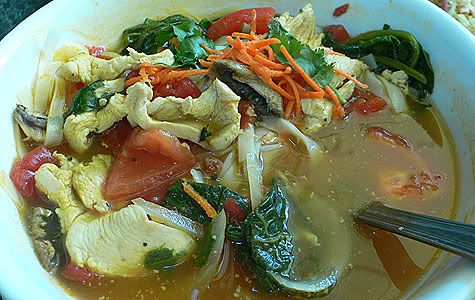 I'd say I reached a state of fullness where I no longer had cravings to eat, but my tastebuds certainly did not feel bliss at anytime during the meal. Overall, the appetizers were okay, the service was friendly but distracted and then we did end our meal with that soup… It was pricey at $25 each for our light lunch of 4 dishes, including sodas (yes we did order 4 dishes between the 2 of us)! I'm not writing it off yet because the patio in back is a very nice place to hang out and I would come back for evening cocktails. We also saw a very nice looking appetizer sampler plate go by along with another order of some sort of grilled or baked garlic bread that I'd come back to try. I'm just not running…