2102 8th Avenue (@ E. 21st Street), Oakland, CA | website
This restaurant is located on an obscure residential corner that would be hard to just stumble upon – we had a difficult time finding it and we had the address! And it was very worth the effort to find. They serve both Vietnamese and Thai food, two of my favorite cuisines…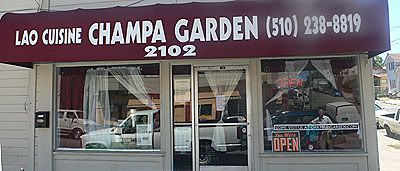 Each table has a large tray stocked with quite a variety of Thai and Vietnamese condiments: Sriracha chili sauce, hoisin sauce, pickled jalapenos, fish sauce, chili garlic sauce, soy sauce, chili powder and an intriguing looking Tamarind soup base in a shaker.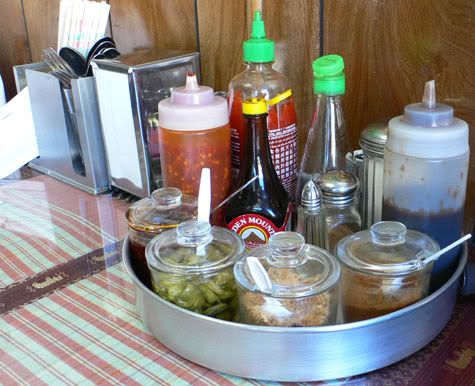 We were served a plate piled high with lettuce and sprigs of cilantro and mint leaves. I asked what they were for and was told that we should wrap the appetizers up in the leaves of lettuce along with the herbs.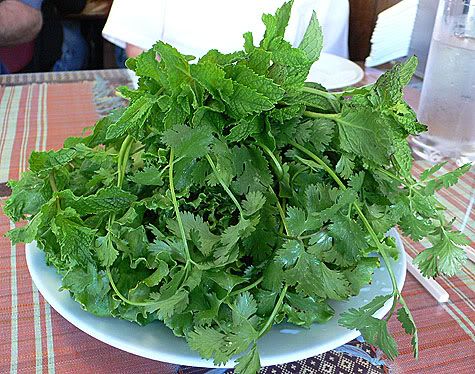 The Fried Rice Ball Salad (Nam Kaow) is fried until the rice is mostly crispy around the edges and sticks together in densely chewy crunchy bits. It's also mixed with preserved pork, green onions, and lime juice.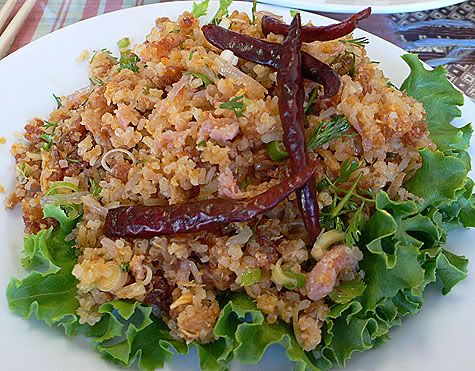 I piled some of the rice on a lettuce leaf with some mint and cilantro and squirted in some chili sauce and then rolled it up and bit in. Every bite was an explosive burst of flavor and textures. This is definitely the dish to get, I'm already planning the next trip out…
The Yor Chiun (Imperial Rolls) are small rolls filled with a savory mixture of sliced mushrooms, crystal noodles and ground chicken and deep fried, then sliced into bite sized pieces. They come served with piles of steamed rice noodles and a sticky sweet and sour sauce with minced peanuts. The rolls are wrapped in thick skins and fried until crisp and crunchy while maintaining a slightly sticky al dente consistency.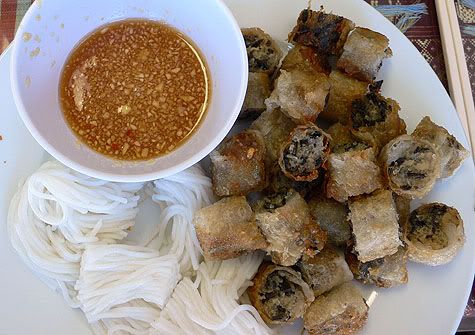 I put a base of the noodles into the lettuce then stacked up some of the roll bits and drizzled some of the sauce along with Sriracha chili sauce and then rolled it up with cilantro and mint. This was an astounding combination of sweet, salty and sour along with chewy and crunchy rolled up in the fresh crisp lettuce. I would be very happy just eating the two fried appetizer plates all by myself…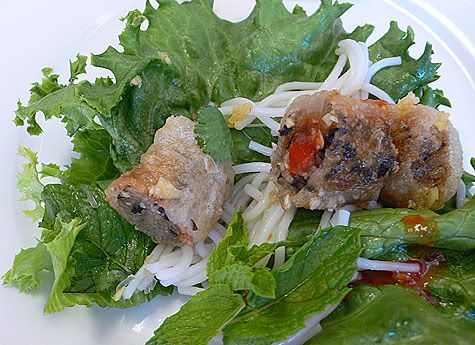 Pad Gra Prow, stir fried chicken with basil, onions, chili sauce and bell peppers. This was very well prepared with lots of chicken, but I was still busy inhaling the rice ball salad and only tasted a few bites. I was with my parents who are very competitive eaters, so the plate quickly disappeared..
Panang Talay, a seafood dish with bell pepper, carrots and topped with razor thin slices of kaffir leaves. It is cooked in a rich panang curry sauce that was slightly sweet and not too spicy.
Thai Fried Rice with onions, tomatoes, carrots, green onions, and green peas with chicken was good, but paled in comparison to the fried rice ball salad… I hear that they serve steamed sticky rice in woven baskets which sounded very interesting, but we had enough food already.
We got there late on a sunny weekend morning and the dining area was warm and stuffy. Later they opened the front door and started some fans, but I was deterred from trying any of their very interesting sounding hot noodle soups… I will wait until the weather cools off to try those.