previous visits: 2-24-07 | 12-11-06 | This looks so different in the daylight…
One of my favorite bloggers Passionate Eater organized a brunch at Maverick for a small group of people who all have a serious preoccupation with food. It was fun to meet and eat with fellow food fanatics Single Chef Guy, bunrabs, the epicurious wanderer Chubby Panda and of course, Passionate Eater. It was a very animated group since we were doing what we all love best, talking about food and looking over a new menu and eventually eating!

I felt very adventurous and ordered the Fried Oyster Po'Boy, which came with a big pile of fries. The oysters were fried in a cornmeal crust and piled in with shredded lettuce, tomato, spicy sauce in a soft round bun.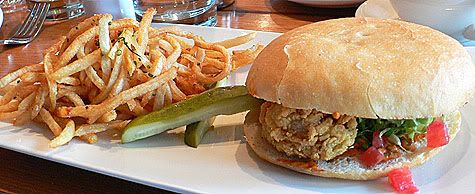 The sandwich was very large so I cut it in half and the first part was amazing. The oysters were light and fluffy within the crispy fried crust and there was just the right amount of lettuce and creamy spicy sauce.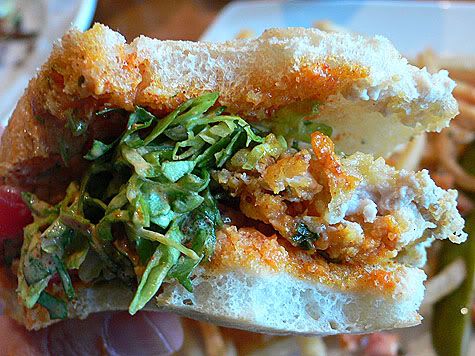 I was doing really good until the last oyster which was still runny and gooey on the inside… when I looked at it, it was filled with dark green sludge… omg was that in my mouth? I love raw oysters, but these were the larger kind that are generally served cooked for a reason… I swallowed and moved on to trying other peoples food.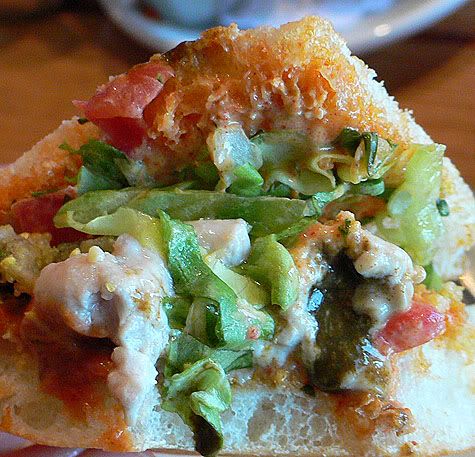 Cornmeal Buttermilk pancakes alongside house made chicken and apple sausage with warm Vermont maple syrup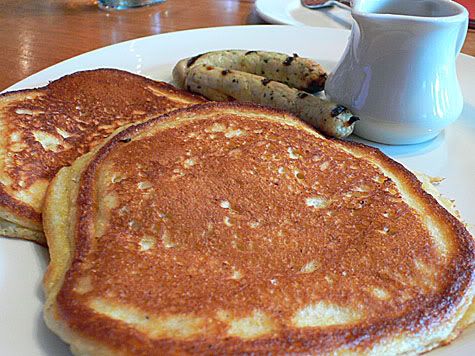 Poor single chef guy sat next to me and I behaved badly, taking advantage of first meeting goodwill and had several tastes of his Duck Confit Hash. According to the menu, oyster mushrooms, potatoes, duck confit, poached eggs, mushroom cream sauce.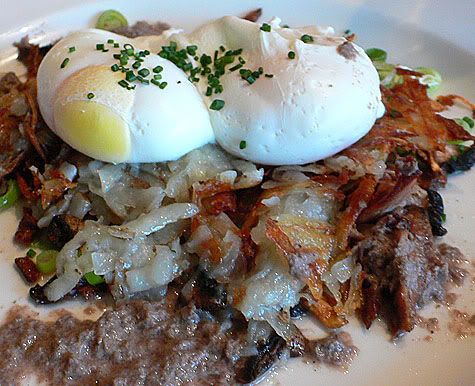 Texas Migas, was a savory blend of scrambled eggs, tortilla strips, roasted chilies, cheese and salsa, then topped with smashed avocado and served with black beans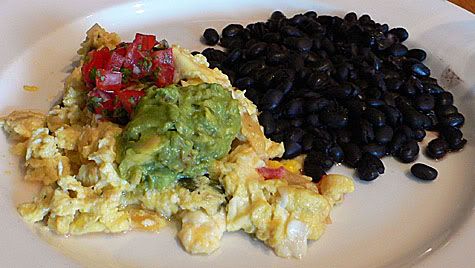 I passed my camera over and someone took this fine picture of the Andouille Sausage "Benedict." Looking at this picture, I should have gone over myself and taken a taste because it looks really good. Well, better I only abused the poor single chef guy and I'll just have to order it another time. According to the menu, under the poached eggs with the crawfish and jalapeno hollandaise was grilled andouille sausage over an English muffin and served with home fries.
As tokens of our esteem we brought small gifts to the passionate one, here is a magnificent assortment of manju from Shuei Bakery in San Jose.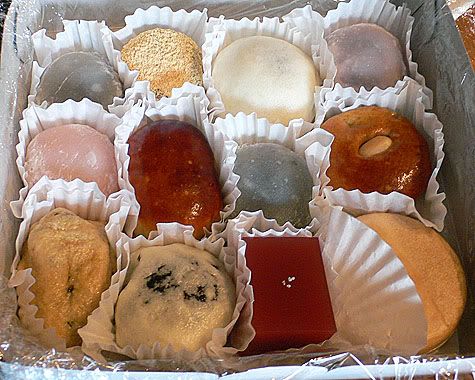 Someone suggested ice cream at Bi-Rite, which I have been wanting to try for a while. It was a few blocks over and we staggered along in loopy formation, eventually arriving at our destination.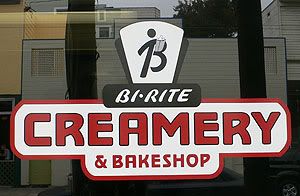 Difficult decisions had to be made, everything sounded so good… I was told that they roast the bananas first before squishing them into the ice cream, which sounded ever so delicious. I got a scoop of the Roast Banana on top of their famous Caramel with Fleur de Sel on a cone. My favorite was not surprisingly, the Caramel. Mmmm, sweet, rich and creamy with bursts of salty… I must go back and try the Peanut Butter with Fleur de Sel next time!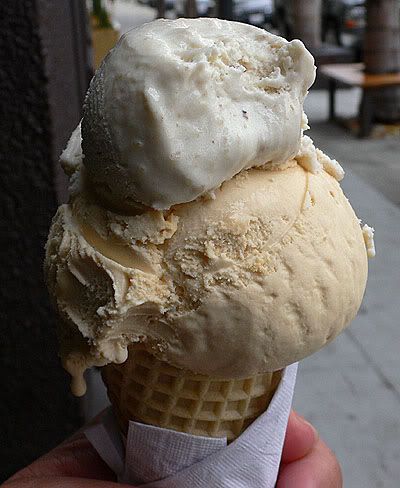 Chubby Panda knew the scoop – put it in a cup… what genius! He had a scoop of Balsamic Strawberry, which sounded very intriguing.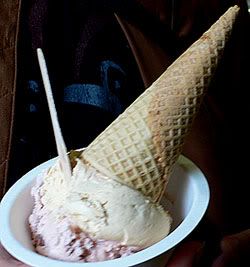 We walked around a little more, lingering out front of Tartine Bakery which had the mesmerizing smell of baked pastry and chocolate wafting around the front entryway. Fortunately we moved on, I'm not sure I would have been able to eat one of the gorgeous pastries… Eventually we ended up near the bart station and we parted paths, promising to keep in touch by reading each others blogs. Thanks again PE for setting that up, we'll miss you!!