372 Grand Ave, Oakland, CA

Yes, another visit for Korean BBQ… third time in a month, I can't get enough of the kimchee and garlic, everything tastes bland in comparison now!
This is in Oakland by Lake Merritt and is one of my favorites because they serve a generous assortment of panchan, the little side dishes, as well as a bowl of deliciously chilled kimchee soup with billowy buckwheat noodles and crunchy greens. The soup is tart and savory but with a spicy kick from chili paste, which really wakes up your taste buds in anticipation of the feast to come.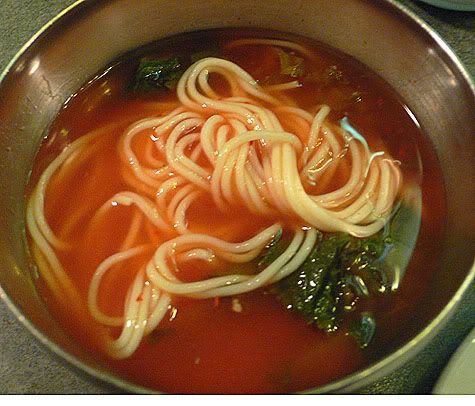 We got over a dozen little plates of spicy fried tofu, seasoned fish cakes, opaque white jelly strips tossed with sesame oil, sauteed pickled seaweed, pickled beansprouts, fiery hot kimchee, bright red chunks of spicy chili marinated daikon radish, stewed soybeans, tiny dried little fish that everyone thought tasted like sweet little bits of beef jerky, clear crunchy noodles made of seaweed that looked like they were made of glass, broccoli, pickled seaweed with crunchy strands of daikon.
We ordered before they brought any of the freebies out and so ended up with way more than we could possibly have eaten! The servers were good natured but a little scatterbrained, returning often to refill our water glasses and kept dropping off more food.
We started out with an order of the Goon Man Du, pan-fried beef and vegetable dumplings (very similar to japanese gyoza)
it came with an addictive dipping sauce of soy, green onion, vinegar, sesame oil, and smoky-tasting chilis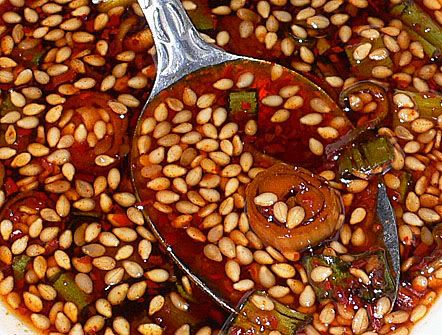 Which also went very well on the Hae Mul Pa Jun, large pancake with seafood and green onions. It was filled with bits of chopped octopus and shrimp cooked into the batter and crispy on the outside.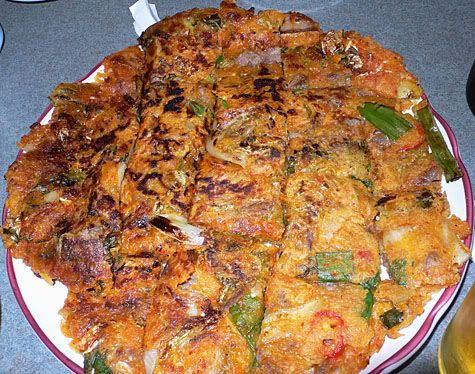 The magnificent platter of Jab Chae, Sauteed Noodles with Beef and vegetables. The noodles were clear and had a delightfully squishy elastic quality which absorbed the flavors without being greasy. It was piled high with mushrooms and slices of beef then tossed with sesame oil and a little tart as well. It was one of my favorite dishes of the night despite being very difficult to eat with chopsticks.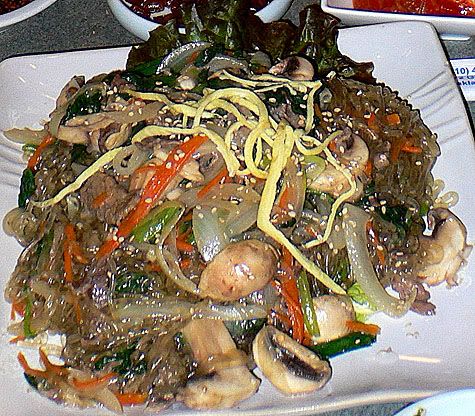 The Dolsot Bi Bim Bap was stuffed full of sliced beef, zucchini, carrots, beansprouts, daikon, spinach, seaweed and topped with a fried egg over rice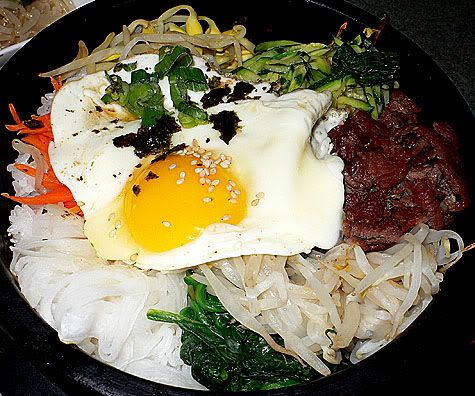 I mixed it up with a rich spicy chili sauce then let it sit and continue cooking so that the rice developed the delicious crunchy crust against the hot stone bowl.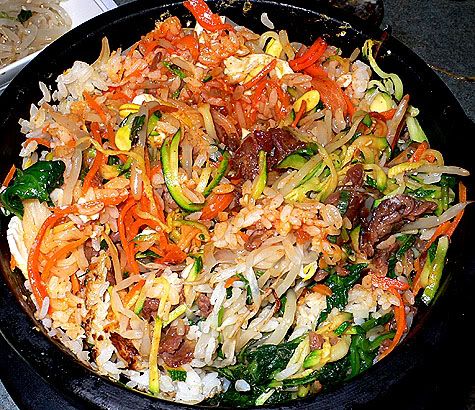 Our waitress opened up the table, exposing the grill for us to cook the entrees that we ordered when we were still really hungry, bulgogi (thinly sliced beef), spicy pork and pork belly too.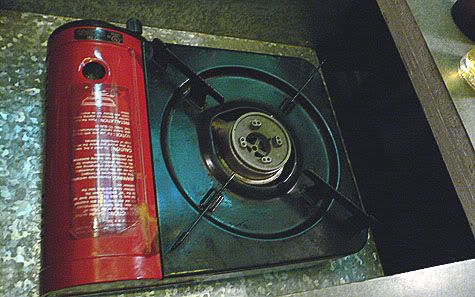 She fired it up and placed a gigantic shallow pan jammed full of meat and vegetables on the flame. This is supposed to be an authentic style of cooking, but I thought I remembered having the stove top grill where you place the raw meat on and turn it over to cook it, not sauteed in a pan… Some of the meat came plain, some of it came marinated in chili paste, but when it cooked together in the pan everything ended up being touched by the spices and dripping with fat from the pork belly. It was delicious!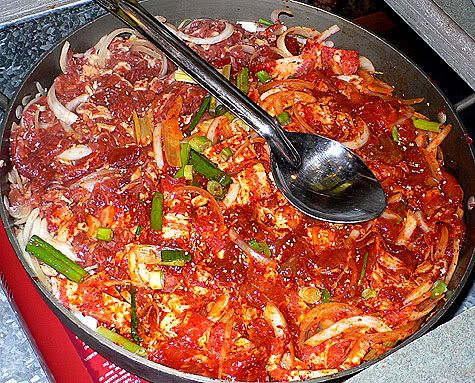 She returned frequently stirring it up for us, and it finished cooking pretty quickly. From what I could understand, they don't do the table top grilling because they aren't able to get a permit. They are surrounded by apartment buildings and must have gotten complaints.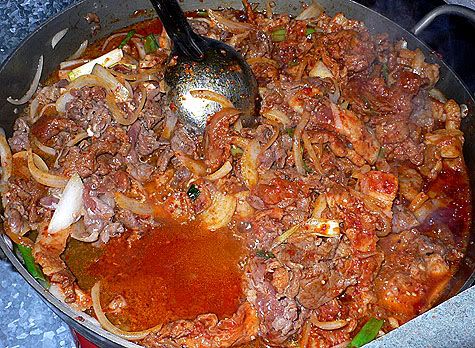 We got a couple of baskets piled with lettuce, fresh veggies and herbs, as well as plates of sliced jalapenos and fresh garlic. As part of the grilled meat order, they dropped off a couple of spicy tofu soups bubbling away in in hot ceramic pots.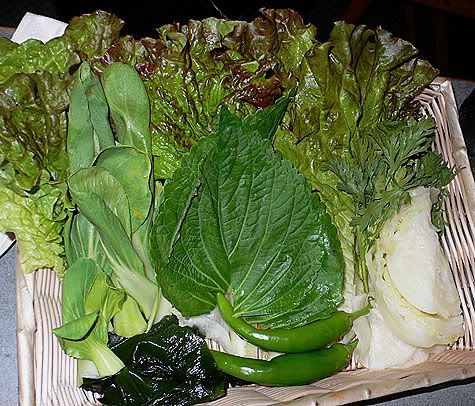 The lettuce serves as a base to roll up filled with meat, rice, kimchi, garlic, and the salty bean paste. The possibilities are endless if you consider the many dishes of pickled vegetables and kimchee which just add explosive bursts of fiery flavors and textures. Here is Mank who was assembling the base of an incendiary roll of spicy hot items… At this point, I stopped taking pictures because my hands were so greasy and then I was too busy eating.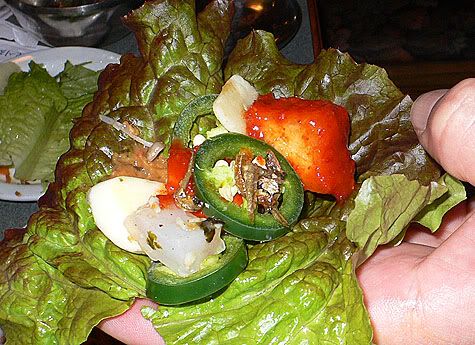 I love piling on the raw garlic slices which add amazing flavor and aromatic intensity when placed directly on the steaming hot meat. Drizzle some of the fermented bean paste sauce and top with the garlicky kimchee and be glad that everyone else at the table is doing the same… I'm sure we were reeking of garlic when we left the restaurant!