18736 Main Street (Highway 120), Groveland, CA | website
We always count on getting some warm weather with Indian summer and it really took its sweet time showing up this year… We were finally rewarded with a heatwave last week week that coincided with plans we made to camp in Yosemite for a long holiday weekend.
In order to break the drive up, we decided to stay overnight at the Hotel Charlotte, which is located on highway 120 a little ways before Yosemite.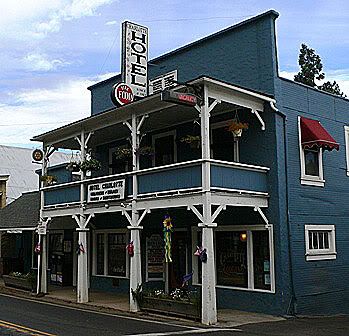 We had a cozy little room with a really high bed that I had to literally jump onto, but it was comfortable and the rates were very reasonable for last minute holiday weekend prices. It's a bed and breakfast with 10 rooms and I was looking forward to their pancake breakfast buffet.
I was not disappointed. At first glance, it was a very basic spread, but they covered the important stuff. And the coffee was freshly brewed and deliciously robust, a very welcome surprise!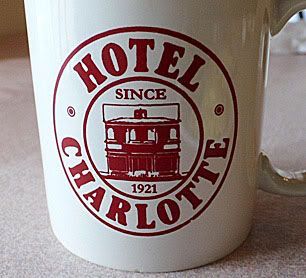 The buffet consisted mainly of scrambled eggs and pancakes. The scrambled eggs were perfectly cooked and fluffy and topped with melted cheese.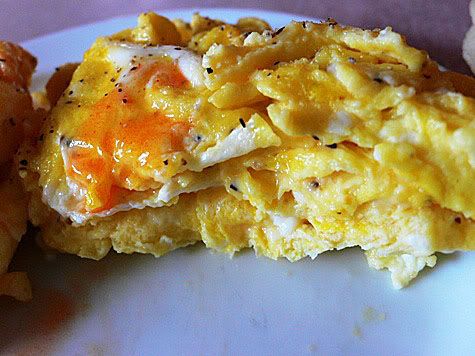 The pancakes were thick and fluffy and very filling. I wish I could make pancakes like these, they were a bit crispy on the outside but airy and light inside. They weren't quite hot enough to melt the butter into the pocked surface of the pancake (that would have been too awesome), but enough to soften it to spread.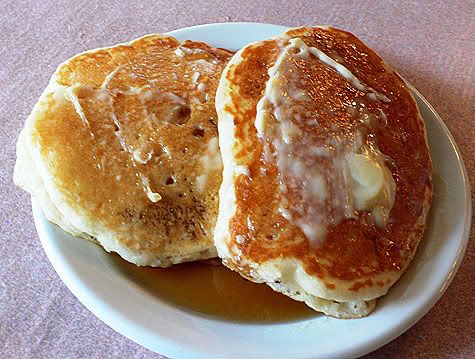 OK, so two pancakes and a pretty large pile of scrambled eggs was about all I could manage. There were several types of bread to toast, bagels with cream cheese, a couple of cereals with milk and soymilk, yogurt and a variety of fresh fruit.
We packed up and went on our way to get a campsite in Yosemite. Wouldn't you know it, after we left the heatwave in the valley and got up into the mountains, they were having some late summer showers and blustery cold winds!