Pier 33 at Bay Street, The Embarcadero, SF, CA 415.864.8999 | website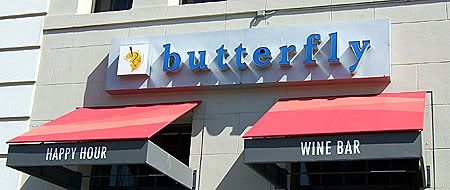 Butterfly is perched on the waterfront in a cozy corner along the Embarcadero, tucked right next to where the big passenger cruise ships berth at pier 35. The view alone is worth a visit, but the atmosphere is expansive and relaxed and the food is really good. The chef-owner, Robert Lam was named a Chronicle Rising Star Chef in 2003 and the food coming out of the kitchen is a sophisticated blend of asian cuisines. We came here with our favorite vendor KN, who is the king of appetizers. Everytime we eat with him, he ends up ordering more appetizers than entrees!
Duck Confit Spring Rolls, with a fiery Chinese Hot Mustard and Honey Dipping Sauce that cleared everyone's sinuses. The thick rice paper wrappers were still a little sticky on the inside, but fried crispy on the outside and it shattered into shards in your mouth when you bit into it – perfect. The filling was savory with tender strands of meat and julienned vegetables and vermicelli noodles. The hot mustard sauce was very potent, everyone thought it was wasabi but a good hot chinese mustard has very similar properties. (My father HATES wasabi… I mean really hates it, he won't touch sushi or sashimi made with wasabi, but gobbles it up with Chinese hot mustard). I love the way it blasts through your sinus cavity like a nuclear cloud, then immediately fades leaving your ears ringing in the most satisfactory manner.
Kahlua Pig with Butter Lettuce Wraps, served with Hoisin BBQ sauce with toasted cashew nuts and green onions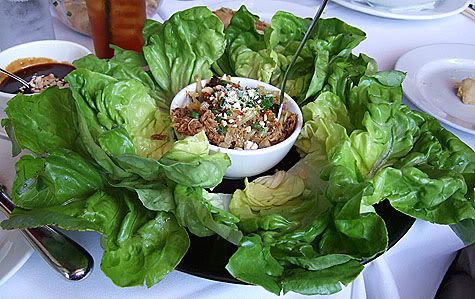 The platter came piled with lots of lettuce, which I really appreciate. So many places give you only a few leaves, which means you end up using too much of the filling, then the lettuce breaks and the proportions are off – there are many unfortunate effects from being miserly with the lettuce. The kahlua pork was full of luscious chunks of the rich meat with lots of chopped ingredients that added the ever important crunch, and crispy elements to the overall texture. The hoisin sauce was tempered with the flavors of sweet, tart and savory bbq sauce. A very delicious combination.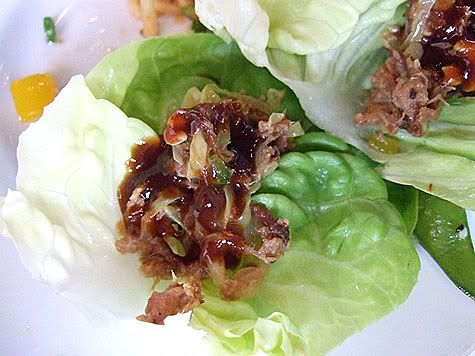 Fire Fried Calamari topped with toasted garlic with Ponzu marinated cucumbers, caper and chili remoulade
The calamari was fresh and clean tasting and every piece was juicy and plump in a delicate and lightly fried batter coating that stung your lips slightly with chilies.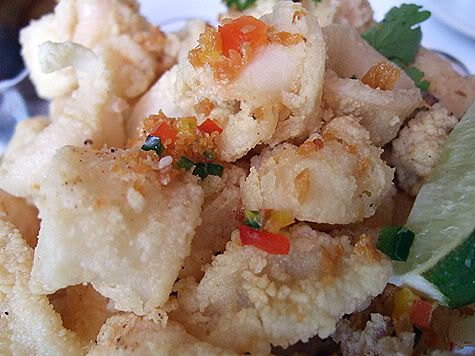 Panfried Shanghai Garlic Noodles, topped with tomato confit and toasted garlic. Rather large for an appetizer plate but deliciously pungent with garlic.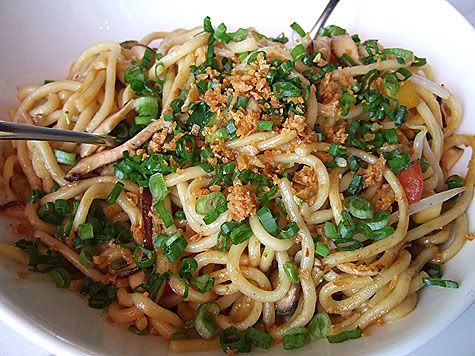 Garlic Seared Clams in a curry lemongrass broth with grilled bread and sesame oil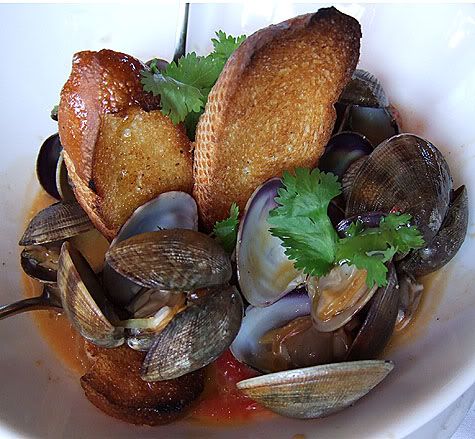 With all of the other dishes, this dish was sadly overlooked. By the time the entrees started showing, I was thinking about dessert… anyways, the grilled bread dunked in the fragrant and spicy broth was very delicious and addicting.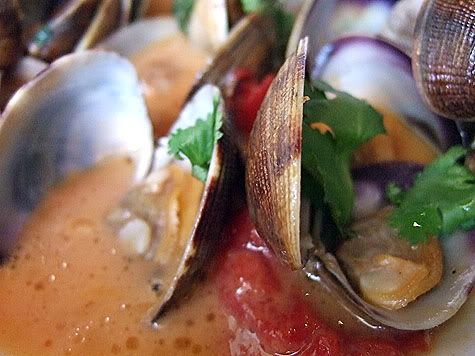 Since I knew we had a lot of appetizers on the way, I decided to forego the famous Kobe Beef Burger, and ordered the Sashimi Trio Salad instead. Rather than a typical salad with greens, it was a large mound of sliced Ahi (tuna), Hamachi (yellowtail tuna), and Salmon scattered with microgreens over avocado, Thai black sticky rice and chunks of fried unagi (salt water eel).
The fish had been tossed with sesame oil and served with a Wasabi Cream and a sesame seed ponzu sauce. There were kaiware (daikon radish sprouts) that added a little kick along with shreds of shiso leaf and topped with translucently thin shaved curls of dried bonito. The large slices of fish were a little unwieldy and the rich chunks of fried unagi were my favorite things about this plate, hands down.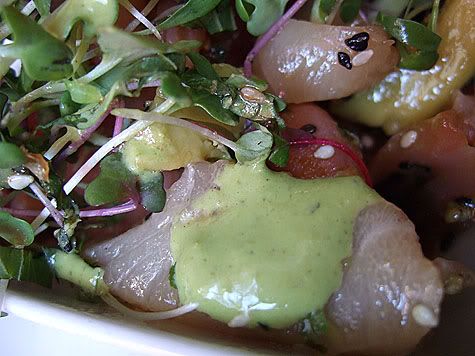 BG and CE both had the Shaking Beef Cobb Salad, topped with a poached egg with prosciutto, maytag blue cheese and applewood smoked bacon. They both happily tucked in and ate everything.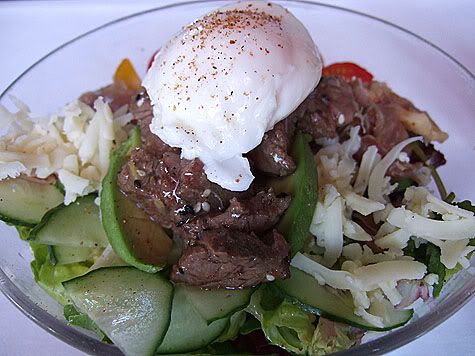 I am sure that the rich gooey yolk from the poached egg tasted good as it oozed over the shaking beef.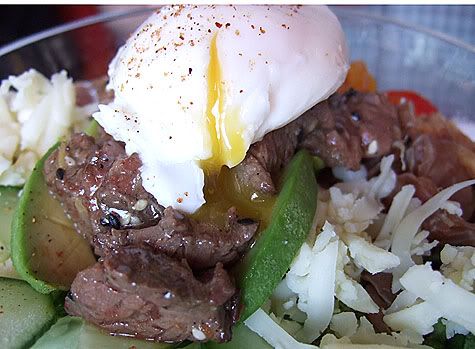 AL and KN had Turmeric Grilled Chicken with Sizzling Onions and Herbs, which came with a bowl of rice noodles and classic Vietnamese "Nuoc Mam" sauce and lettuce leaves to roll it all up in.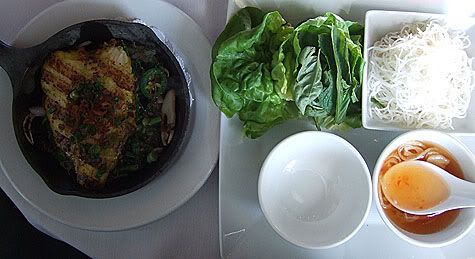 Look at the large gorgeous piece of grilled chicken, it smelled divine.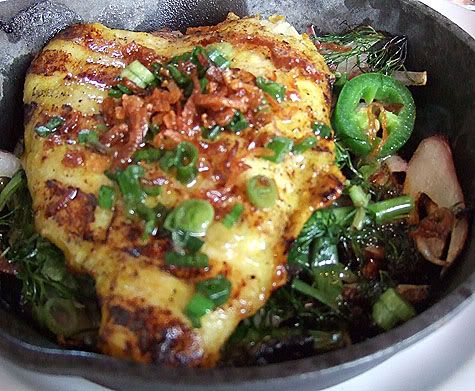 StevieB had the Fried Red Snapper Sandwich on a sesame roll with a spicy Chili and Garlic Rouille and sliced cucumbers. It came with very nicely spiced french fries.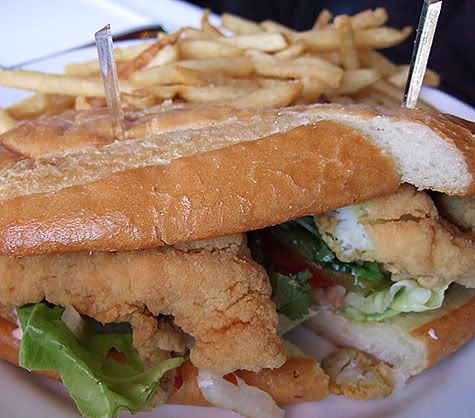 Someone needed to be back to the office in time for a 1:00 meeting, so we didn't have time for dessert, which is worth taking the time for if you can spare it… They sometimes offer special wine tasting evenings with complimentary appetizers that include the burgers as well as their delicious molten chocolate cake. Looks like I have some unrequited business with them yet!