see previous visit 9-27-07
We walked along the Embarcadero amidst the thunderous, ear-splitting roars of the blue angels flying overhead. It sounds like a massive flock of screeching pterodactyls zooming overhead leaving us pedestrians feeling as if we should seek cover or the nearest bomb shelter… But since we think we know that these are friendly warplanes whooping it up in the skies above, we smile watching them, hoping that they will swoop by closer next time…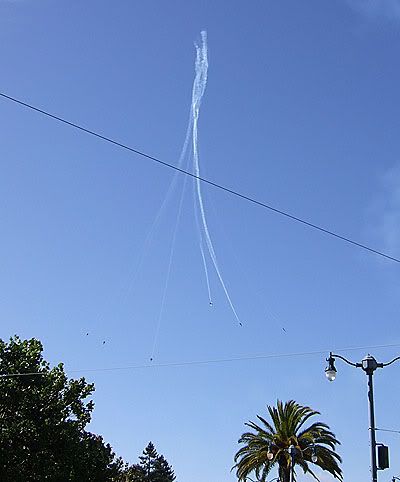 My life must be very happy indeed, as it seems that I spend a lot of time at happy hours, and the occasion this time was a practice session to extend our best wishes our esteemed colleague KC who is leaving us for greener pastures soon. Butterfly has a very limited happy hour menu but the view is expansive and good from every vantage point in the restaurant (as we were to find out during the course of the evening).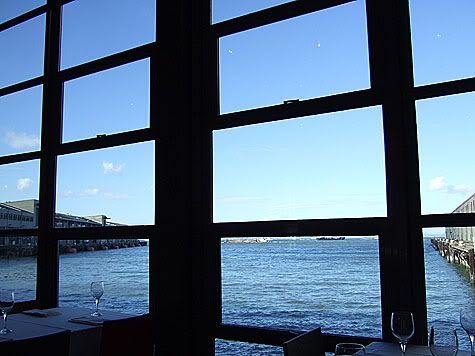 The only problem with happy hour, is that you are limited to either sitting at the bar or squished into a cramped arrangement of sofas that face the lovely view, except for the table of diners in the way. It's an awkward situation for everyone, so we opted for the bar, as we were told that you can't order from the happy hour menu if you were seated at a regular table on the dining room floor. The happy hour portions are small versions of the regular appetizers and we started with the Garlic Seared Mussels Clams in a curry lemongrass broth with grilled bread and sesame oil. The broth was rich and creamy with the addition of coconut milk. AL ordered a round of the Duck Confit Rolls, Fire Fried Calamari and Kahlua Pig in Butter lettuce cups that we enjoyed at lunch the week before.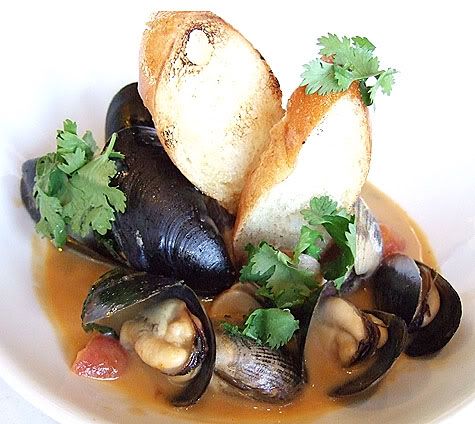 After the first round, we decided to move to a table where CK and KC were excited to explore some of the more exciting appetizers from the regular menu and we got the Ahi Tempura Roll that was topped by a zesty and delicious carrot and cucumber salad. The roll itself was unremarkable and while beautiful to behold, it lacked both flavor and texture despite the wasabi cream sauce and embellishments.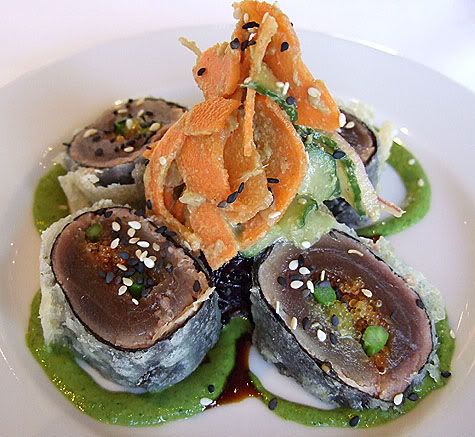 The center of the rolls were filled with flying fish roe and asparagus, and they were placed on the plate around a mound of black thai rice and then circled with rings of colorful sauces and sprinkled with black and white sesame seeds. I think it would have been better served with some plain ol' wasabi and soy sauce to perk things up.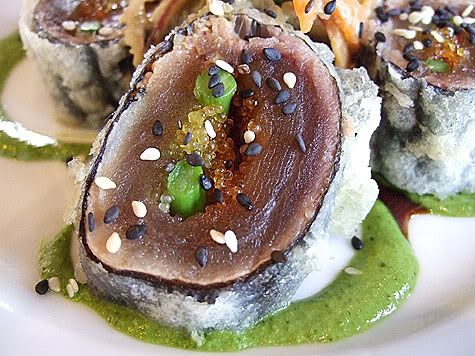 We also had the Hoisin Glazed BBQ Baby Back Ribs, which were very zippy but the meat was tough and dry. It was topped with cashew nuts and a pineapple relish.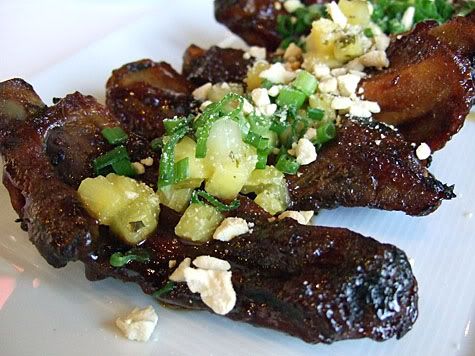 Debbie and I kept looking at the Shrimp in Lobster bisque topped with puff pastry on the menu and eventually we ended up ordering it and holy cow were we glad we did. It was topped with tiny sparkles of Hawaiian red sea salt (I think it gets the pinkish hue from volcanic rock) and bits of chopped chive and looked too beautiful to touch, but I cut into it with a knife and was enveloped in a blissful cloud of rich truffle oil scented heavenly joy.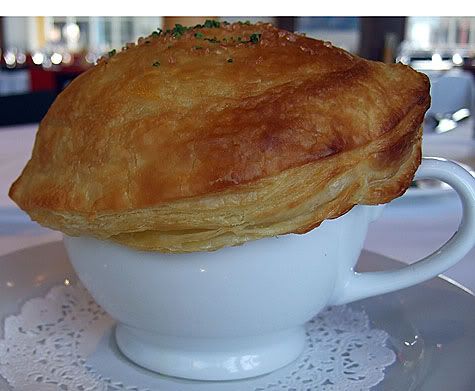 The pastry was comprised of delicately crisp layers of buttery and tender dough that was perfect to dunk into the rich soup.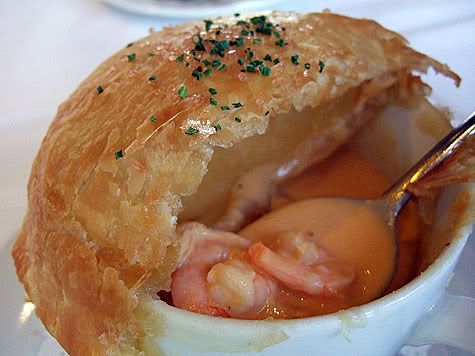 We stayed for several hours, the size of the group rose and fell and each time people left, the restaurant moved us to another table, only to change us again when another group came to join us. We changed tables about 4 times, ending up at one of the long booths where one of the chefs came by and dropped off mooncakes for us to enjoy.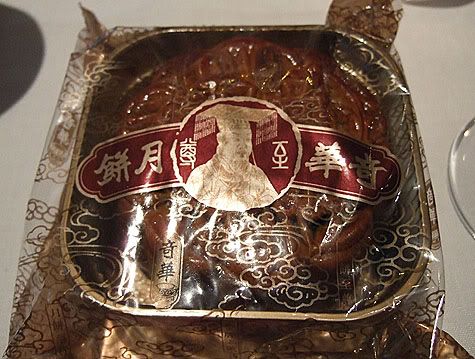 DDR scored one of the pieces with the eggyolk averting her eyes for only a second, which was long enough for her hubby P to abscond with it…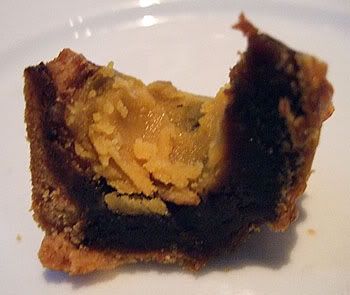 There are many laughing buddhas displayed throughout the restaurant, signifying how we felt at the end of the evening. I was very disappointed that they do not serve their famous Kobe beef burger at dinnertime, which just means I need to return for yet another lunch…