In an effort to survive the holiday season without bursting out of my wardrobe, I have temporarily sworn off french fries and gooey sweets and am trying to include more vegetables and eat a little healthier… Today I had a hankering for the Cobb Salad at Butterfly Restaurant and enjoyed the brisk walk down the Embarcadero in the cool wintery breeze coming over the bay. I am fortunate to work so close to this restaurant, as I had been tormented by thoughts of shaking beef after the red egg and ginger buffet last weekend, and the lunch menu at Butterfly has many delicious dishes that beckon to me… (previous posts: happy hour, lunch)
I got a cozy table with a nice view of the water that made me feel a little as if I were in the dining coach going on a trip somewhere…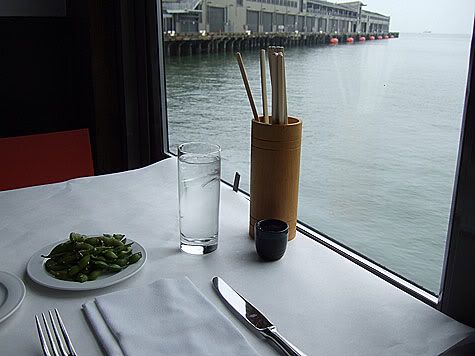 I was served a beautiful plate of Edamame that had been tossed in sesame oil and then sprinkled with glistening crystals of pink sea salt along with black and white sesame seeds. This was a delicious indulgence with crunchy bursts from the sea salt that fall into your mouth as you pop the edamame out of the pods by running your teeth down the length of it. The sesame oil provided a rich toasty complement and it was gratifying to know that these are green and vegetables so I believe I was staying within the confines of healthy…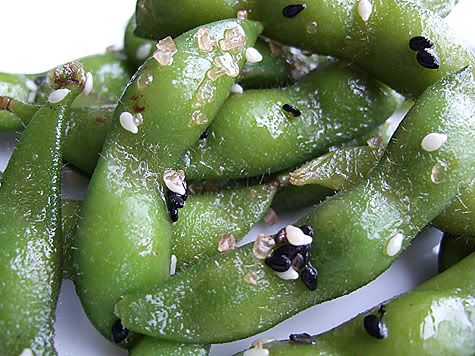 Imagine a salad which on its own starts off innocently enough with a base of lettuce, sliced cucumber and cherry tomatoes, then taking a fairly wild detour as it includes bacon, egg, blue cheese and avocado to become a Cobb Salad. It continues on in this flagrantly decadent manner to include piles of shaking beef and translucently thin slices of rich and luscious prosciutto. Who can resist the siren's song of such a combination that is the Shaking Beef Cobb Salad at Butterfly Restaurant?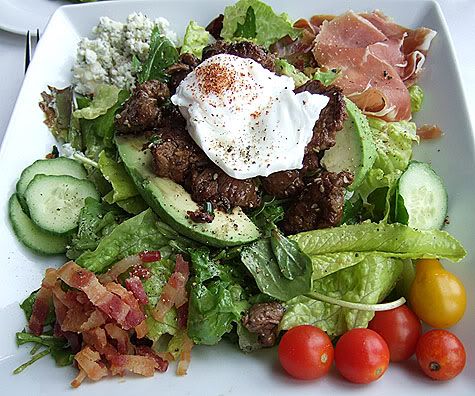 The poached egg is dusted with shichimi togarashi, a Japanese blend of 7 spices which adds a bit of heat as it oozes over and is blended in with the diorama of indulgence. There actually is a really good balance of rich flavors that contrast with the fresh crisp crunchy cucumber and lettuce mix and sweet and juicy cherry tomatoes.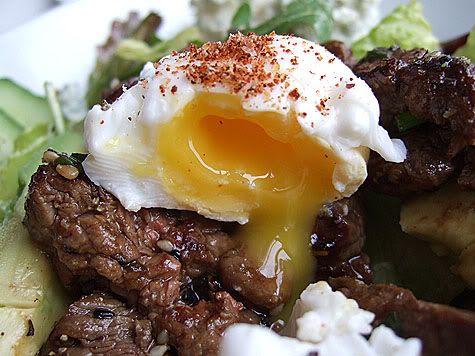 It's quite a substantial meal and at least I can say I was a protein star… I'm not sure at all which is worse, the fries or this salad, but because of the inclusion of green leafy vegetables and tomatoes, I'm betting on the salad! BTW, the edamame were on the house, the salad was $12 (quite a deal for the quality and quantity) and the view out the window was moody and gray…
Now speaking of decadent salads, I also have to admit that I have been harboring naughty thoughts about the Frisee Salad from Globe Restaurant. The lardons, which are huge squares of chewy salty bacon are truly scandalous and make even me feel sullied in a vaguely guilty manner. The crisp stalky frisee is coated with a tartly astringent dressing that becomes sublimely rich and unctuous when mixed in with the opulent yolk from the poached egg.
This is what happens when I eat salad and I have to admit that when I find myself at a salad bar, I tend to end up with piles of everything but leafy green salad…