Alfred's feels like an old-school gentlemen's club with the dark wood paneling, leather lined booths and plush carpeting. If you go to their website, it says Real Steak, Real Martini, Real San Francisco since 1928. That about sums this restaurant up. It is tucked away on an alley past the Transamerica Pyramid building and has a dimly lit swanky little bar where you can get some of the best deals in the city between 3 – 6 pm and they charge no corkage on Mondays.
Just around the front lobby, the walls are lined with a glass fronted meat lockers where they dry age primal cuts of meat for up to 4 weeks.
The several hour happy hour offers some excellent bargains, especially the $6 burger which I covered in a previous post, and the $3.50 glasses of house wine. They have large parfait glasses filled with a bar mix, topped off with crunchy goldfish crackers.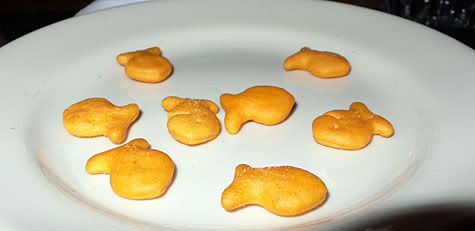 Behind the bar are rows and rows of spirits. Along with the claimed largest list of single malt whiskeys (over 100 labels), there are many bottles of bourbon referring to turkeys. Tucked in between them is a bottle of pickled turkey gizzards, which is indeed filled with greyish blobs of organic matter floating in brine…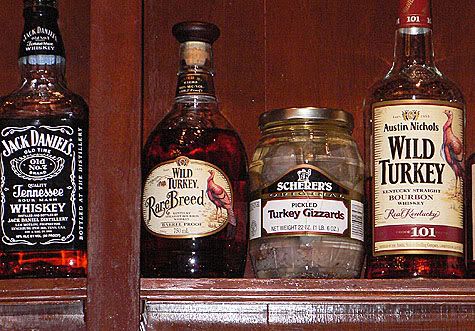 Will, the courtly gentleman manning the bar is a very pleasant straight up and down fellow.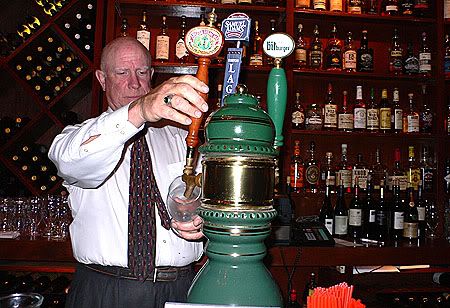 I was disappointed with the Onion Rings which are reminiscent of the onion blossom served at Chilis. They smelled fabulous when they first arrived fresh from the fryer, but sadly lacked substance. The onions are thinly sliced with a light fragile floured crust. I prefer breaded over battered and definitely like thicker slices and with crunchy breading, not a listless floured crust…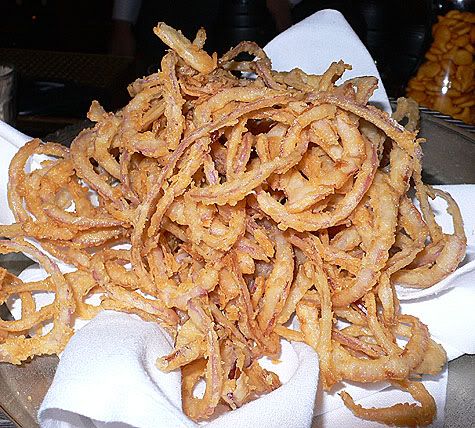 I finally got to try the Garlic Fries, which were thin cut but not quite shoe-string. The size and shape are very similar to McD's fries, but the ends are clearly skin and the texture indicates that these are real deal potatos, not processed and formed… They are also served in french fry serving contraption that is kind of cool and minimizes counter space.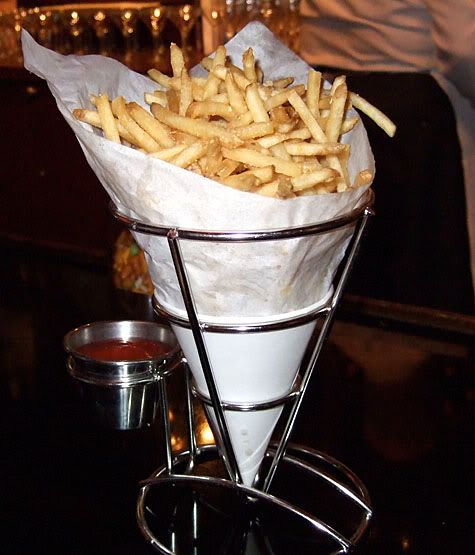 The fries are perfectly cooked with a crisp delicate exterior and soft yielding center with the perfect amount of garlic flavor. There are tender little clumps of cooked garlic clinging to the fries, along with bits of chopped chives and salt crystals.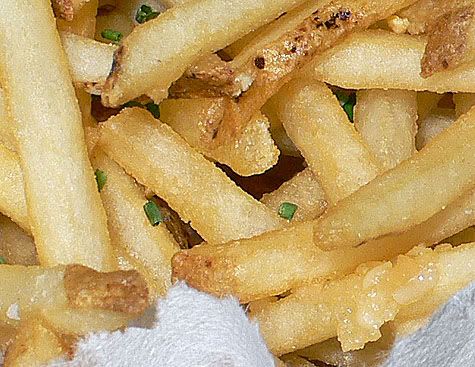 BG had the Crab Cake which had a crisp and crunchy exterior densely filled with succulent pieces of meaty crab. I sampled a bite and this is something I will come back for along with those garlic fries….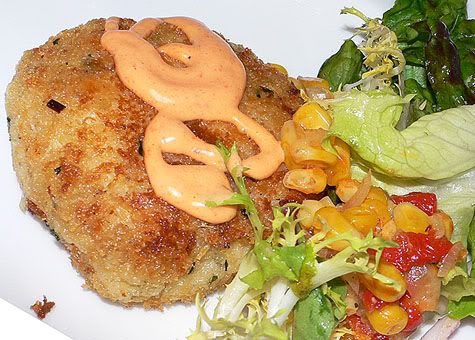 The person next to me had a very good looking seafood cocktail that looks worth trying, next time… The $6 prices on the happy hour menu make this a fine time to stop by.