previous visit: 3-08-2007
I never got a chance to post some of the delicious pre-holiday feasts I enjoyed, but that's not because they weren't worthy…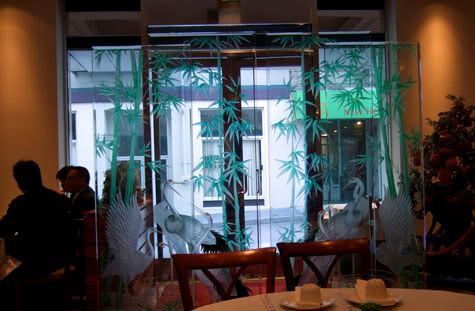 Besides Yank Sing and since Harbor Village at the Embarcadero closed down, this is the only other posh and swanky dim sum restaurant in the downtown area. It's about twice as expensive as Gold Mountain, but it's a much nicer environment and the food is better. The other downside is that you have to either get there when they open at 11:30, or else have a reservation, I don't think we have ever had to wait at Gold Mountain… Anyways, we got here early for a delicious Christmas eve dimsum lunch.
Normally, these Pork Siumai dumplings are topped with an orange fish roe, but Cody and BG both noticed that they had been topped with cleverly chopped carrot that looked exactly the same if you weren't paying attention! Upon closer inspection, this is definitely carrots, not the usual little crunchy salty orbs. Hmmm, ran out, or shaving pennies?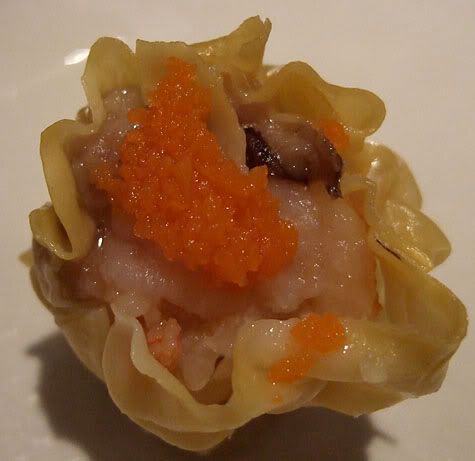 These Chive and Scallop dumplings were so plump and juicy but I wondered how in the world do they manage to get the one edge so crispy? It was blistered to perfection without affecting the rest of the soft sticky wrapper.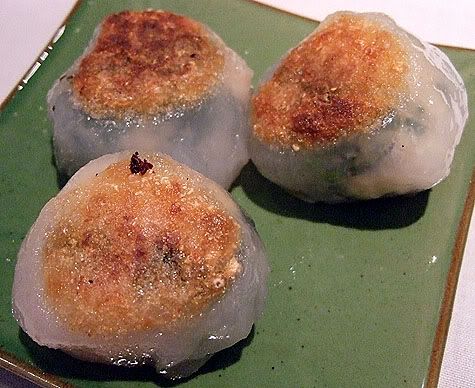 We got an order of Potstickers, which were delicious by my book as the wrappers were very thin and they reminded me of gyoza. Again, the panseared side was perfectly crisp and crunchy.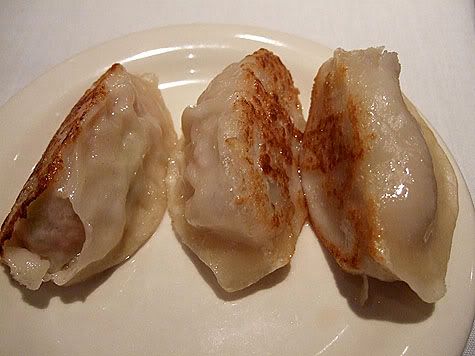 The Tofu Rolls were very large, so we asked them to cut them and had to wait a while for someone to come around with scissors.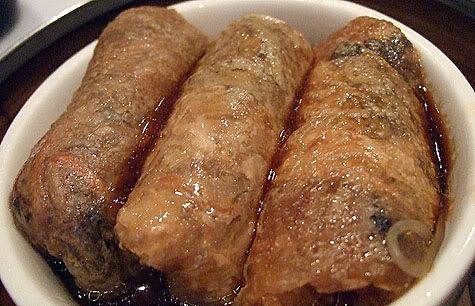 These were the only dish that we all agreed was just bad. The tofu did not have much texture, the noodles were not cooked enough and therefore had too much texture and the overall dish was bland and lacked flavor. Very disappointing, but it was just one small dish of many, and everything that followed was delicious.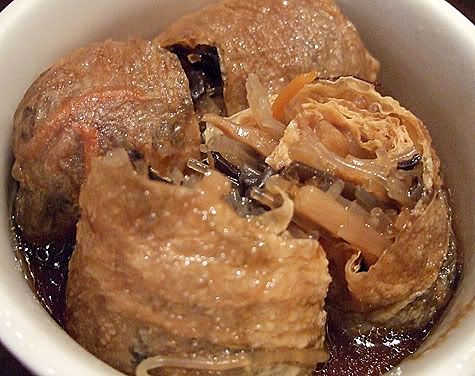 The Seafood Dumpling had plump pieces of scallop and tiny shrimp inside with bits of chives.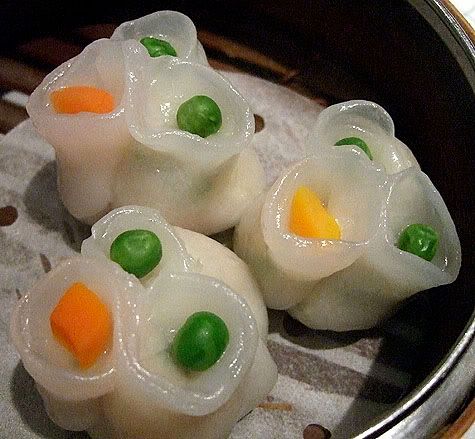 I always love the Shrimp Paste filled Bell Pepper, and again wondered how they manage to have the crispy fried shrimp paste against the soft steamed peppers? They must fry them shrimp paste side down and let the peppers steam by the heat of the cooking… The peppery oyster sauce topping added the right amount of soy and marine flavors mixed in adding a luscious velvety texture.
They came around with Shrimp Paste stuffed Mushrooms, which we couldn't resist. These were so hot and juicy you had to be careful not to hurt yourself when you bit in.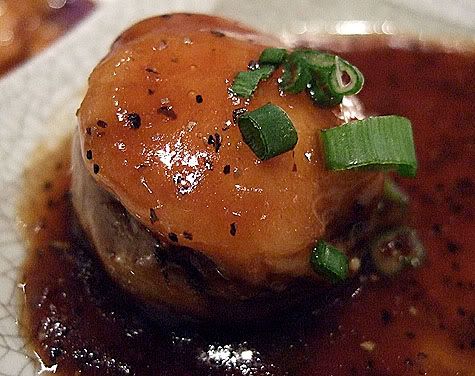 Scallop and Leek dumplings were full of clean garlicky flavors that burst from the succulent scallops.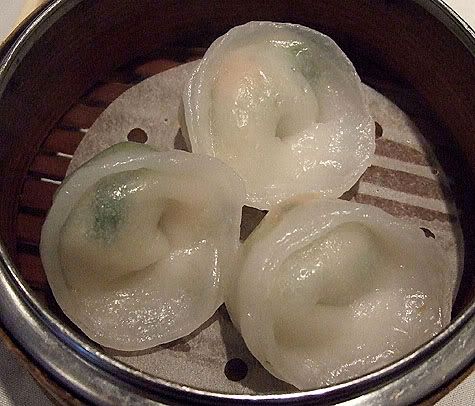 The Shanghai Dumplings disappointingly lacked the exected savory burst of fatty broth when I bit through the thick skin. Even a liberal dose of the ginger infused red vinegar that is always served with couldn't make up for the aggregious shortfall! This beloved dim sum item always seem to spark the liveliest discussions of where to get the best shaolung bao and everyone seems to agree that the best are not to be found in San Francisco…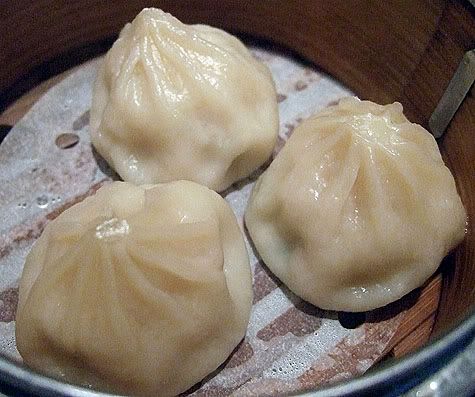 Sometimes I think I am the only one who likes the Steamed Shortribs in Blackbean Sauce, as I tend to be the only one eating it… This is fine with me! I love chewing away the fatty, savory morsels of meat from the bones and slurping up the pungent black bean and pepper infused broth that it is steamed in. There is a lot of work involved, although much less than for chicken feet, with great rewards.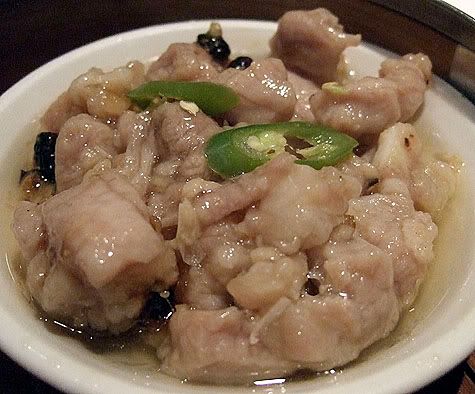 I grabbed a server who went by with plates of Orange Chicken, which I haven't ever seen on a dimsum cart, but I do love fried, battered meats served in a sweet and sour, garlicky, spicy, sticky sauce.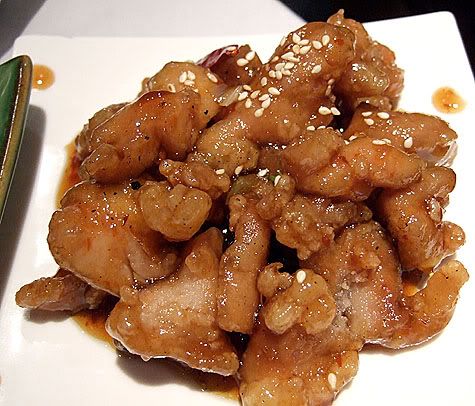 I don't know exactly what this dish is, but it had a couple of stuffed jalapeno peppers that were incendiary enough to start a firecrackery bout of coughing… It had eggplant and fried tofu as well in a thick velvety savory sauce that inherited a bit of a kick of heat from the included peppers. It was very good once I recovered.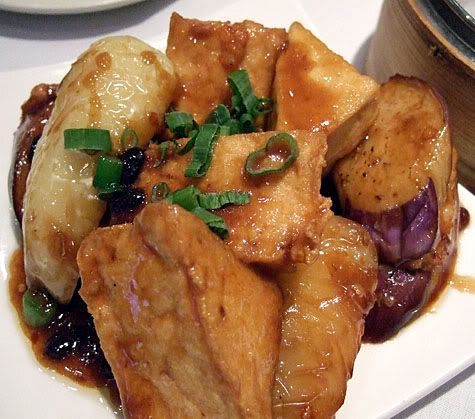 BG always is up for the Honey Walnut Prawns, and snagged a small plate when the cart went by. I was sad that there were very few of the walnuts, which are my favorite part of the dish. I'm not a big fan of mayonnaise in Chinese food, it just seems weird!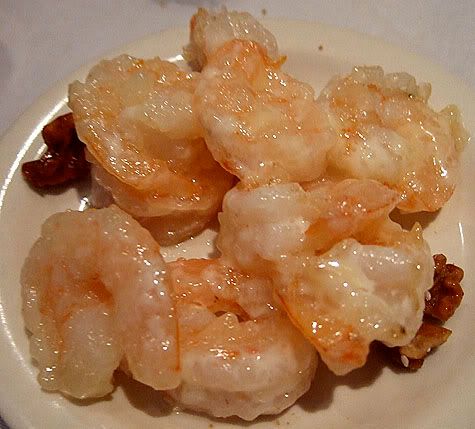 For dessert, we had a dish of Fried Sesame Balls that are sweet bean paste filled balls of sticky rice flour rolled in sesame seeds and then fried. Sweet, sticky and fried to a delicate crisp.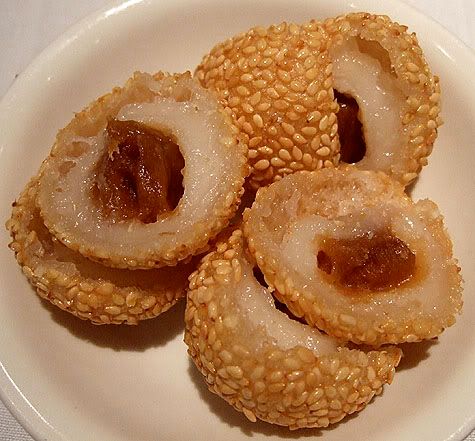 That was all we could manage although I think that Cody had a plate of pineapple buns that disappeared before I took a picture. It was a very nice end to a short day of work and marked the official start of the winter break for me.