Dine About Town(DAT) is back for the seventh year where diners can enjoy a 3-course lunch for $21.95 or dinner for $31.95 at over 100 participating restaurants. For some reason it's only going from January 15-31, instead of the entire month as in previous years. I'm not complaining, that just means we have to concentrate our efforts and squeeze in as many as we can in two weeks instead of four.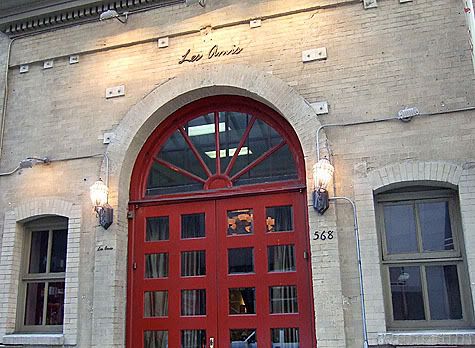 My first DAT for the 2008 season was lunch at Les Amis, which was selected based solely on the sample menu which said …Seared Flank Steak/ Sweet Onion Soubise/ Duck Fat Pommes Frites. Duck Fat. Quack Quack. So a group of four other co-workers and I trotted over in order to make our 11:30 reservation, and we were seated in a large cushy circular booth right by the service window in the rear. I read somewhere that this was once a firehouse, which explains the very cool front exterior.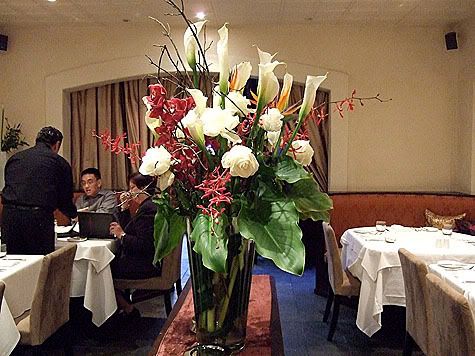 One of the servers placed a few bowls on the table with butter that had been pressed out in a lovely star shape. Then another fellow came by with a covered basket and tongs and handed each of us a warm and fragrant mini baguette. We enjoyed this while we looked over the menu. I was dismayed to see that the Dine About Town lunch menu items did not include the infamous pomme frites, it was only offered on the regular menu. I fairly agonized whether or not to stray from the DAT menu and order the dish with the fries… 3 course meal with dessert or duck fat fries… Eventually I decided to stay the course with the DAT menu since JT said she would take one for the team and get the fries.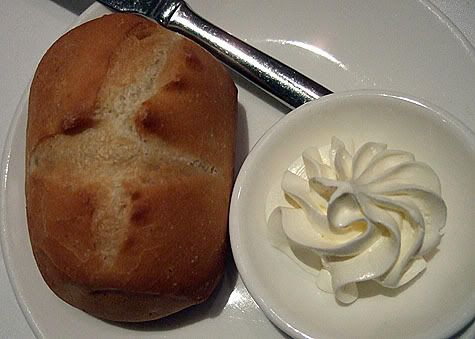 I started with a Green Salad that was a variety of lettuce lightly dressed with a vigorous vinaigrette that included minced shallots and fresh herbs. It was a very fine salad until my teeth ground down on an unpleasant gritty texture that felt distinctly like dirt. Hmmm….
The other starter was a Cream of Cauliflower Soup with a drizzle of Creme Fraiche and a dab of caviar. It was fresh and radiant with the pure flavors of cauliflower, but I think that an herb garnish would have given a brighter and more interesting embellishment than the caviar.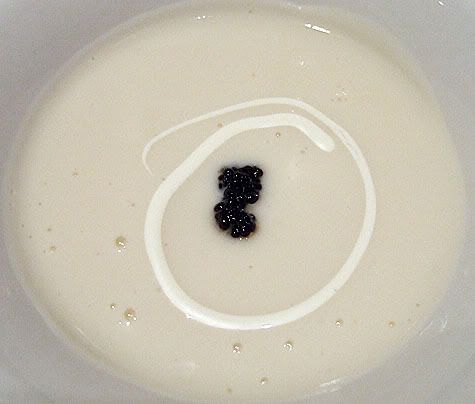 I sat next to JT who had the Grilled Hanger Steak over greens with Pommes Frites. She had requested that it be medium, but it was more medium rare as some parts were dark red, almost purple, which was probably better suited to the meat as it was very lean and chewy in the manner of grass-fed beef. There was a huge pile of fries that we were all very happy to help her finish.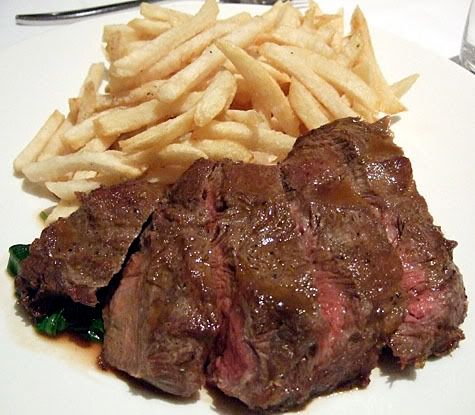 I had the Butternut Squash Ravioli which were three large raviolis that were full of butternut squash that was almost too sweet. They were topped with sauteed black trumpet mushrooms, some chopped fresh herbs, toasted hazelnuts then drizzled with Brown Butter and shaved parmesan cheese which added a rich savory fragrance that helped to offset the sweet squash filling. It was definitely pushing the limits between entree and dessert for me. Fortunately, everyone was willing to share bites, so I was able to enjoy a range of different flavors, otherwise I would not have been happy eating the entire plate of raviolis by myself.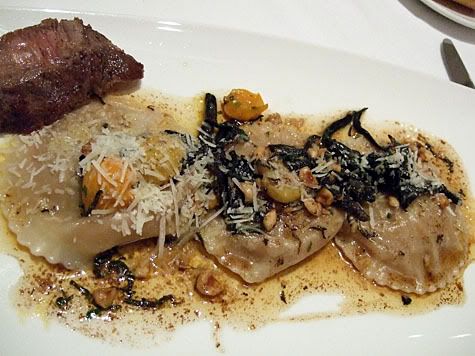 Renato had Roast Chicken with pearl onions, peas and baby carrots.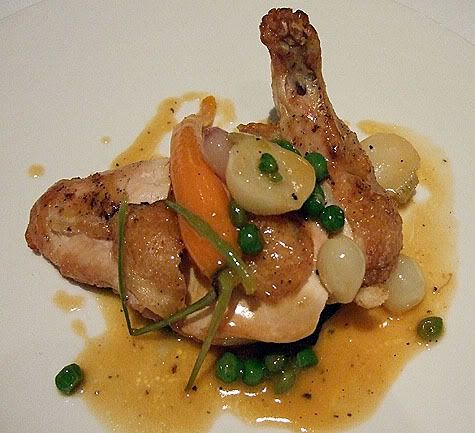 DDR had Petrale Sole on Basmati Fried rice, and seemed quite pleased. Initially it looked small, but it was rolled up which made it appear smaller than it was. It was cooked to a very nice crisp edge on one side and served with a citrus-ginger beurre blanc and topped with peppery daikon sprouts.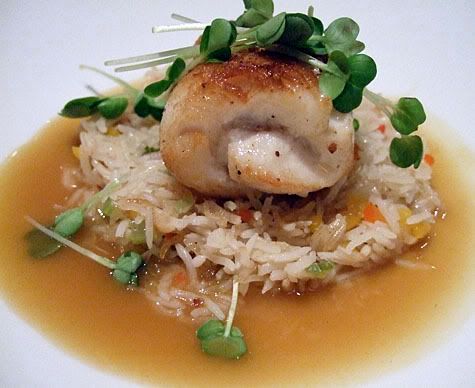 We kind of split the desserts, Renato had the Profiteroles with Espresso Ice Cream, Warm Chocolate Sauce and Orange Caramel Marmalade. The dish came with three puffs which were a little tough and chewy but the combination of toasted walnuts, chocolate and drippy caramel sauces with the strong coffee flavor of the ice cream made a really good blend of textures.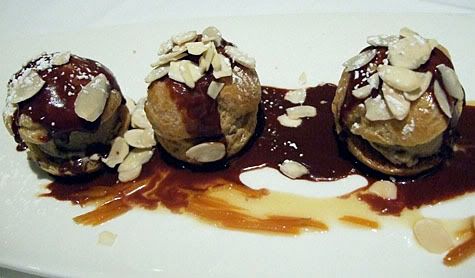 DDR and I both ordered Chocolate Mousse with poached pears, caramel sauce and delicious crunchy bits of nutty graham crackery crisps. We had to laugh because she was looking forward to the poached pears and was a little disappointed that they were teeny little balls about a half inch in diameter. However, they were refreshing and they were visually more interesting than plain old pear slices. The combination of tastes and textures was especially exciting when you got a piece of the graham cracker crispy thing.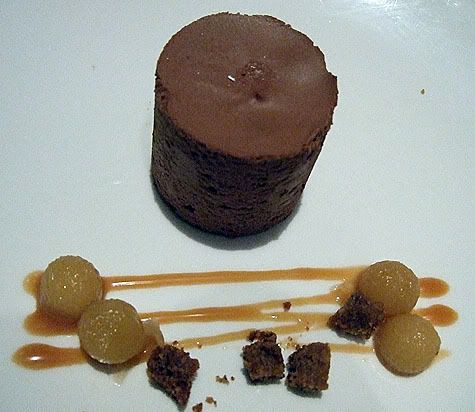 The mousse was darkly bittersweet, fluffy, and very rich.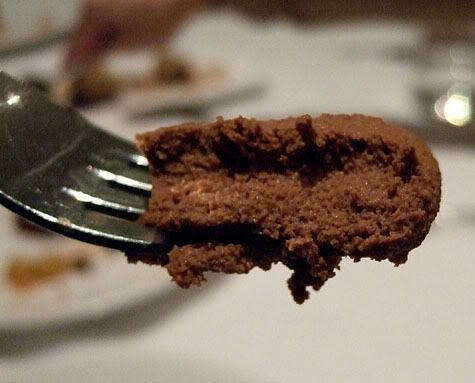 We all thought that the serving sizes of the 3-course lunch were pretty small but combined they provided a satisfying meal. I also noticed that they normally offer a $25 prix fixe lunch which I would come back to check out. The tiny dining room during lunch was never too loud and the service was fast and efficient.