1135 n. Lawrence Expwy, Sunnyvale, CA 94089 (408) 734-2828
Mank and CDR invited us along for dimsum in the uncharted territories (at least for me) of the far South Bay. We were supposed to meet at 11:00 last Sunday but got here more like 10:30ish because there was no traffic but amazingly the restaurant was open and fairly bustling and full!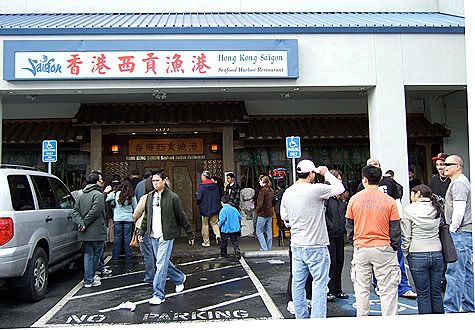 The restaurant was filled with hungry people but there was a nice big table for us with a huge lazy susan in the center.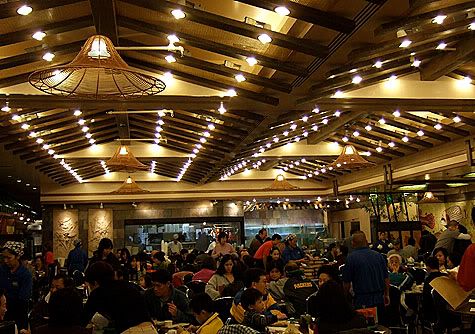 Each table had a condiment tray that included this incendiary looking chili oil, along with soy sauce and vinegar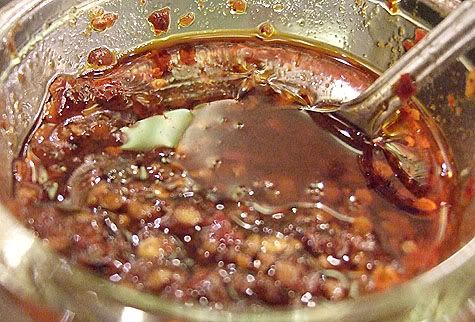 We sat and waited for the rest of the party to show up and had a hard time fending off the women trundling along with carts full of steaming bamboo baskets and since CDR was fairly starving, we got a couple of dishes to tide us over… The first was so intriguing looking when I looked in the basket, I had to say yes. The woman described it as Sticky Rice Shrimp Ball.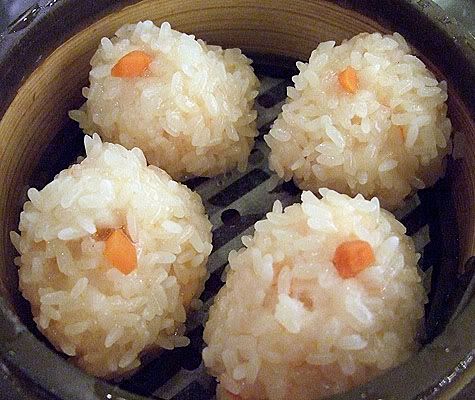 The interior was a fluffy mousse of steamed whipped shrimp covered with with dense and chewy sticky sweet rice instead of a wrapper. It was so delicious that we ended up ordering another one later.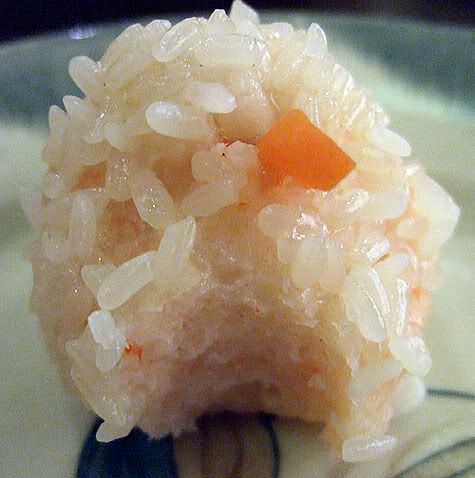 We had one order of the baked BBQ Pork Bun, which had a sweet sticky coating and the bread tasted like stale hot dog bun. Bleargh….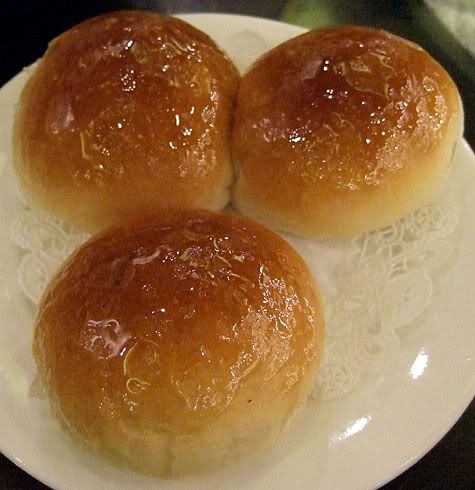 Fortunately Sonia showed up at this point. She's the one who introduced us to this spot, and knows what is good. She quickly negotiated an order of the Steamed BBQ Pork Buns.
Then a bowl of Steamed Short Ribs with Black Beans, one of my favorite dishes. It was full of tender and rich pieces of pork that had been steamed in a luscious black bean sauce, which rendered out the fat and infused the meat.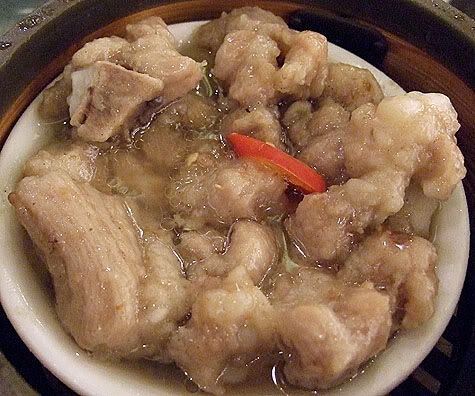 This was followed by another dish of similar rib meat with larger bones. It had more sliced jalapeno peppers and bigger pieces of meat, but the peppers were potent and made my mouth burn…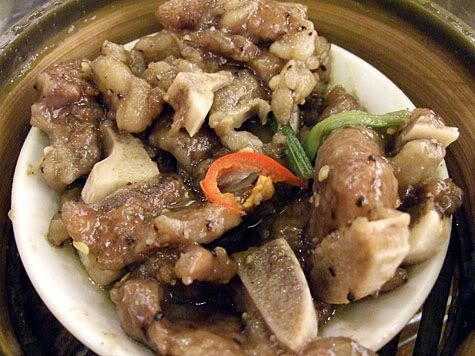 Seafood Dumpling with the beautifully translucent but somewhat fragile and sticky wrapper. You can see plump shrimps nestled within along with chives and minced vegetables in a beautiful array of colors.
Pork Siumai dumplings sprinkled with tiny bits of fish roe and topped with a small shrimp. You can also see succulent bits of black mushroom peeking out.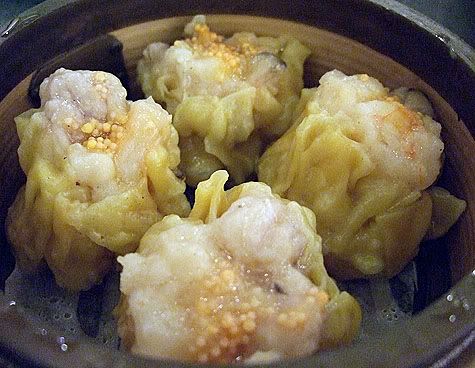 We shared several baskets of Shrimp Dumplings (Hargow) which had plump shrimp and tender bamboo shoots in a gingery marinade wrapped up in a delicate looking ruffled translucent bundle.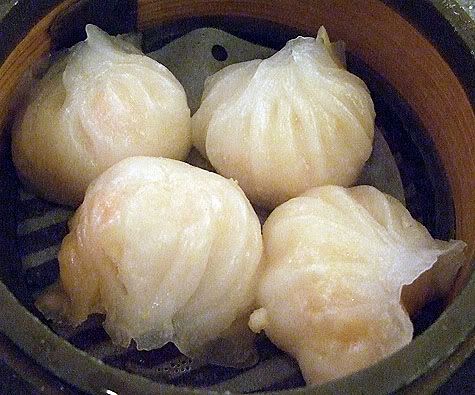 Ahhh, the Tofu Rolls look so wrinkled and unattractive on the outside, but then the server whips out the scissors and cuts them open…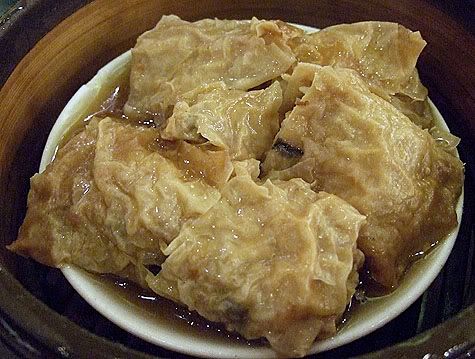 revealing the luscious filling of pork, shrimp, minced fungus, waterchestnut and cabbage along with succulent vermicelli noodles wrapped up in sheets of dried tofu that are first fried then steamed in the sauce to achieve the wonderfully dense and chewy texture.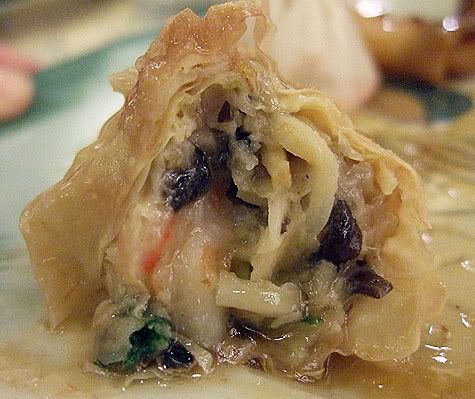 Then we enjoyed Scallop Dumplings that were wrapped in ruffled swirls and topped with fish roe and bits of ginger.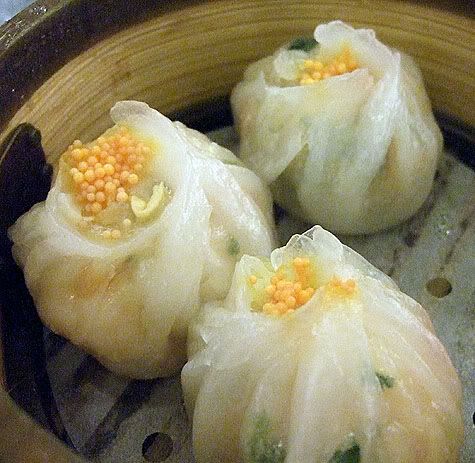 These were filled with bits of scallops and shrimp along with cilantro and minced vegetables.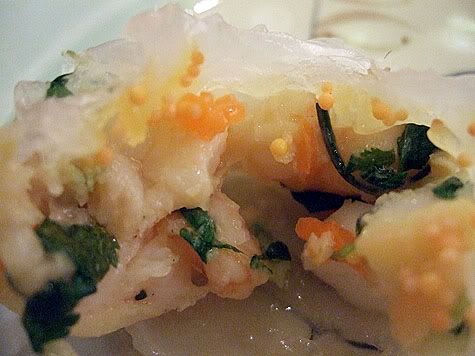 I selected this large dish of rolled rice noodles sauteed with minced pork, black bean, green onion and chili sauce. It was very good, but now I view it as a filler dish to be avoided!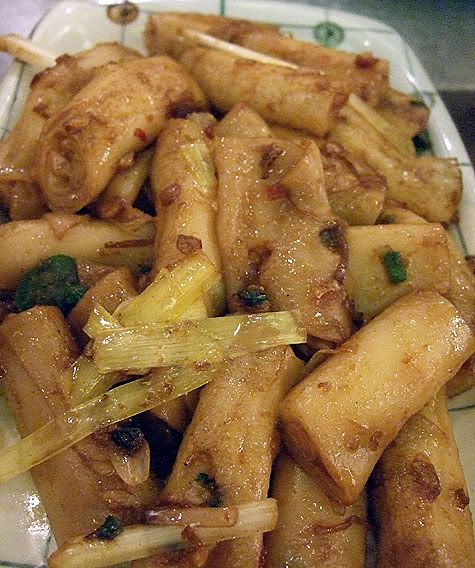 We had a couple of orders of the Shanghai Dumplings Xiao Long Bao that are tiny little steamed buns filled with a bit of soup, ground pork and chopped cabbage. They usually are served with a dipping sauce of red vinegar with ginger slivers and like a piece of sushi, once dipped, require that you cram the entire thing into your mouth so you don't lose any of the broth. Some places provide a soup spoon for this purpose in case you aren't able to take it all in one bite.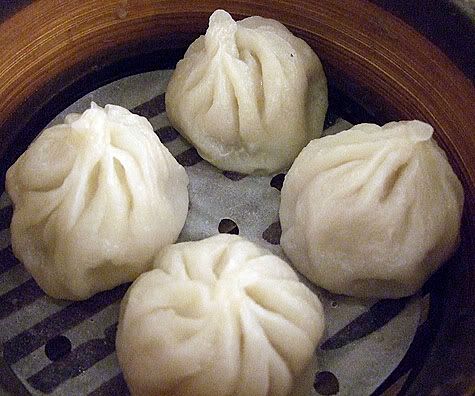 Stuffed Mushrooms in a gingery oyster sauce were overcooked and dry, but the gooey sauce helped cover the shortcoming
Fried Tofu Bites were savory and well seasoned and kind of dry. Could have used a bit of sauce only to offset the dryness, but they were delicious on their own.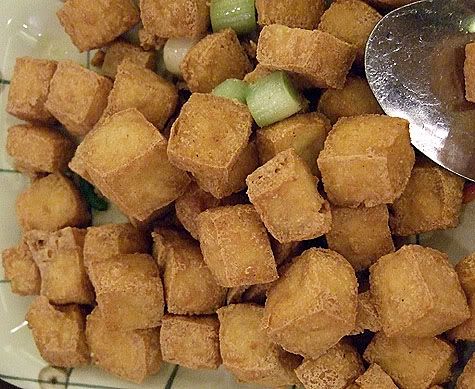 Fried Pork Dumplings (Harm sui gok), cloudlike sticky rice flour balls filled with minced pork, peanuts, chopped water chestnuts and fried to a deliciously fragile crisp crust.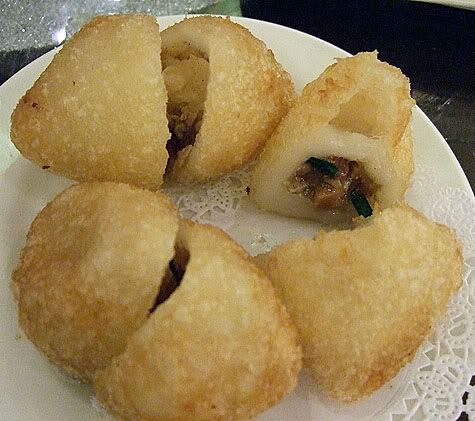 The dough becomes crunchy outside and slightly sticky inside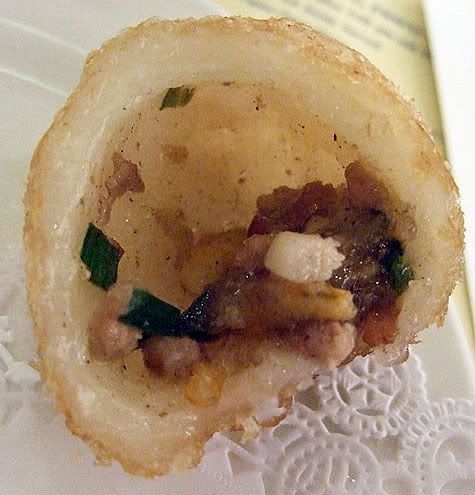 CDR had a craving for custard buns, and Sonia went off returning with two plates of Egg Tarts which were the most delicious buttery flaky crusts filled with creamy rich egg custard that were still warm.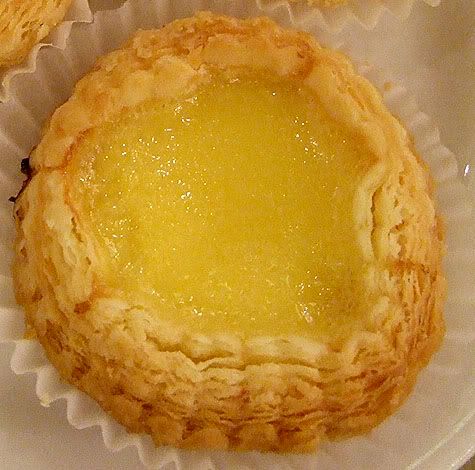 Mmmmmmm, very delicious, hard to eat just one even if you are stuffed beyond belief!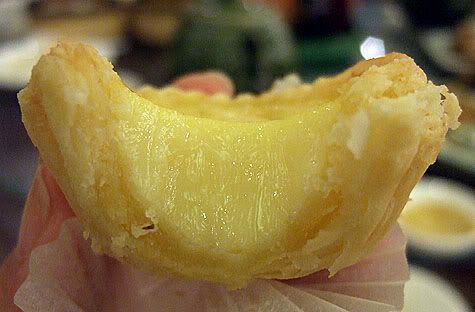 I grabbed one last dish, Mango Pudding that the server enthusiastically squirted some sort of vanilla condensed milk on, liberally dosing my leg at the same time. It was intensely sweet, light and fluffy and tasted like mangoes and a little bit of summer… It was very refreshing like a palate cleanser and very nice after all the rich little bites we had enjoyed.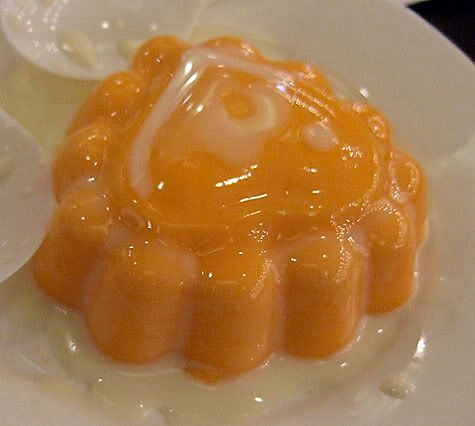 At the back of the restaurant are large holding tanks filled with geoduck, prawns, some sea urchins and a humongous crab and lobster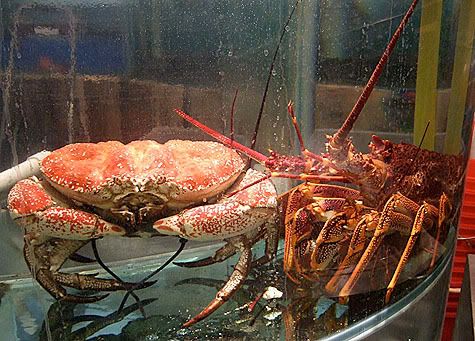 We could barely breathe but still gawked at the exciting dishes being wheeled around on the carts as we left. It's definitely worth a return visit, and I'd be interested to try some of the items from the regular menu as well.