311 Third Street (at Howard), S.F., CA | website |
The happy hour (Monday thru Friday from 5-7:30 pm) quite simply rocks with their entire starter course menu priced at half-off. This is no scaled down version either, you get full plates of food! My clever friend JT was able to reserve a sizable table in the bar area that fits 8 comfortably where we chilled under the handcarved stone temple dancers hanging on the walls. The interior is dark and cozy with sleek exotic wood, shiny sheer fabrics, and lots of carved stone relief panels that are enhanced by shimmering spotlights.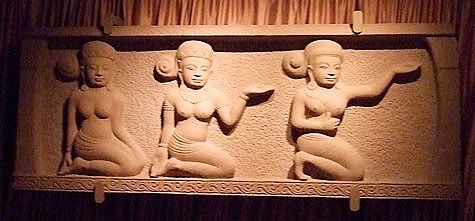 This was a long anticipated reunion of sorts, as we hadn't seen KC and FH for months (well, weeks) and was our first effort of the 2008 season. We started the new year right with Bong Su, I still can't get over their fabulous happy hour deal! Now, I also must admit that both DDR and I had been for Vietnamese noodles at lunch and during a weak moment, I insisted that we split an order of imperial rolls… Well, we began happy hour where we left off at lunch with two more orders of Imperial Rolls, which were filled with crab, pork, and mushroom. They came with fresh butter lettuce leaves to roll them up with mint and shiso leaves and a sweet and sour chili-fish sauce to drizzle over or dip into. I just love how the thick rice paper wraps become blistered and crisped on the outside when fried, but yet the inside of the wrap maintains a sticky chewy texture, and the experience becomes sublime and ethereal when you combine the bright tangy salty flavors of the fish sauce based nuoc cham and breath in with the steamy fragrance of the freshly fried rolls wrapped up in the fresh crispy lettuce and herbs. I really liked the addition of the fresh shiso leaves and unabashedly helped myself to another roll because it was delicious and I couldn't help myself…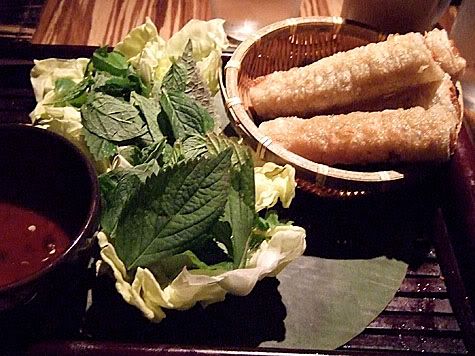 We also had a couple orders of the Salt and Pepper Calamari, which were thick and plump meaty pieces of Thai calamari lightly battered and then wok tossed with garlic and spring onions. This was more like slices of Calamari steak, rather than the usual tiny fragile rings and tentacles that resemble little blossoms – these were substantial thick and scrumptious chunks that were served w/a refreshingly light and piquant cilantro emulsion.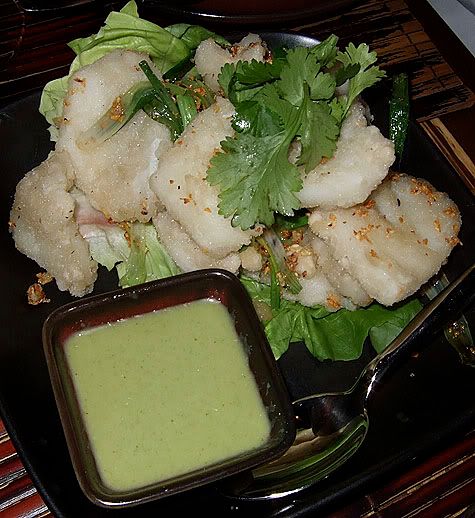 Everyone said the Shrimp Cupcakeswere not to be missed. These are also known as Banh Khot, and are flaky and crisp rice flour cups cradling coconut scented baby prawns and scallions. I had read that these are traditionally served with greens and fresh herbs to wrap around and was disappointed that they did not accompany the dish here. I am a big fan of wrapping fresh crisp greens around fried things. These came with a bowl of chili-lime fish sauce that was pungently acidic and lightened up the richness of the custard filled pastries, although my technique may not have been the best as I dipped the bowl over the cupcake to pour in a smidge and then would have to cram the entire thing in my mouth to avoid drippage… Delicious but messy.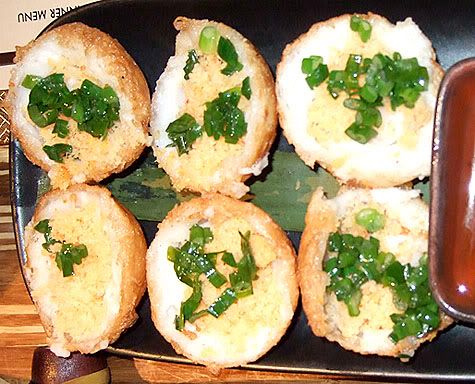 I was fortunate to sit next to Angela, who is vegetarian, so that I was able to taste some of her dishes. I was surprised to find that I liked the vegetarian Banh Khot better than the shrimp filled ones. The crisp rims of the buttery coconut-scented shallow shells were filled with creamy custard and pieces of mushroom and tofu which were bright and clean tasting and didn't even need the additional fish sauce dip.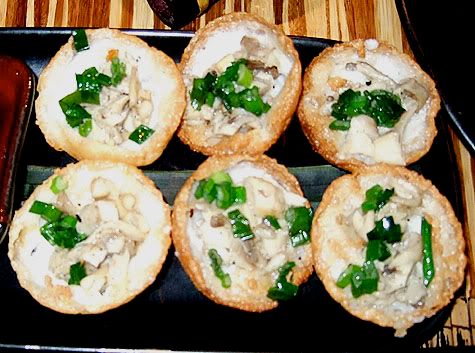 She also ordered the vegetarian version of the Bong Su Taste plate: Mustard wraps, Green Papaya Salad, Tealeaf, tofu and Taro root rolls. By this point, I was getting stuffed but I really liked the papaya salad and assisted with polishing a good portion off the overburdened plate.
Vegetarian Rolls, which had slices of tofu wrapped with rice noodles, perilla (or shiso), mint leaves, lettuce and cucumber rolled up in translucent chewy rice paper wrappers.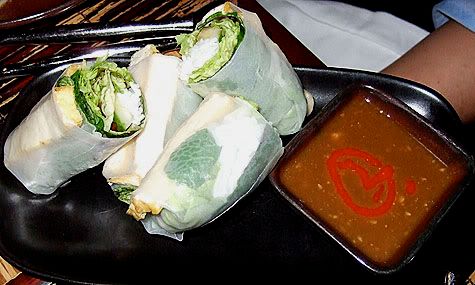 The smallest dish was also one of the tastiest, this came with only 5 slices but the fish was rich and buttery. Gai Kampachi, Kona Kampachi served sashimi style with jalapeno and fresh herbs and drizzled with chili-hoisin sauce
Nem Meatballs, Grilled pork meatballs marinated in roasted rice powder. served with chili-hoisin sauce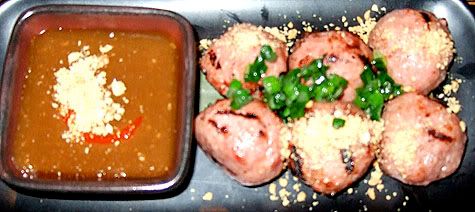 We enjoyed a couple of dishes that were not from the starters list. Seared Scallops with Glass Noodles, Glass noodles wok tossed with exotic dried mushrooms, eggs and cilantro in a mushroom sauce, topped with gigantic seared scallops.
I counted at least three orders of Garlic Noodles that we plowed throuh, steaming piles of egg noodles wok fired w/garlic black pepper and butter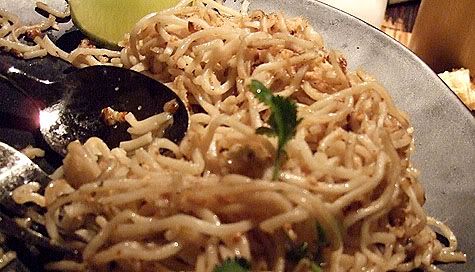 Surprisingly full from the happy hour foods, we still managed to sample a few of the desserts… Durian and Honey Mango Concasse, durian-mango sherbet and mango yuzu soup. I have heard so much about Durian and was intrigued, but this was a good introductory dish as the taste was very subtle and balanced with the tart sweetness of the Mango. I could detect a faint gassy methane/burnt sulphur flavor but it was balanced by the fresh wholesome flavors of the mango and fragrant yuzu.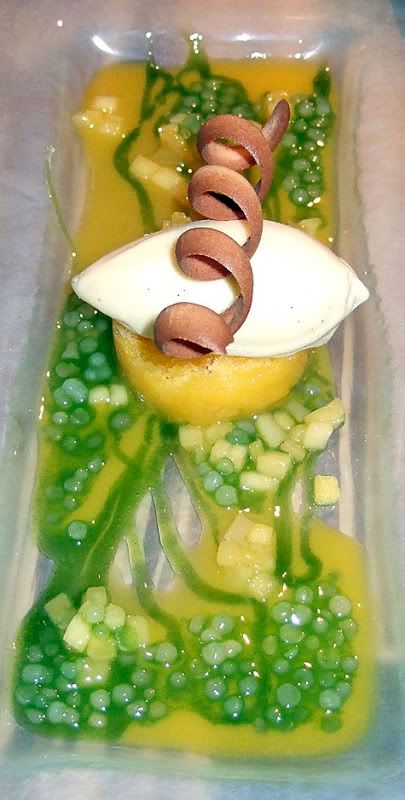 The Butternut Squash Bread Pudding captured my attention as the delicious aromas of rich butter, maple and caramel wafted by… it tasted as good as it smelled, but was served with a bizarre braised fennel and pineapple salad (?) that we all thought belonged on a salad plate, with a scoop of mace-caramel ice cream.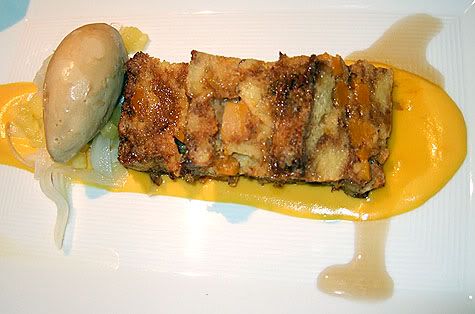 Black Sesame and Banana Beignets, were fried doughy puffs filled with creamy ripe banana accentuated with crunchy black sesame seeds.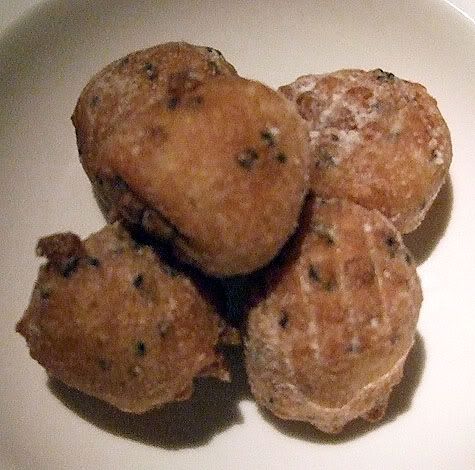 The black sesame ice cream was bland by itself, so it was good that it came paired with vanilla creme anglaise and valrhona chocolate sauce.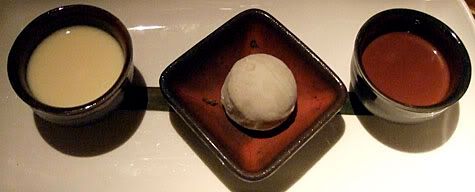 Here is a magnificent panel near the front, is it just me, or do those orbs have subliminal significance?
My assessment? Go there for the happy hour! I'm definitely coming back and plan on sampling a couple more plates from the regular menu as well…