21849 Mission Blvd, (between Rose St & Sunset Blvd), Hayward, CA 94541 (510) 881-0928 | open 7 days 9 am – 10 pm
Last Friday night it was pouring rain and there was nothing inspiring in the refrigerator at home so I convinced Mr. K that we needed to explore one of the many hole-in-the-wall options in nearby Hayward for a steaming bowl of Vietnamese noodles. I chose this place because any restaurant on Yelp earning 4 out of 5 stars based on 24 reviews means that it is downright on fire for our neck of the woods… We drove slowly through the downpour, peering out into the dark trying to read street numbers and we saw the sign, which shown like a beacon on the poorly lit street.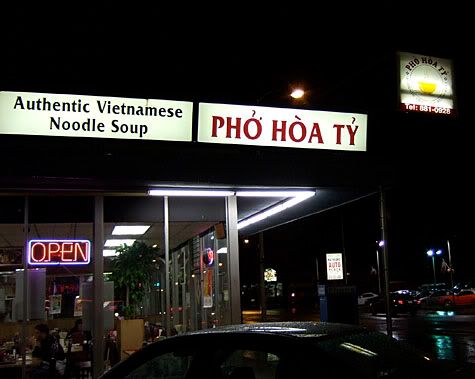 Ahhh, a fluorescent paradise with acoustic tile ceilings and the TV enthusiastically blaring Jeopardy for background music… it had a nice comfortable atmosphere. I noticed that we had the full arsenal of condiments and necessary tools at our table, even a few serrated knives thrown in for good measure.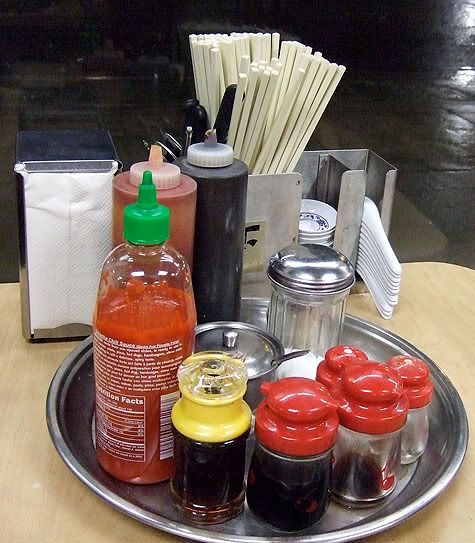 We got a nice big pile of veggies with lemon instead of the usual lime as well as bunches of cilantro with some stems of basil.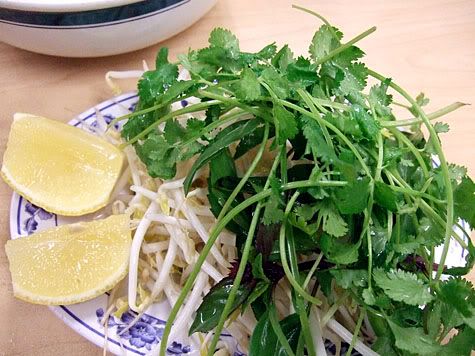 Since I had regular pho for lunch the day before, I went with #38 the Pho Bo Kho – skinny rice noodles topped with beef stew meat and glistening with a slick of red, spicy oil. This was quite good, the meat was tender and fell apart when prodded with my chopsticks. The spicy broth was robust with a rich and mature flavor that brightened up nicely with a few squeezes of lemon and the fresh vegetables and herbs.
Mr. K had theChicken Noodle Soup, Pho Ga. It's interesting to note that the server invariably gives him the stew and me the chicken, bearing out that gender stereotypes extend even to what noodles we order. He was very psyched to note that it was full bodied and flavorful, he even went so far as to state that it rivaled and possibly surpassed our old standby Le Soleilin downtown San Leandro.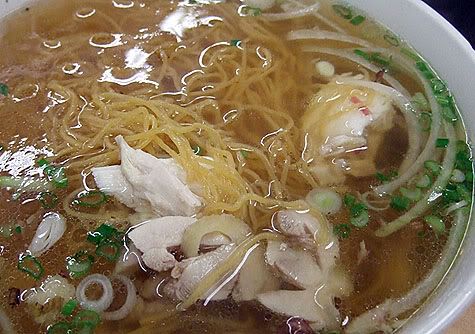 We enjoyed our bowls and were really glad to know that there is great pho to be found so close to home and with such a big wide open parking lot (one of the few perks of living in the burbs…) I'm happy that they serve my favorite spicy beef stew, as it is not served at all pho restaurants., and the prices were rock bottom reasonable, especially when compared to city-prices. One of these days I'm going to come for breakfast as I hear that pho is really a breakfast meal, which sounds absolutely wonderful to me, especially with the cold rainy weather we've been having.