2001 Taraval St, San Francisco, CA 94116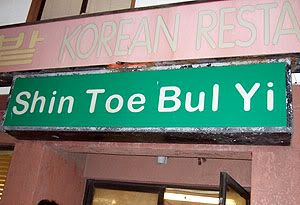 This is one of KC's favorite places for Korean food, and we all trust her completely when it comes to food. It's further afield in the Sunset than we normally venture, being out in the Parkside area on Taraval and 30th. It's very nondescript on the outside with a drab sign that spells out parts of one's lowest extremities with a name that is impossible to remember, let alone say. How about… curse you, you are a rascally leg-foot bully? The interior matches the exterior with dingy acoustic tiled ceiling panels interspersed with lovely fluorescent lights along with glaring track lights, all very flattering to be sure… It's a very small cramped space that despite all of the lighting and the mirrors along the wall, feels dim and claustrophobic.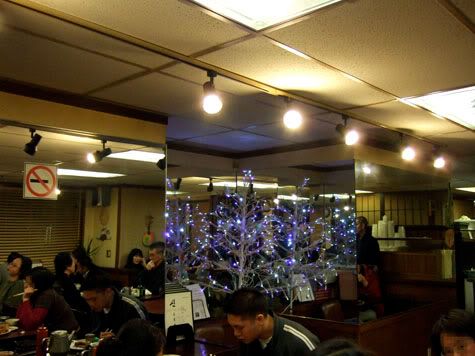 Enough about the drab atmosphere, because the place was jammed and there is apparently always a line… People come here for the food, which is cheap and delicious and brilliant. It literally demands your complete attention. Nevermind the lighting and decor, they merely set the stage for the fireworks about to go off in your mouth. We started off with a couple of bottles of Soju, which was described as being similar to vodka and is served in tiny clear shot glasses, and split some large bottles of Hite Beer too.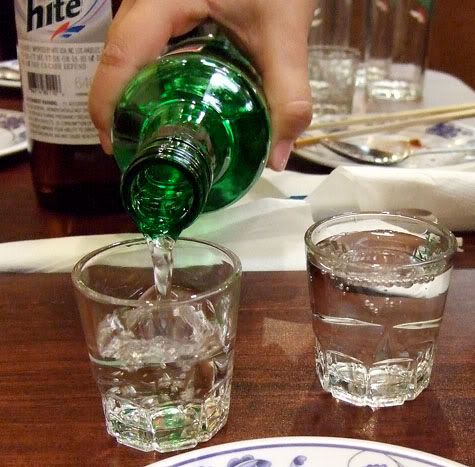 The server brought out a couple plates of thin Green Onion Pancakes, which were soft and spongey with a lightly crisped exterior and full of savory bits of green onion.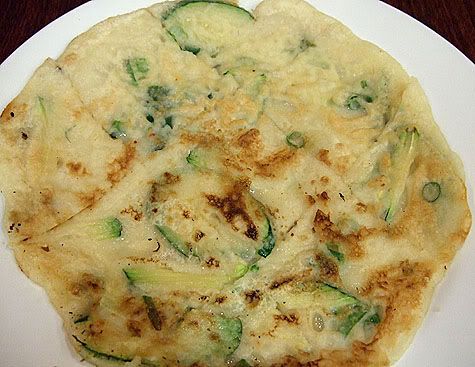 These came out with bowls of a ferociously pungent chili garlic vinegary condiment that was delicious on the somewhat bland squares of pancake.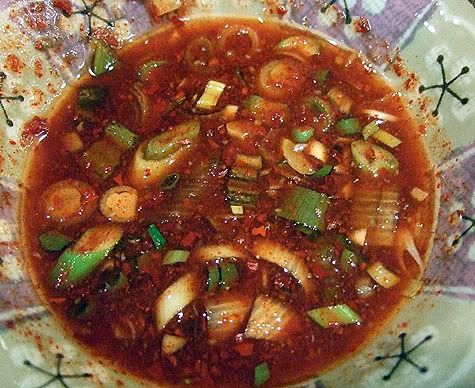 Next she dropped off a couple plates with Grilled Mackerel that were on the house. It was well seasoned and grilled till crispy but running with fatty juices that are beautifully offset with a good squeeze from the tart and acidic lemon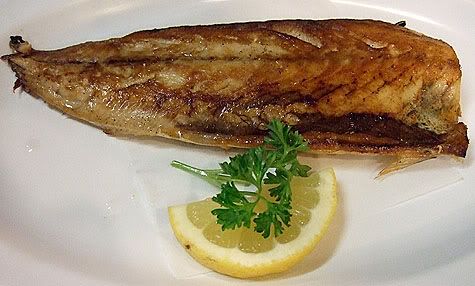 While we were enjoying the fish, the many little plates of Panchan began to arrive. It's always exciting because each restaurant serves different items, and some more than others. We received a respectable seven dishes: tiny dried whole fish marinated in soy and sugar, sliced fish cake in chili sauce, seasoned bean sprouts, two varieties of pickled daikon, a fiery cabbage kimchee and some garlicky pickled cucumbers. A very fine set of condiments to add tasty bites to the steamed rice and the rest of our meal.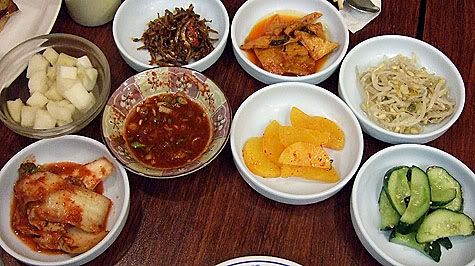 Mr. K's favorite dish was the Bibimbap, which is mixed vegetables, beef and egg served over rice in a hot stoneware bowl. I noticed that the dish did not steam or crackle very much and that the rice never developed the toasted crispy surface that is my favorite, but that is my own little obsession.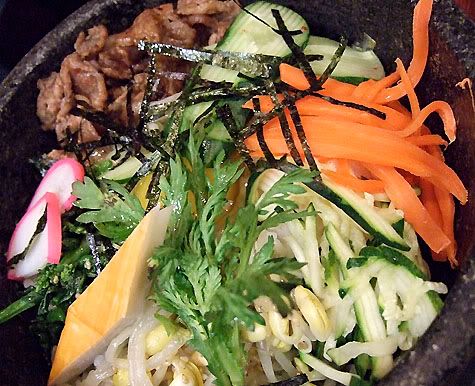 FH grabbed the bottle full of housemade chili sauce and squeezed several generous loops around and around the top before mixing it all together
Delicious! The dish was very flavorful and full of meats and vegetables that gently steamed into a lip-smacking symphony.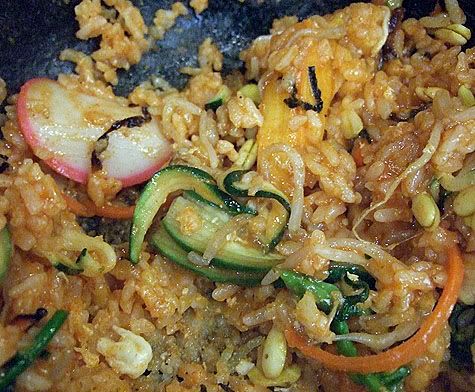 My second favorite dish was the JapChae, which are sauteed vermicelli noodles with beef and vegetables

The best dish of the evening (or at least my favorite) was the Soft Tofu Soup (Soondubu) which was spicy and complex but bright and clean and chock full of soft custardy tofu that evaporates in your mouth.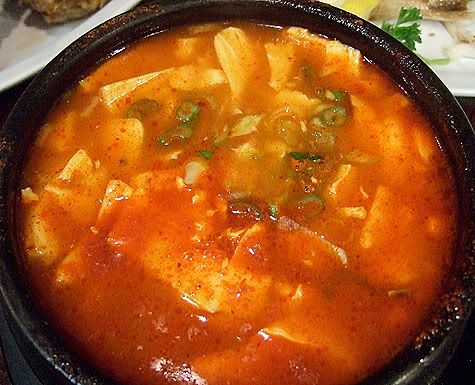 The Kalbi, grilled beef shortrib was lusciously rich and meaty with charred crispy edges, parts were tender and soft, some were very chewy. It was marinated in the house special sauce that had some sugar that caramelized the edges and savory with the flavors of soy, garlic, ginger and sesame oil.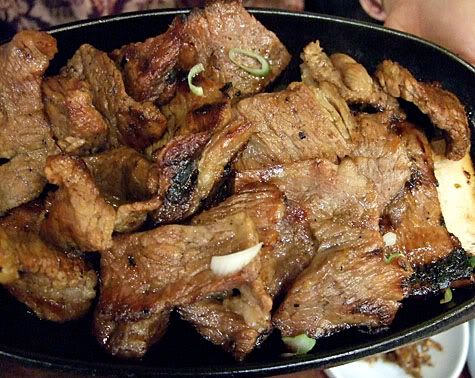 We had two plates of Chicken Small Pieces which is described as little spicy (deep fried). This was my first plate of Korean Fried Chicken, which is fried until all of the fat is rendered out and the skin becomes translucent and crisped. The batter is laced with red-pepper-and-chili and is cooked very thoroughly so that it becomes greaseless and crunchy.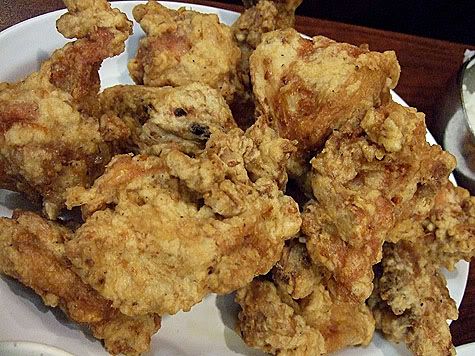 The meat was tender, but no longer juicy and overall it seemed dry and chewy. It didn't have the addictive garlicky, spicy sauce which really sets apart the gorgeously glossy dry fried chicken at San Tung. It was good though, don't get me wrong, I would enjoy it more if it came with sauce.  Gimme!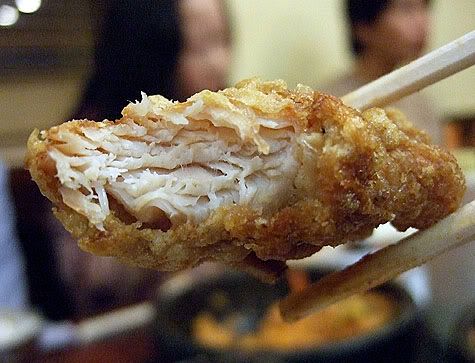 Sea Bass Jjim from the Exquisite Flavor Plate, steamed sea bass in house special sauce. There were a lot of crunchy mung bean sprouts, big chunks of firm tofu, and thick slices of daikon radish that were cooked until soft and tender. As sometimes happens, by the time these dishes came out I was unable to appreciate them as my tastebuds were tuckered out and my tummy was stuffed beyond belief.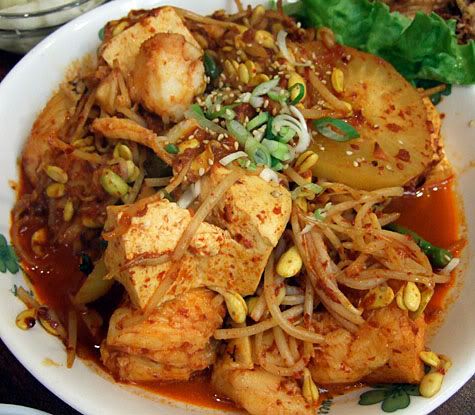 We feasted well that evening and I am glad to have been introduced to this little slice of heavenly home cooking and definitely want to come back for more. Right now, I would be so happy if a bowl of that tofu soup magically appeared in front of me!
This winter I have been on a bit of a quest to find a great bowl of tofu soup in the East Bay and have been thwarted so far… The simple version served here is as good as the first bowl I ever tried at Beverly Soontofu in L.A. so at least I know that there's at least one Korean place here in the Bay Area that's craveworthy, which gives me hope of finding more! I'll take any other recommendations too anyone…?