1581 Webster St. 206 San Francisco, CA 94115 415-922-7765 | website
This place is literally on the bridge between the Miyako Mall and Kinokuniya buildings in SF Japantown and serves Yoshoku, which is a blend of western and european cuisines but from a Japanese perspective. This is not modern fusion. In fact it is somewhat nostalgic with origins from an earlier era when the Japanese were first out exploring new cultures and adapting exotic foods to suit their tastes (click here for a recent NY Times article). The menu has many pasta dishes which include traditional Japanese ingredients like Mentaiko, which is the marinated roe of pollock, Natto – fermented soybeans, Ume (pickled plums) and Shiso (a pungent fresh herb) and Daikon radish. They also serve kareh raisu (Japanese style curry), korokke (croquettes), hambaagaa (Japanese style hamburger) and Japanese Style Pizza with toppings like fish cake, dried bonito flakes, tofu and seaweed. Rounding out the menu are more traditional dishes like udon (wheat noodles with soup), soba (buckwheat noodle soup), kara-age (marinated, battered and fried meat or fish), and domburi (rice bowls). I love that they have shelves full of manga comic books for you to browse through as well as stacks of japanese magazines, all of which read in the opposite direction than we are used to.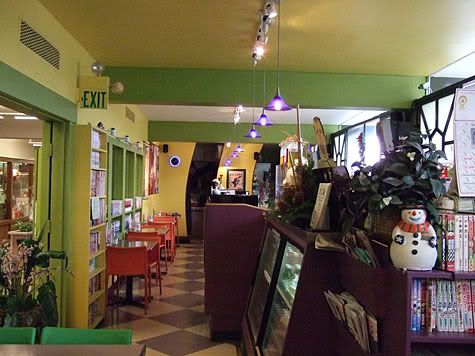 One day last week, StevieB was starting his car to drive over to the Van Ness office (and move his car from the 4 hour parking spot), and suddenly the doors opened up and BC got into the passenger seat and AL got in the back seat, both wearing big smiles and urging StevieB Come on, let's go to On the Bridge… AL has been talking about this place for weeks. Meanwhile, half a mile away, I was at my favorite Korean salad bar, tongs in hand, assembling my idea of salad: two BBQ meatballs, a pile of macaroni and cheese, potato salad, pasta salad, basically anything but lettuce… when my cell phone rang. It was AL telling me they were going to On the Bridge and asked where I was so they could pick me up. I decided that today's salad would be a delicious breakfast tomorrow, paid for it and ran out to meet them. Within 15 minutes we were seated at the restaurant, browsing the menu.
The menu features a Regular Set ($7.95) which offers either soup, salad or beverage and a Deluxe Set ($9.95) which includes soup, salad and beverage. I decided to go with the Deluxe Set and asked for a soda, but was told that the set only included hot tea, coffee, or iced tea, no substitutions. In retrospect, I should have not done the set and just had the soda, because the Soup was a bland consumme with cabbage, a few pieces of tofu and some bean sprouts. It was definitely something I'd rather not have ordered.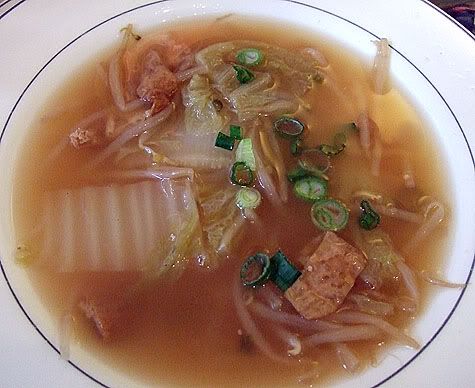 The Salad was super chilled from the refrigerator and was topped with a ginger, soy and sesame oil dressing that was astringent and tart, the lettuce was mostly a hard wedge that was really hard to eat without a knife. Everything was very fresh and crisp.
I saw Fried Garlic Potatoes on the menu, which ended up being not quite what I had in mind. They were thick slices of potato that were cooked enough to be done on the inside and browned on the outside, but not crispy. They were soft and a little chewy and covered with a pungent garlic mixture that was basically raw and untamed.
StevieB had an inspired view of the potatoes with the gravy boat of ketchup that came with them. It was definitely a shame because they smelled delicious but soft potato chips really don't cut it.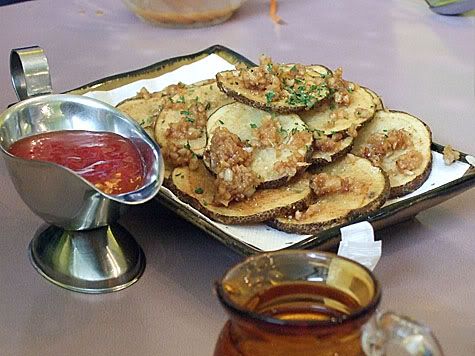 Things settled down once the entrees arrived. Here is the fabulous Mentaiko Spaghetti that I ordered. Mentaiko is walleye pollack roe pickled with salt and chili powder which is inspired by the flavors of Korean cuisine. The Mentaiko is mixed with butter and probably dashi or stock and the noodles were perfectly aldente. The mentaiko is spicy and briney and delicious mixed up with fresh kaiware or daikon sprouts that added a crisp peppery crunch to the dish.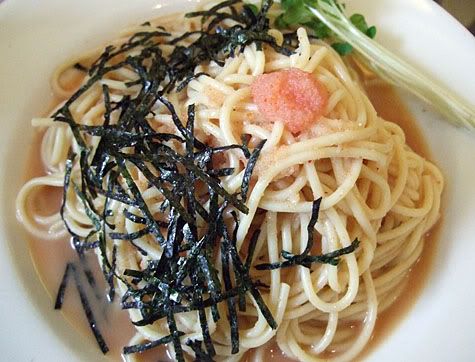 StevieB had Tonkatsu Kare Raisu, which is a battered and fried Pork Cutlet and thick curry stew served over a mound of steamed rice.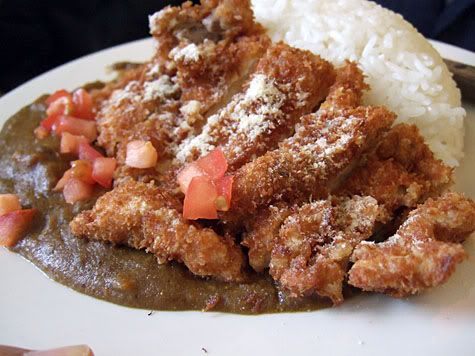 BC got Chicken Kare Raisu (Curry Rice) which was very thick with chunks of carrot, onion and potato. Japanese curry is sweeter and milder than Indian or Thai curry, it is more like a thick beef stew flavored with curry.
AL had been craving their Hamburger Steak with Mushroom Gravy which also came with steamed broccoli and cauliflower. The gravy was a thick cream sauce similar to hollandaise and very rich, but somehow it pulled together the burger and veggies.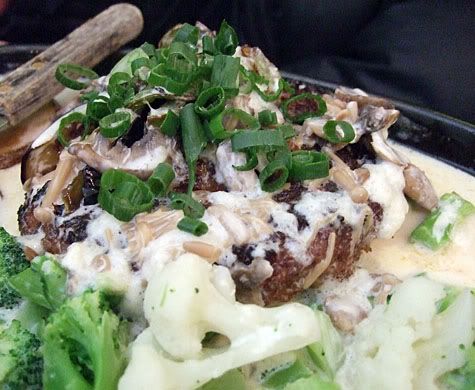 That was true inspiration and very ambitious, something we had managed only once before in the six years we've worked together. Next time, I will pass on the set items and focus on just the food. The menu is six pages long with a lot of dishes that you just don't see on the menu at regular Japanese restaurants. It's the kind of east-west food you find in Japan that bridges palates in the most interesting manner. It was a great treat to sneak off campus and go for something completely different like that.