Serramonte Plaza, 365 Gellert Ave, Daly City, CA 94015 Tel: (650) 992-9000 | website

JT sent an evite to celebrate Chinese New Years with dim-sum at Koi Palace in Daly City. Their name frequently comes up whenever people talk about the best dim sum spots in the Bay Area. I have never eaten here and was looking forward to our meal. The parking lot was full so we had to park on the street, but we didn't see anyone milling around the door.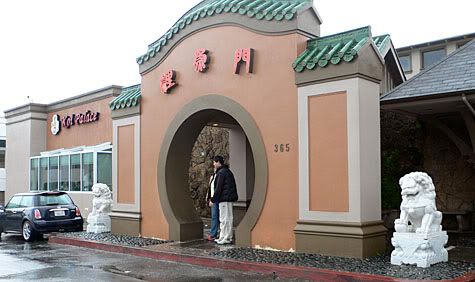 Inside was a different story… they open at 9:00 am on Sunday, so there was quite a crowd by the time I got there at 10:45. I opened the door and had to work my way in past this dramatic glass paneled waterfall into the main lobby, where I could see JT and CA waving me over.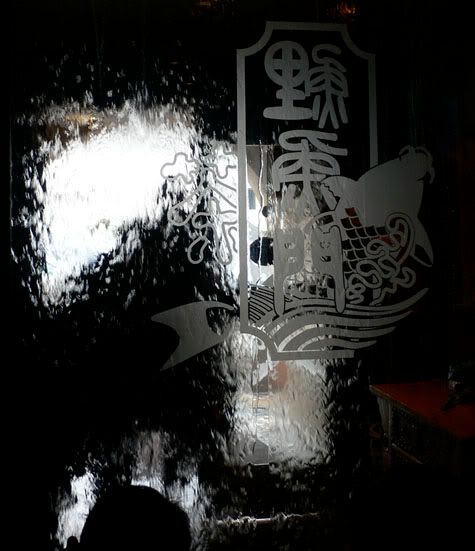 We waited about 30 minutes for our table at first huddled by the tanks of live fish and other exotica like abalone to avoid being trodden on by the hungry throngs milling around, packed in to avoid the rain. I'd never seen live abalone from this perspective and they reminded me of big snails sucking on the glass walls of the aquarium.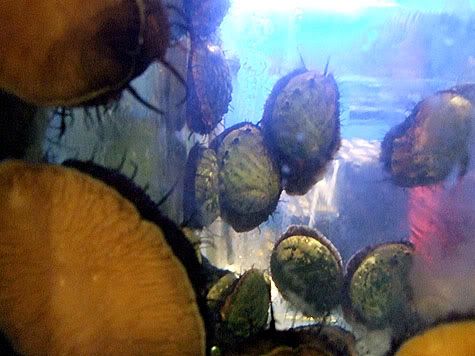 Then we noticed a chef preparing for the Dragon Beard show which is performed only on the weekends. He started with a disk of some sort of corn starch sugar stuff that came out of a plastic container. He stuck his thumb through it and began to stretch it out, folding it over, then stretching it out and repeating the process while immersing it in a tub of white powdery stuff (sugar? cornstarch?) until it became the consistency of coarse hair. Then he broke off clumps that he rolled around a ground peanut mixture blended with sesame seeds.
It was fascinating to watch and of course we bought a box of the silky white cocoons to sample. It was really messy and the fragile strands of stretched sugar were slighty chewy like taffy, reminding me of an ethereally fragile version of the old Abba-zaba candy bar that I used to love when I was a kid.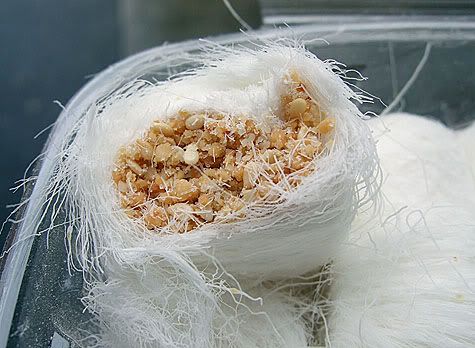 Our number was called and we really had to struggle through the streams of humanity, at times I felt like I was swimming in the opposite direction but eventually we got to our table. There were many people standing around the perimeter of the dining area but then some people just like to torture themselves and watch people eat, or perhaps they want to practice mental telepathy by staring at each morsel going from plate to mouth willing the people to eat faster.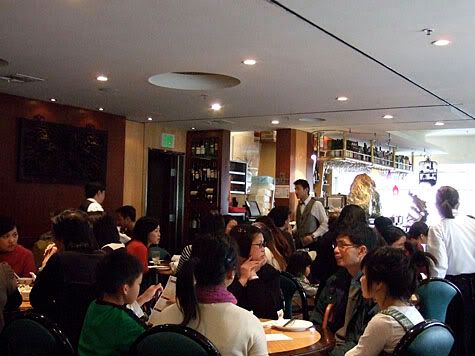 The food began to arrive fast and furious once we were seated and it seemed that there were a lot of servers coming around carrying trays rather than the rolling carts, which must be easier to maneuver around the room. JT mentioned that she had heard from reliable sources that the Shanghai Dumplings are awesome here.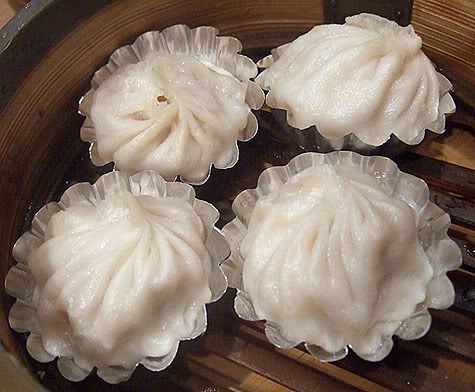 Shanghai Dumplings or Xiao Long Bao are the delectable little dumplings that are filled with ground pork, some cabbage and a bit of soup. Here they are served with a dipping sauce of black vinegar with ginger slivers and each one is nestled in a dainty aluminum fluted cup that you can either slurp it out of or bite into in case you aren't able to take it all in one bite and lose any of the delicious broth. During the course of our meal we had several more rounds to make sure that we all agreed that they were indeed, awesome.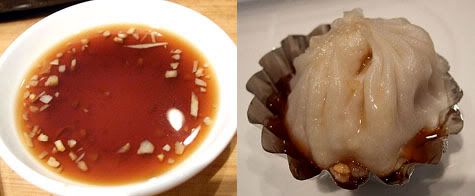 Mr. K was so excited to be able to request as many of these little yinyang dishes of hot mustard and chili oil during the course of the meal… I lost count after 4 or 5 times…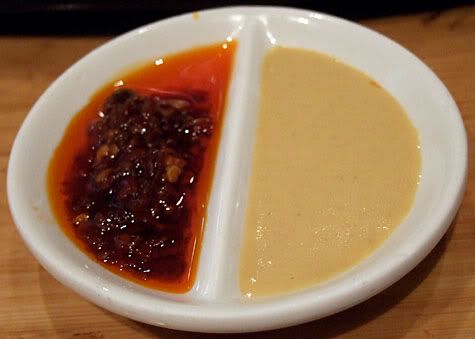 Here is his version of how a Shanghai Dumpling should look…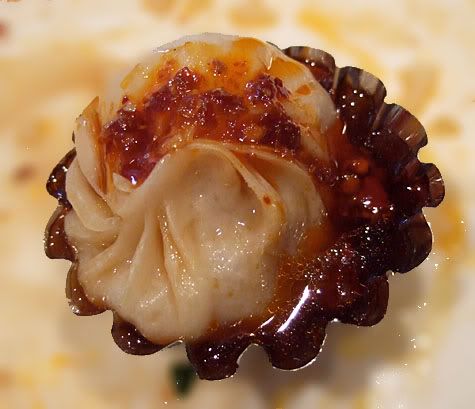 Before we go on a long show of the many typical dumplings, steamed and fried delicacies that we enjoyed, I want to show you how we ventured off into unknown territories and this is why I love eating with DDR and P.
They ordered this amazing Baked Scallops with Sea Urchin Sauce over Fried Rice. At first glance it looked rather alarming with the thick gloopy sauce, but the dish was a revelation. The sauce was thick but had a light texture from the use of cornstarch rather than cream or fat and was bursting with the flavor of the ocean. The buttery creamy filaments of sea urchin scampered over our taste buds and made us smile with appreciation for the clean, fresh tasting extravaganza. It was a dazzling combination!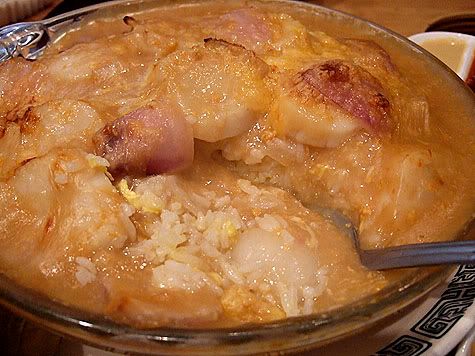 While we were all piling gobs of the sea urchin sauced rice into our bowls, two plates of Coffee Glazed Pork Spareribs arrived wafting the distinct aroma of a steaming cup of dark roast coffee. I inhaled the fragrance while I bit into the slightly sticky sweet chewy ribs that resonated with a dark complex bitterness. It was dense and meaty and there was something arresting about it, maybe it's the coffee addict in me that kept pulling my attention to it…
Stewed Tripe with Turnips, who ordered this dish? Organs are still an acquired taste that repel me. I keep trying it, thinking that I will eventually develop an appreciation, but it still tastes squishy, rubbery and has a gamey flavor that I don't really like. It's kind of like stewed rubberbands. Even the soft and tender turnips are infused with this stewed rubberband flavor which doesn't smell good to me. So organ fans can delight with the knowledge that as far as I'm concerned, that's just more of it for you all – I'll pass.
Crispy Fried Dough Stuffed Rice Noodle Roll. Inside is soft airy bread dough that has been fried, wrapped with fresh rice noodles, then drizzled with a sweet soy sauce and served with a small basin filled with hoisin sauce that is topped with a layer of spicy ground peanut sauce.
It is a magnificent example of how well savory, sweet, salty and fried go together
I felt that I had to honor the Fried Tofu with a moment of silence when I first bit in and and relished the soft custardy texture of the interior surrounded by the crispy fried crust. The fried exterior was dense and chewy and the bottom had softened, partially absorbing the savory broth that it was floating in and was transformed into a surround sound sensory experience with the tart pungent hoisin sauce that I spooned on top.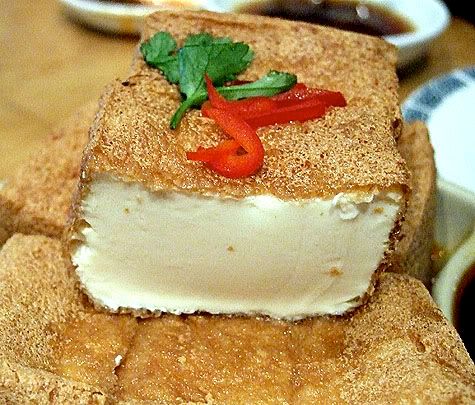 We had a couple plates of these Handmade Shrimp Dumplings that were served with more of the vinegar and ginger sauce.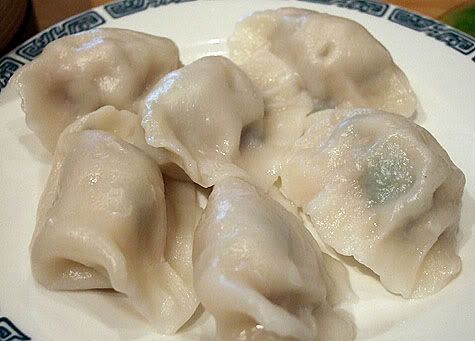 Then a couple plates of Panfried Pork and Shrimp Dumplings that were also delicious with the same dipping sauce. I loved the crunchy texture of the pancrisped bottoms. Over time I began to amass my own plates of these various dipping sauces, which made me feel as if I had won a game of monopoly and ruled the universe.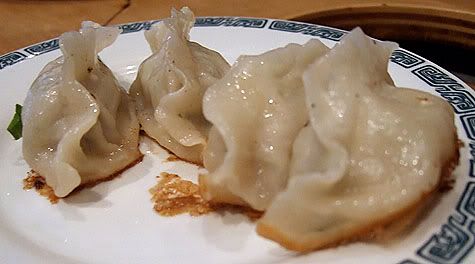 The Braised Spare Ribs in Black Bean Sauce was tender and silky soft, they were clean and not greasy, the best I've had in a long time.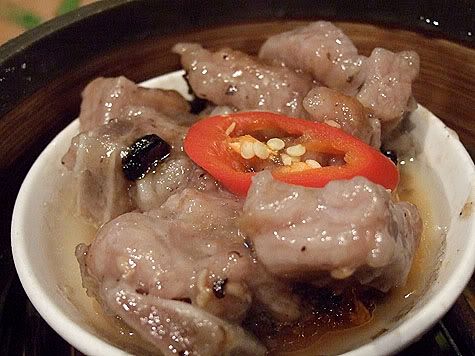 We shared a bowl of Fried Sticky Rice with chinese sausage and egg that was dense and gooey and aromatic. DDR encouraged me to try it with some of the ginger infused vinegar and I ate more of it than I should have! This is the kind of dish that keeps expanding in your stomach, and I know better, but it was so good…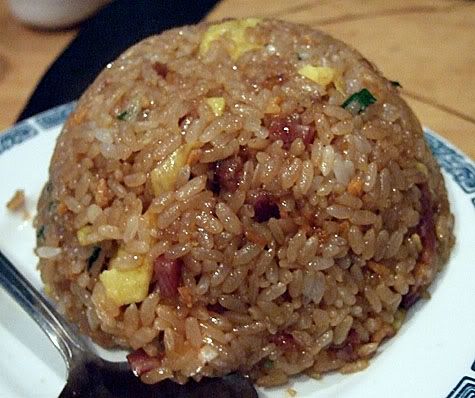 Several times we had sweet dishes that served as palate cleansers. This is a Soft Sweet Tofudish swimming in a delectably light sweet syrup infused with ginger. It was like eating billowy clouds of soft custard that evaporated in your mouth, leaving the light lemony flavor of ginger and brown sugar.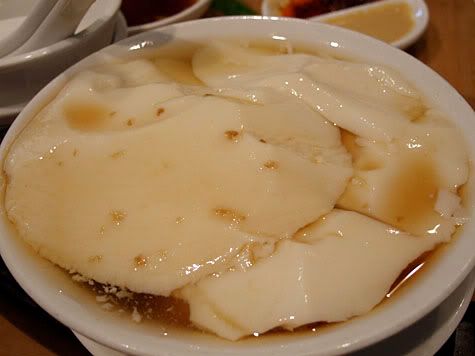 I am not sure what was in this but it was topped with something called XO sauce and had a thick rice flour wrapper.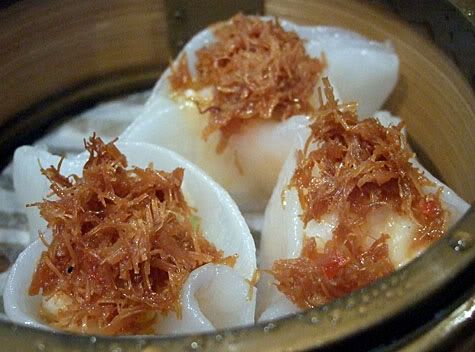 I always like these plump Shrimp and Spinach Dumplings, the translucent and slightly sticky skins are thick and chewy.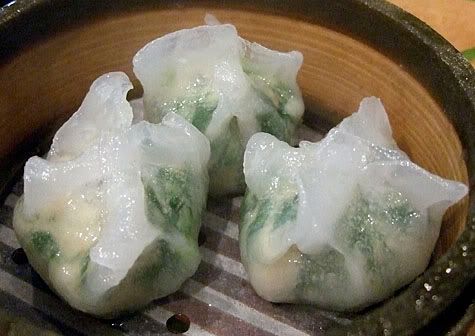 Days earlier, Mr. K had mentioned that he hoped they would serve this dish, Shrimp Paste on Green Peppers topped with Black Bean Sauce, so he was on the lookout. He likes them because they include vegetables. I agree that sometimes there are not enough vegetables in dimsum.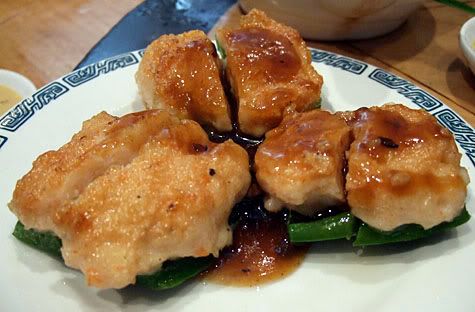 So you have to grab a plate of Steamed Gai Lan with Oyster Sauce, this is one of the few standard vegetables that you see on the standard dimsum carts. My complaint is that they are always so huge and hard to manage with the chopsticks, so I eat this barbarian style with my fingers.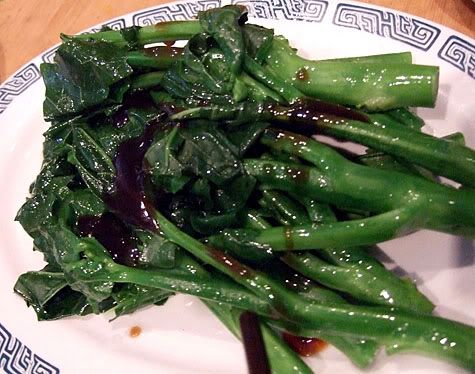 How do they get all the delicious textures on the Eggplant topped with Shrimp Paste I wonder? The eggplant is firm to the bite, yet soft and fluffy inside and the shrimp has a chewy fried edge to it.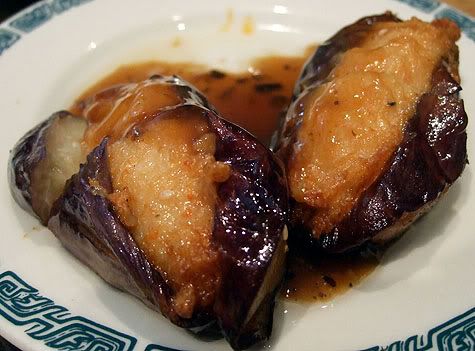 Someone ordered Steamed Pork Buns which I didn't sample because they're mostly bread and I've eaten them before… therefore I consider them to be unnecessary filler.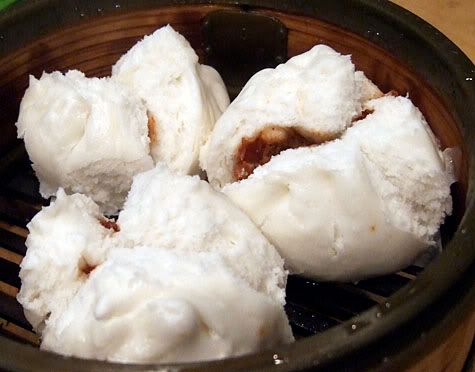 Another delectably sweet dish, Bread served with Sweet Milk dipping sauce. Yes, this is also filler, but I'd never tried it before.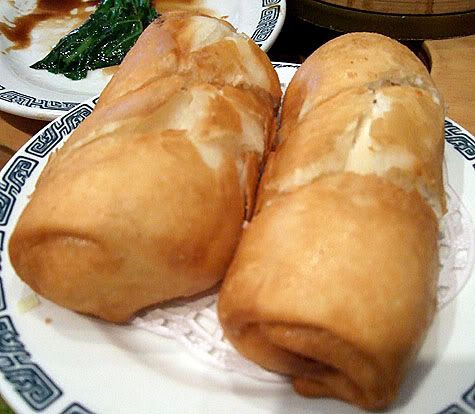 The bread is a finely textured spongy, light and fluffy mini baguette that is delicious dunked into the sweetened condensed milk that was infused with fragrant coconut.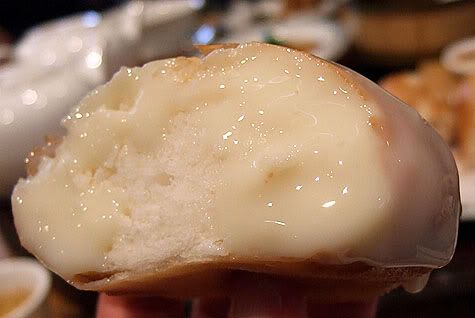 When we saw the Chinese Donuts go by, DDR couldn't resist. These were still warm and fresh from the fryer, baseball sized sugar coated puffs that are the Chinese version of a donut hole. At first appearance it looks like it is oversized and huge, but it is the perfect proportion of textures and flavors and the sweetness is exquisitely constrained in an entirely asian manner.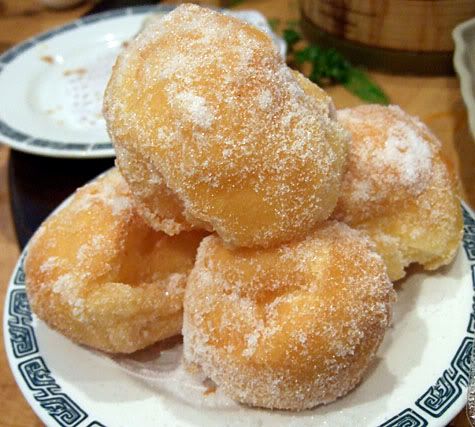 The batter had a soft doughy breadlike structure for the most part, but when you bite through the initial layer of sugar coating, your mouth is filled with a yeasty fluffy donut sensation but ends with a silky eggy custardy finish. The batter is more substantial than a donut and has a slightly salty flavor that is enhanced when you lick the sugar crystals off of your lips. If all donuts tasted this good, I'd be in serious trouble…
We ended our meal here, unable to rouse interest in egg tarts, mango custard, sesame balls or any other sweet treats. I forgot to mention that you can request different types of tea and we shared three pots of oolong, jasmine and crysanthemum. I noticed on the menu that for $1 more per pot, you can request premium tea that is served over a tealight warmer.
This is the main dining room which has a dramatic lightwell that highlights the poofy canopied architectural elements echoing tea houses of old. Besides having superior food, they have made an effort to upgrade the dining experience and by the crowds waiting to get in, I'd say they were very successful. I completely disagree with comments on yelp.com about poor service, I was always able to find someone to help me and every request was quickly complied with. I can't wait to go back.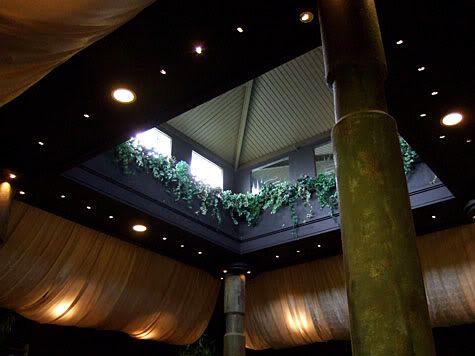 M-T: 11am-2:30, 5pm-9:30
Fri: 11am-2:30, 5pm-10:00
Sat: 10am-3:00, 5pm-10:00
Sun: 9am-3:00, 5pm-9:30