835 Pacific Ave (past Stockton), San Francisco, CA 94133 (415) 397-3168 open daily 7 am – 9 pm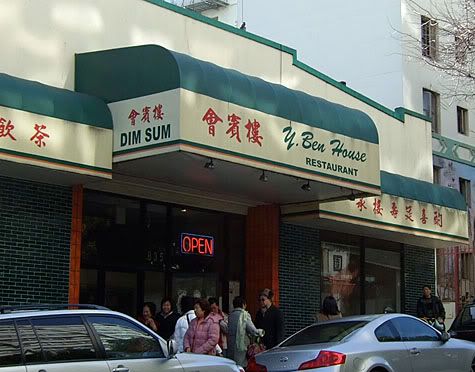 A co-worker told me about Y. Ben House. He couldn't remember the name, only that it was good and very very cheap. I agree that the name is hard to remember for some reason… but that doesn't deter the locals from packing into the restaurant. It's always crowded and most of the time we end up sharing a table with another family, which can get plain confusing about whose stuff is whose on the lazy susan… The decor was very utilitarian and run-down and the atmosphere feels like a busy, chaotic cafeteria.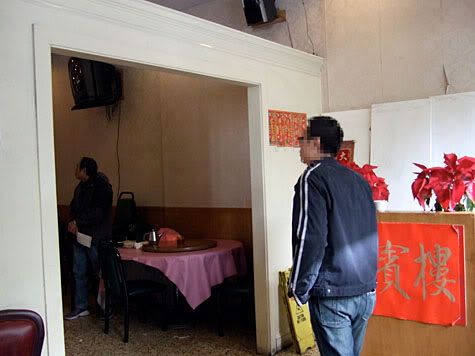 The food was ruggedly made and served in large portions which means that you can leave feeling stuffed. We gorged for under $8 each, including sodas! By coincidence I had also just picked up the 2007 Michelin Guide to San Francisco and was somewhat surprised to see that Y Ben House was recommended for authentic dimsum. Afterwards, I pinged Wongie to see if he had ever dined there and included a link to some enthusiastic yelp reviews. His first response was, I can't believe you ate at that place after reading they rated such a low DPH score! At the time it was 30. Gag… This was also about the time that the SF Chronicle published an article about online restaurant scores. I waited to see if I would explode from food poisoning and marveled that they were still in business. A year passed and I became bored with our usual lunchtime dim sum spots and decided we needed to give Y Ben another try. It was still packed with hungry locals and I was struck again by the chaotic bustle when we walked in.
The service is slap dash but efficient and it's the type of dim sum place where you have to be active in flagging the carts down. The Shumai dumplings are rustic and big, but have plump pieces of shrimp and mushroom inside and taste pretty good.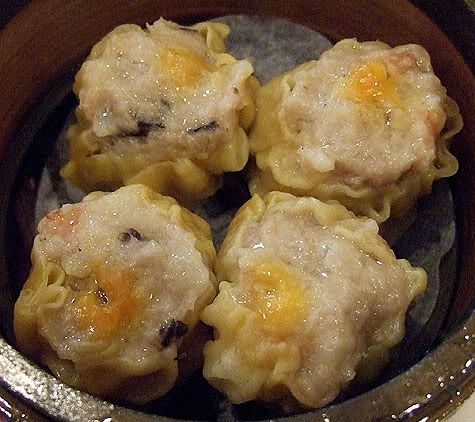 The Shrimp in Rice Noodle Rolls were soft and swimming in sweetened soy sauce. I noticed that there was a decent amount of shrimp although they were rather small. I always love the soft billowing noodles in the sweet and savory sauce.
I had one of these tennis ball Spinach with Seafood Dumplings which was unpleasantly dry and stringy inside and not helped by the wrapper which was also dry and tough.
The Eggplant stuffed with Shrimp Paste had a thick batter that added heft to the almost sandwich sized slices of eggplant. It seemed rich and decadent and one piece was so large that it took me at least 8 bites to finish it.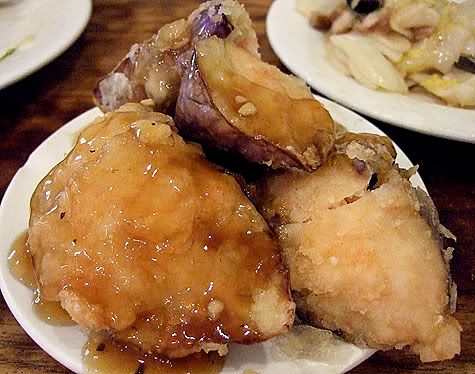 The hefty steamed Beef Balls were fluffy and airy and doused with Worcestershire sauce.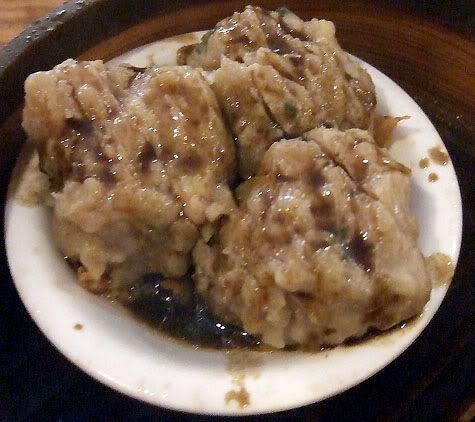 These Chicken Feet seemed mutantly large and meaty. They reminded me of baseball mitts, not a good thing to think about, but the skin was surprisingly soft and gelatinous and the sauce was delicious.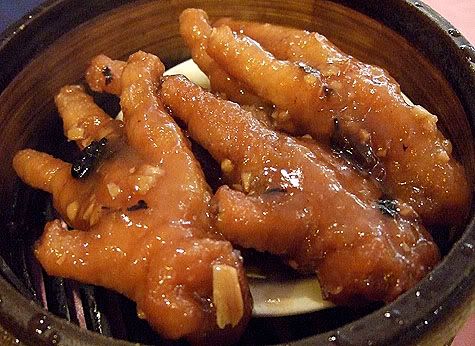 We were glad to see tht they serve xiao long bao or Shanghai Dumplings, which is always a favorite. These were served with a pungent red vinegar but the dumplings didn't have much soup inside and actually seemed a little dry.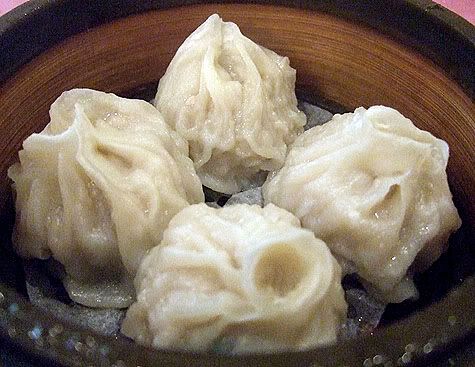 They tasted like plain pork shumai dumplings with thicker wrappings.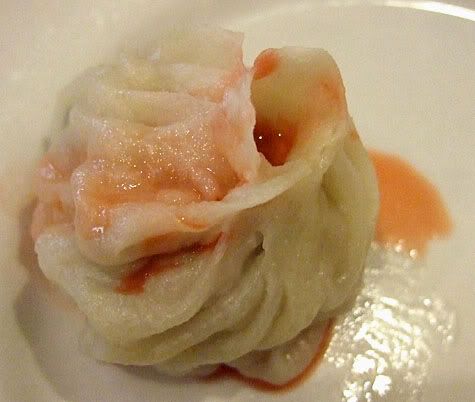 This was my favorite dish, it is sticky rice noodles sauteed with pork, vegetables and mushroom. The texture of the noodles is dense and chewy, similar to Japanese mochi but in thin slices that are irresistible.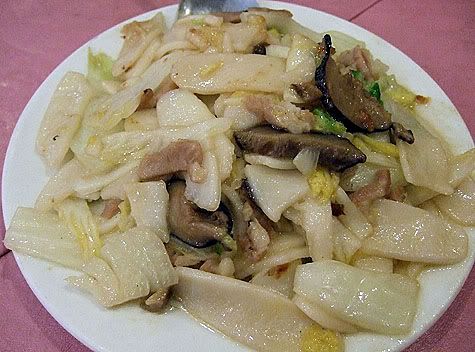 The Black Bean Spare Ribs were kind of greasy, skimpy on the meat and a bit fatty. They were flavorful though and I found myself gnawing on the bones…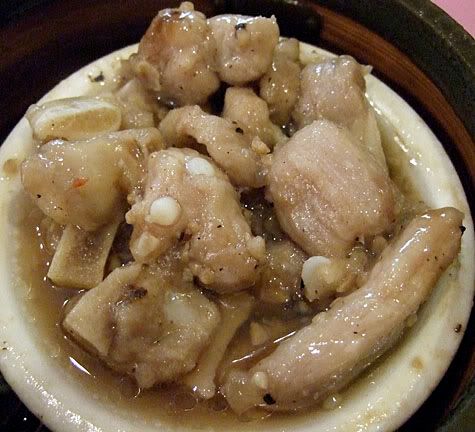 Erwin said he thought that the Har Gow Shrimp Dumplings were bland.
Since we had AL and JY at the table, I knew someone would order the Organ Delite… the malodorous and viscous brew of turnips, tripe, and other bits of ganglia.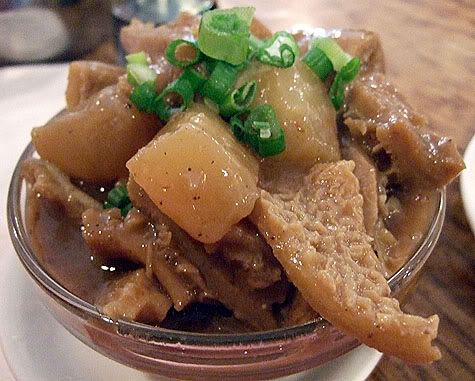 I heard the server say Shrimp Roll and we all shrugged and said sure, why not?. And that was how we got this order of fried and battered thing that came with a dollop of mayonnaise.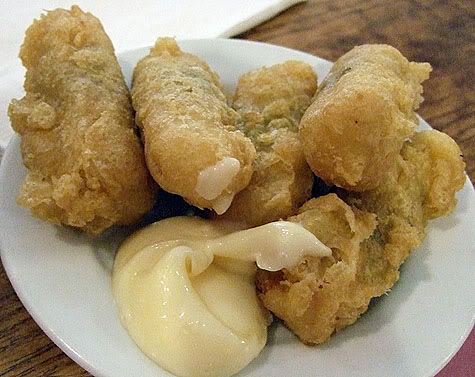 It did have a shrimp paste center that was rolled in dried seaweed and then dipped in a thick batter and fried. It was greasy and I'd never seen anything like it before. It was kind of good, but I wouldn't want it with the mayonnaise, maybe a ponzu sauce or something to cut the grease a little.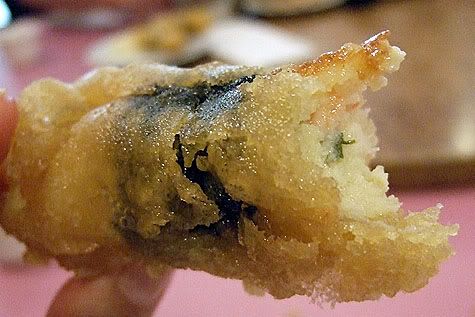 StevieB can never say no to the Baked Pork Buns which were on the small side, and yet they cut them in half. You can see that there is not much filling.
Crispy Fried Shrimp Dumplings served with mayonnaise. Someone always wants this dish, but it is fried and greasy and served with fat… not my personal favorite.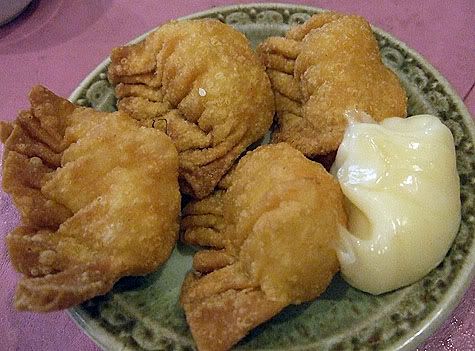 Cody can't pass up the sweet Pineapple Buns with the crumbly sweet topping and gooey custard filling.
I love the Black Sesame Paste filled Rice Flour balls
The outside layer is thick and soft and made of glutinous sweet rice powder and filled with a sweet paste made of ground black sesame seeds. The sesame seeds add a light nutty flavor and crunchy texture.
StevieB has a bad sweet tooth and he held up his hand when the Egg Custard Tarts came by. They were still warm which seemed promising, but the bottoms were hard and dry, not the buttery flaky crust that I was hoping for.
If you were to ask my opinion, I'd have to say that Y. Ben House's greatest strength is the price and the big portions. But for me personally, it's not my favorite place to go for dimsum. There were things that were good, but it seems to be a bit hit and miss, which can be the downfall for any dimsum restaurant.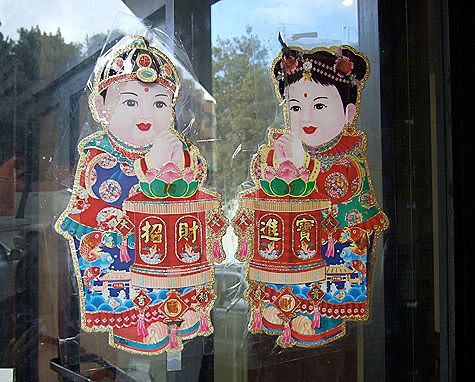 Oh and btw, they have achieved a score of 80 on the Cleanscores.com website, beating out Gold Mountain, but not City View Restaurant (95). Kinda funky, a bit of a dive, but you can order all you want and I bet the bill will be under $10 each for a group of hungry people.