1581 Webster Street (at Post), SF, CA (415) 346-3030
Dinner out on Monday is an iffy proposition, mostly because a lot of restaurants are closed. For some reason, I had forgotten this fact. Monday seems like a prime dining out night especially because it's the first day of the work week and I am generally feeling wiped out after eight hours trying to dig out from under the pile of electronic communication and conference calls. And so we were nonplussed to find after elaborate coordination and planning of schedules with a group of girls, that our restaurant of choice (Palencia) was not even open on Monday… Those plans dissolved and next thing you know I was taking the 38X bus down Geary on my way to Japantown where I meant to show my good friend TK the hidden passage where my favorite sushi spot of all time, Ino Sushi is. We met and walked down the obscure hallway leading from the Kabuki Hotel only to find that Ino Sushi is also closed on Mondays… It seemed that half of Japantown was closed on Mondays! Since I am opposed to eating sushi off of a conveyor belt, we ended up on the opposite end of the mall at TK and Matt's old standby, Fuku-Sushi.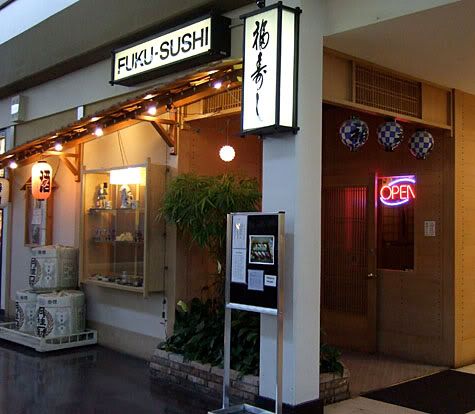 We were ignored by the sushi chefs when we walked in which made me wonder when did the practice of yelling out the japanese greeting Irrashaimase stop? It used to be standard for the staff to warmly greet you with this traditional welcome, but I'm noticing that is no longer the case. Our waitress silently seated us in a booth towards the back and handed us menus. From this point on, we had a server in trainee dropping off the dishes under the harshly critical eye of the boss waitress. The boss girl stood beside the trainee and would hiss at her (in Japanese) that we didn't need those plates yet, that was for the sushi… glare at her while re-stacking the dishes and then reorganizing the table to her liking. Our conversation would fade out as we were mesmerized by their subdued grappling.
The menu is pretty standard, so we started with a plate of chilled steamed spinach (Ohitashi) served with a mixture of soy sauce and dashi stock, then sprinkled with dried bonito shavings (katsuobushi). It was jarringly cold which made the smokey flavors seem unmatched with the dark salty soy sauce.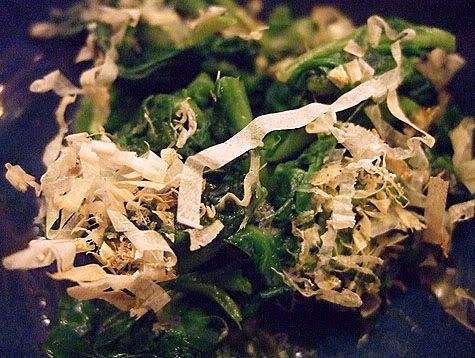 I ordered a Prawn Sunamono, which was an absurdly small pile of cucumber slices topped with a few prawns in a light dressing of sweetened vinegar. It was garnished with green onion and lemon slices then sprinkled with toasted sesame. It was very small and I wished we could order it supersized…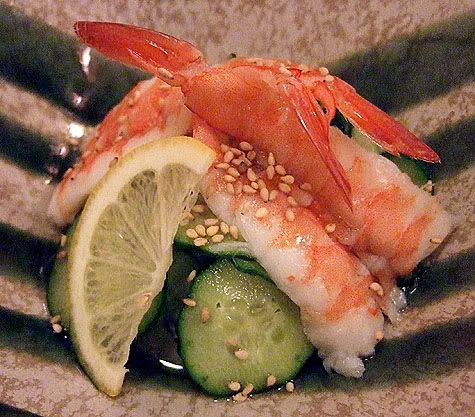 We split a couple of orders of Chicken Yakitori, which are pieces of chicken and green onion that are grilled on skewers and then doused with teriyaki sauce.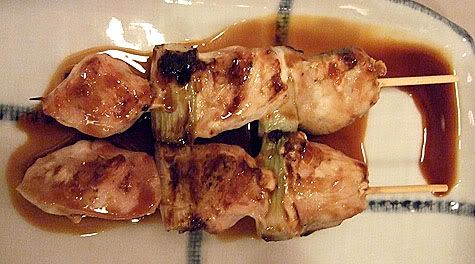 We each got an order of the spicy rolls, a Spicy Tuna Roll and a Fiery Hamachi Roll.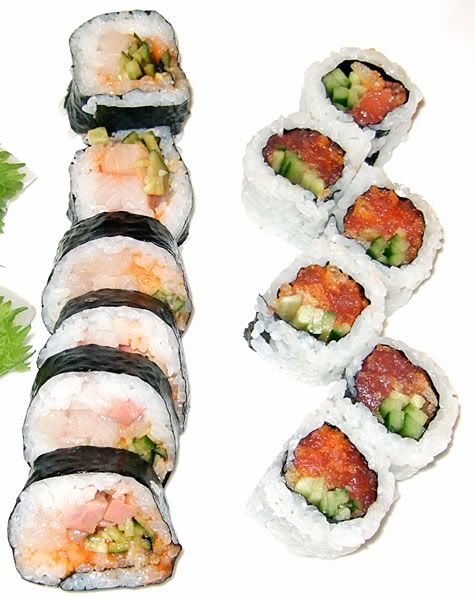 It was interesting to try the two spicy rolls, the hamachi was rich and fatty and had more rice. I personally liked that better than the spicy tuna.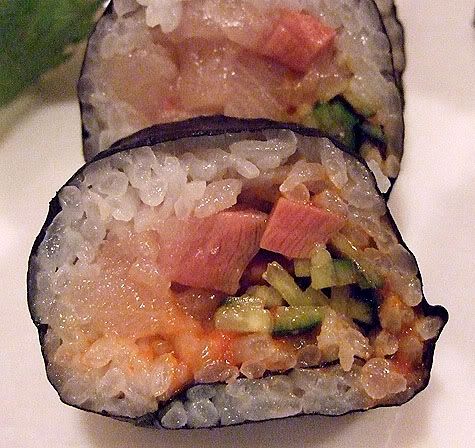 I was hungry and needed to fill up with some nigiri, the Salmon roe (Ikura) popped open lapping at my tastebuds like waves of the sea.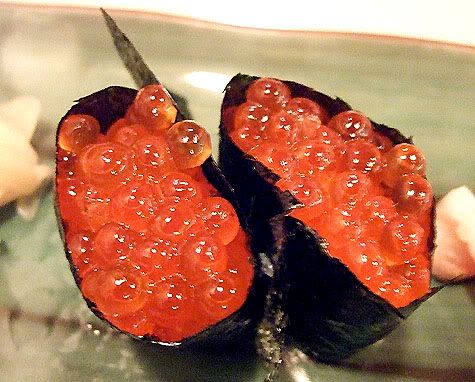 And then in honor of my two kitties, I had my favorite combination of Ika and Shiso leaf nigiri. The ika flesh was tender with a snap and had an excellent creamy texture with no sign of stringiness.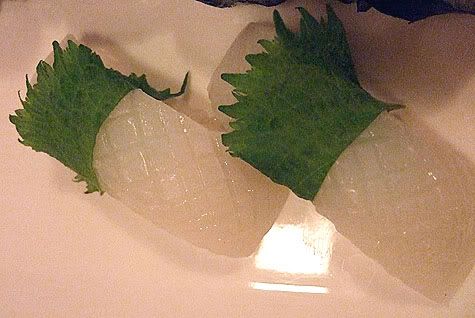 Since the hamachi in the roll was so luscious, I had two pieces of Hamachi Nigiri, which were soft and buttery.
We had one dish that was very blah, the Grilled Eggplant, which was mushy and had an overpowering smoky flavor that was mismatched with the acidic ponzu dipping sauce. I was hungry though and ate the whole thing, to save face, really…. we didn't want to insult the chef.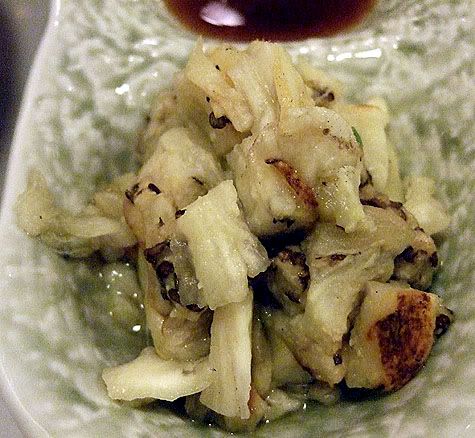 Now, that is all that we had and our bill came to $46 each! We did split a couple of big bottles of beer over our meal, but I was a bit surprised at the cost. The quality of the food was good, the portions were very small and I think that TK didn't like the non-sushi items, because I cleaned off most of the dishes. We talked about stopping off at Kinokuniya bookstore to browse for a bit, but were somehow not too surprised to find their windows darkened and the doors closed…