514 Lighthouse Avenue, Monterey, CA 93940 | 831-649-3474
We came here based solely on the fact that it was a five minute walk from our hotel and I was vexed to see one of the guys rolling up a California roll with shredded fake crab mixed with mayonnaise as we were seated at the sushi bar. Argh… that is not right – it makes me think of a tunafish salad roll… But I digress because as long as you don't order that, you're fine. In fact, Mr. K says it was some of the best sushi we have ever had.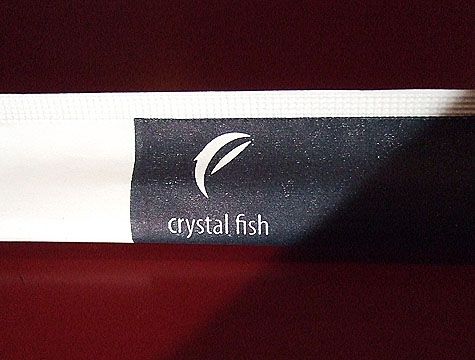 Our order of Edamame was a large platter liberally coated with salt in one corner… it was about three times the normal serving and we couldn't finish it!
I must point out that the fish was very fresh. The Amaebi or sweet spot prawns were so fresh, in fact they were alive and kicking as evidenced by their still moving antennas and legs. Our sushi chef quickly transformed them into nigiri while we watched in disbelief… damn disney making me see them as cute smiling cartoon characters and do I need to be personally introduced to my dinner before I eat it?!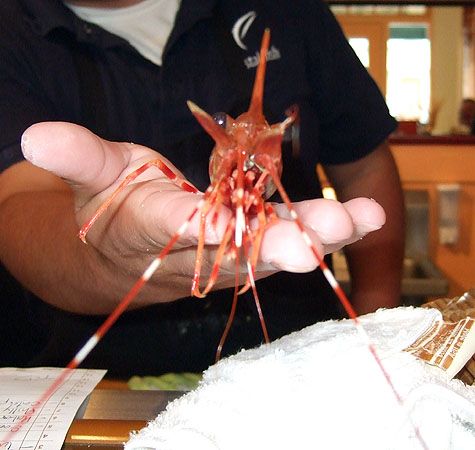 And the now beheaded, shelled and amputated carcasses were served to us as pristinely beautiful pieces of sushi… These were fresh and clean tasting – so tender that it seemed to melt in your mouth.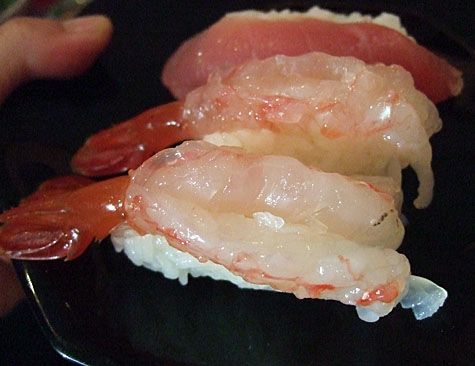 After a short while, we were served the heads, lightly battered and fried to a golden brown crisp. The shells are a little bit tough but add heft and a wonderful neanderthal crunchiness that conceals the rich creamy contents of the er upper torso and internal matter. The legs are delicate hollow tubes that are transformed with fried crispy batter into delicious crunchiness. They are a lip smacking treat dipped in the accompanying ponzu sauce…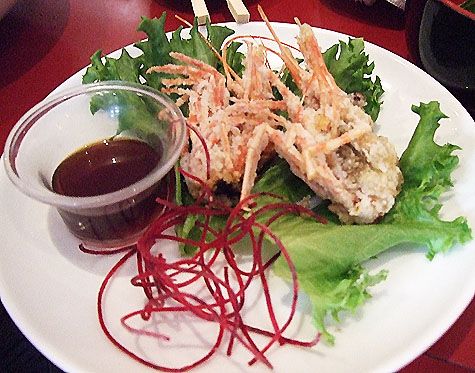 And then the next day we go to the Monterey Bay Aquarium and I see his entire family frolicking in a lovely tank full of local spotted prawns. It's kind of sick but I admit that there were a couple of times that I turned to Mr. K and said imagine that filleted and lightly sauteed in butter… during our tour through the aquarium. Should they even be letting people like me in?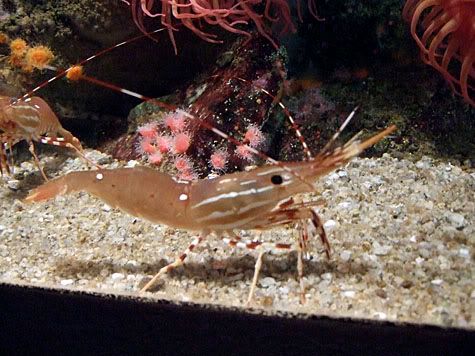 Next we had an amazing plate of Fresh Live Scallop which had been cut into velvety soft cutlets that were ethereal and luscious. The meat was succulent and sweet and best with just a hint of lemon juice squeezed from the accompanying slices. It also came with the crunchy muscle that was served in thin ruffled strips that we jostled over with our chopsticks.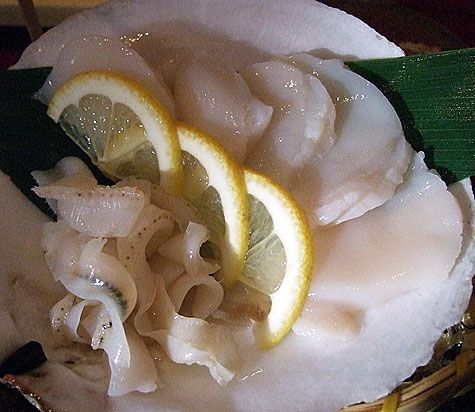 The scallops were so tender you almost needed a spoon to scoop them up with.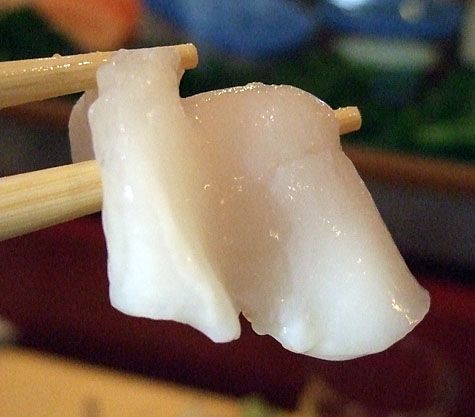 Mr. K loves Snapper, which is fluffy and delicate and not as fatty as I like… it had a lovely pink color.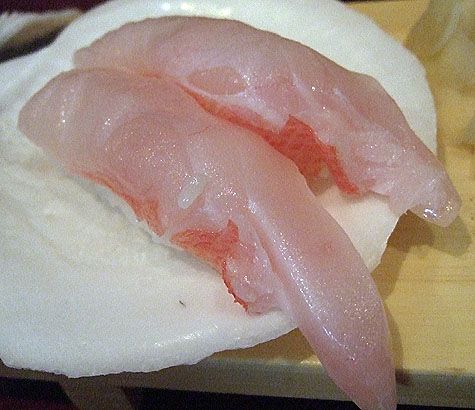 We had a couple of orders of Ika with Shiso, made of local calamari which was fresh and tender.
We asked the chef to cut the pieces in half you can see how soft and tender the meat was.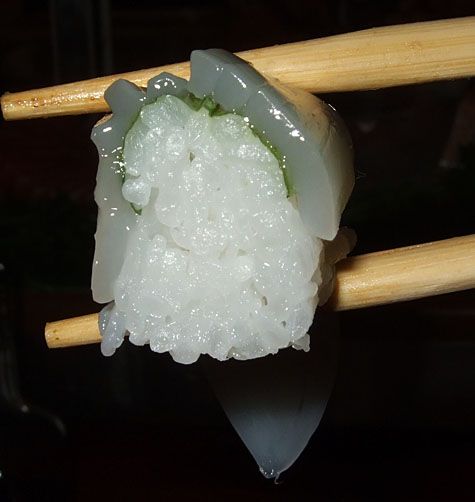 We decided to try the BBQ Hama Hama Oysters that took a while to cook, apparently they steam them first then grill them with a soy based sauce and then topped with sriracha chili sauce and green onions.
This particular shell was about eight inches long and I tipped it up to my mouth so as to not waste the delectable broth. Once again, I descended rather quickly into uncivilized behavior that evening, but it was worth it.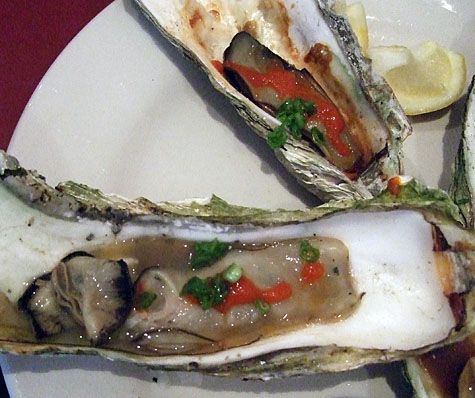 We finished it off by sharing a scoop of Green Tea Ice Cream, although our neighbors said that the Tempura Cheesecake was not to be missed. However after the ice cream, we were unable to contemplate fried cheesecake, so next time…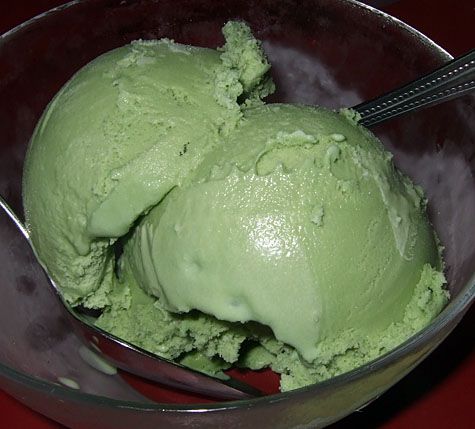 The sushi bar was filled with locals who were all devotees of the fresh fish served here, a very good sign indeed. Mr. K prefers to sit at the sushi bar which generally has a more convivial social scene than if we sat at our own table. And so we watched in fascination as two regulars chugged the house oyster shooter, which I regret that I didn't have the wits to capture with my camera. The chef filled a white wine glass slightly more than halfway with sake, slipped in a raw oyster, cracked in a raw quail egg, a large scoop of uni (sea urchin), then squeezed in a good dose of Sriracha chili sauce and a sprinkling of sliced green onion. These two became very jolly and were beaming with high spirits.
We left, feeling very lucky to have stumbled onto this wonderful hidden gem where we were welcomed as if we were part of the extended family.