401 Balboa Street (@5th Ave), S.F., CA 94118 (415) 668-6007 | menu | Hours: Mon-Sat: 11a-11p | Sun: 5p – 11p
I had been craving spicy tofu soup recently and was lucky to score an invitation to a delicious dinner of home style cooking at Muguboka last week by KC, who has proven to be a most reliable guide in our explorations of Korean food. The restaurant is in the inner Richmond on a fairly quiet section of Balboa Street with bright neon signs advertising Korean BBQ, which is strange because it isn't equipped with the built in tabletop grills and overhead to cook your own…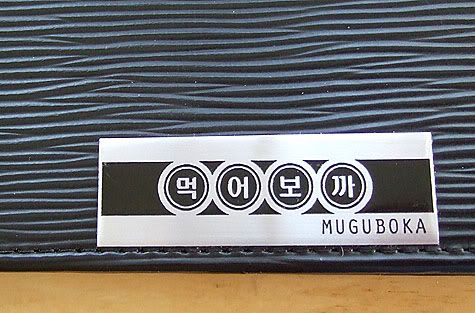 We met up on a quiet Tuesday evening, early to beat the crowds. I watched KC whip her chopstick envelope into a very nice looking holder. I should have watched closer cuz I still have no idea how she did it and it looked very elegant and is useful to boot.
Our server arrived bearing a trayful of little dishes of pickles, kimchis and dried fishes, called Panchan that are served with every Korean meal I have ever eaten at a restaurant. We had an assortment of eleven dishes! KC described the contents of each dish for us, there was only one that I had never tried before, it had sliced hot dog in it. Boy howdy – hotdogs and kimchee! Everything looked so beautiful in the late afternoon sun, the vibrant colors of the red chili infused dishes glowed against the pristine white ceramic bowls.
[slideshow id=216172782130115035&w=476&h=370]
This is a picture of one of their specialties Agu Jjim, Monkfish in a spicy stew topped with beansprouts and what KC pointed out as the mystery seafood thing. The stew was thick and spicy the stringy stuff on top look like noodles but are actually sprouts. I dug out two morsels, one was a big chunk of bone and felt like a piece of plastic in my mouth and the other was the mystery nugget from the sea.
The mystery nugget was like large, saggy grape with wrinkled leathery skin that was tough as if it had been dried and partially reconstituted. My teeth broke through the membrane after a determined crunch and it dribbled out an oily substance. We asked the server but she only knew the Korean name for it, which I don't remember. This was a small cluster of pods, and we wondered if it were a plant or an animal… it reminded me a little bit of the ink sack from dried cuttlefish.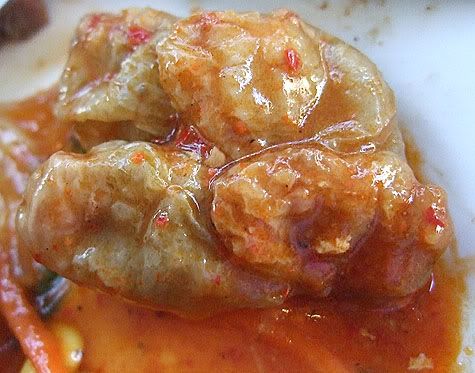 HaeMoolPaJun $13.95 pancakes with seafood and green onion. These are similar to japanese Okonomiyaki and full of fresh succulent shrimp and octopus chunks.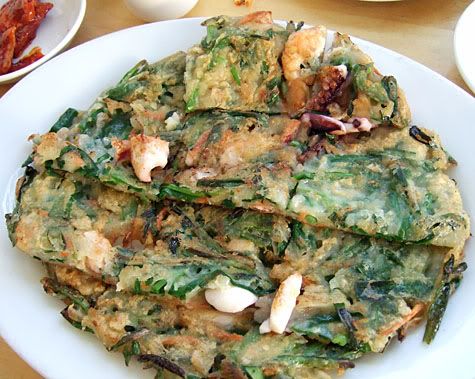 Mmm but the batter on this is perfectly crisp and not greasy or doughy and tasted fresh from the griddle.
It was served with a salty and tart dipping sauce very similar to Japanese ponzu.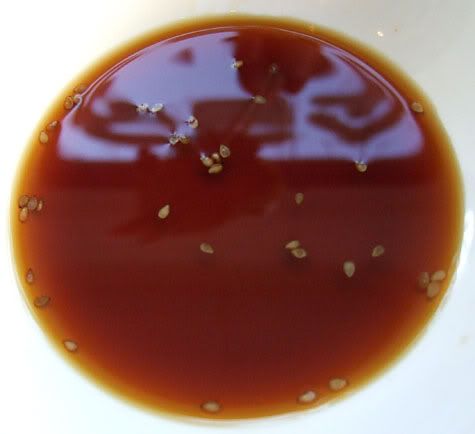 Grilled Beef Short Ribs, Kalbi. Big thick garlicky hunks of meat that were charred on the outside. It was pretty rare on the inside and tasted delicious paired with bits of the pungent savory panchan.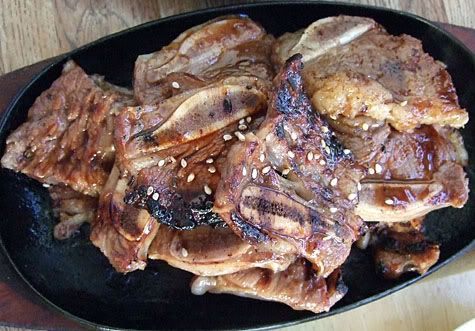 Tofu Soup (Soondubu) was spicy and full of soft custardy tofu. This is even better after walking around in the chilly San Francisco wind.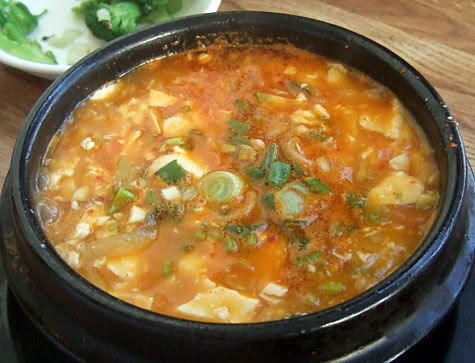 KC ordered everything for us and we had this Spicy Tofu with Bacon and Kimchi. I think it was bacon, or it could have been pork belly – it was salty and infused with the spicy sauce… and had the trademark dense meaty feel of well cooked bacon. Yes, this place has delicious combinations of my favorite foods. Hot dogs, bacon and kimchi.
Our server was super friendly and very patient with me and the camera! She came by with a big steaming plate of Jab chae, noodles with beef and vegetables, on the house!
You can see that she is laughing at me but she was nice and posed with the noodles. This is one of my favorite dishes. It has the springy clear glass noodles which are sauted and piled with julienned vegetables, beef and mushrooms and tossed with rich nutty sesame oil and other savory. It is generally thought to be a healthy dish, which is hard to believe because it is so delicious!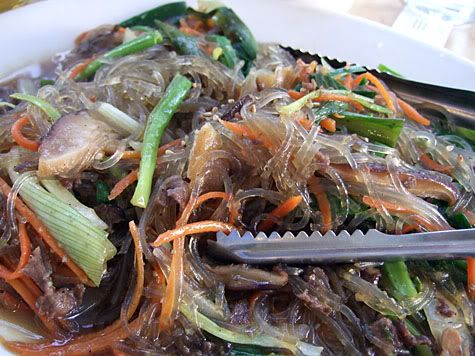 And I just love the little fishes on my rice. KC said that it affords quite a lot of calcium, which is excellent news for the bone density challenged.
After they cleared the table, we were served a refreshing cold herbal tea flavored with cinnamon with pine nuts floating in it.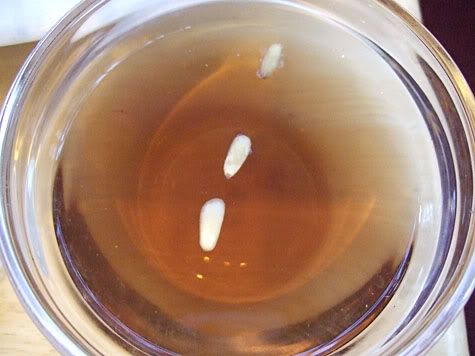 Another really good restaurant in the Avenues. I definitely liked Shin Toe Bul Yi better, but we tried different dishes at each place, so it's hard to say. Guess I'll have to go back to both and figure it out from there.