I had been harboring the worst craving for a kobe beef burger… Not just any burger, but a rich, tender melt in your mouth, juicy kobe beef burger. Kobe beef is meat from a prized breed of cow from Japan that according to folklore, has enjoyed an indolent lifestyle being fed rice, beer and being massaged daily with sake, which helps the meat develop richly marbled veins of fat. Mmmmm, fat… And so we went on our way to Butterfly Restaurant, down the street, which has large red banners advertising the kobe beef burger.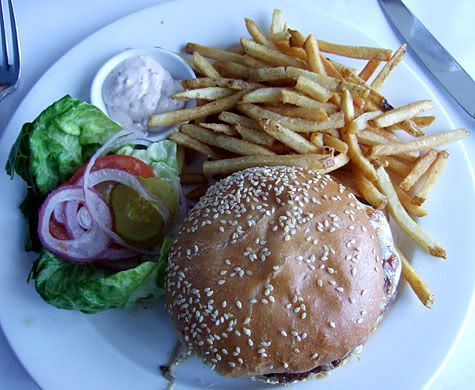 I love these, they are so rich and luscious! This is cooked medium, although I normally order beef medium-rare. It's dripping with juices and our waitress thought I was a serious nut-case when I whipped out my camera and started taking pictures of my beautiful cheeseburger…  I guess a regular person would take a big bite. Oh did I mention that it is piled with caramelized onion, bacon jam, Chabot Cheddar and Norm's special sauce?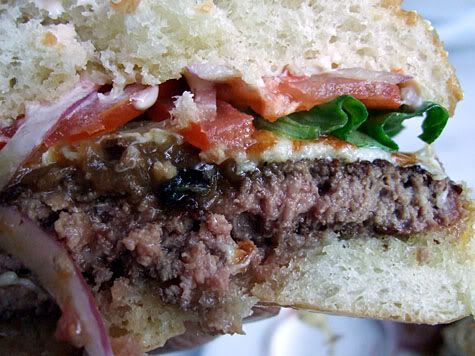 DDR had the Sashimi Trio Salad that was topped with gorgeous and vivid purple basil leaves and thin curlicues of bonito fish shavings and a few pieces of crispy fried unagi.. Underneath was a mound of thai black sticky rice, layered with slices of salmon, ahi tuna and hamachi.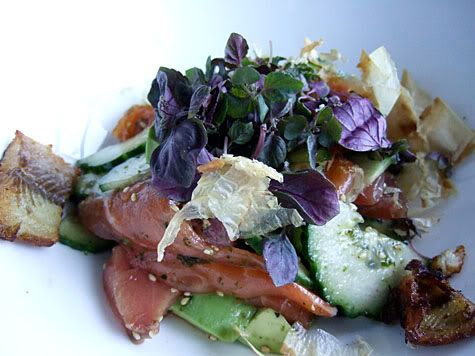 JT enjoyed the mighty Shaking Beef Cobb Salad, which is a smorgasbord of bacon, prosciutto, cubes of filet mignon, blue cheese, chunks of avocado and topped with a poached egg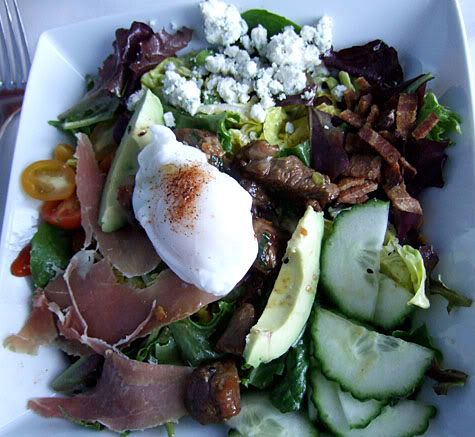 The egg yolk leaked out adding a silky sheen to the shaking beef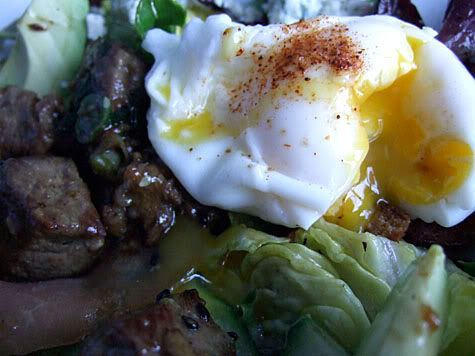 On the way out, we passed the to go counter where you can get a burger to go. DDR was unable to resist this delicious caramel nut bar. It was buttery and sweet – one of those delectable combinations of sticky gooey crunchy and crisp. We enjoyed this on the short walk back to the office, just what we needed – a sugar boost to help us through the inevitable food coma…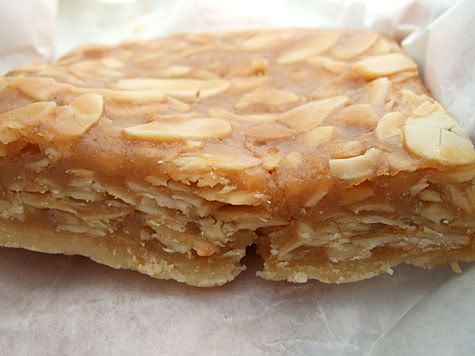 previous visits: lunch 9-27-07, happy hour 10-14-07, shaking beef cobb salad