previous visits: aug 07; jan 07
I visited here with my frequent lunching crew of JT, DDR and P last week. We all had scheduling issues, so P and I walked over early thinking we could snag a table only to find that they won't seat your party until everyone is there. The restaurant was pretty empty, but filled up quickly as we waited. Eventually we decided to eat at the bar so that we could place our orders since some of us had to be back to the office for meetings. The bartendress's were so nice, one of them tactfully pointed out that I had a big dried leaf on my head. It was a bit mortifying, but we did walk along the nicely shaded boulevard with all of those dang trees. Anyways, she laid out white linen napkins on the counter so we looked a little less frumpy.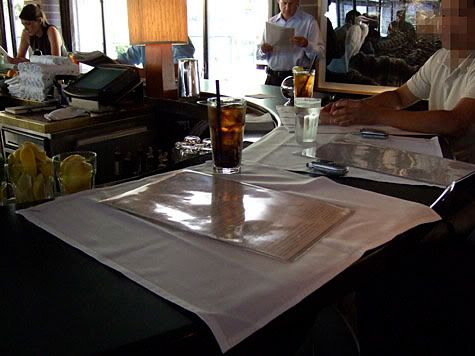 Everyone finally arrived agreeing that the bar was fine. JT was starving so she asked for some bread. I read that with the rising costs of grains that bread prices are going through the roof, so now most restaurants only serve bread on request. They still serve their rustic focaccia stacked on a pool of olive oil infused with herbs and a small handful of olives, almonds and crisp slices of fennel. What a delightful combination!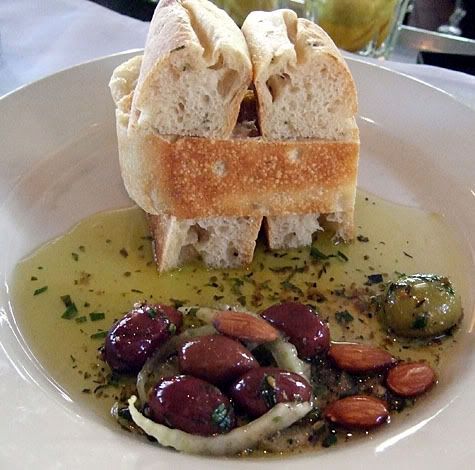 Look at this icy cold and refreshing glass of water…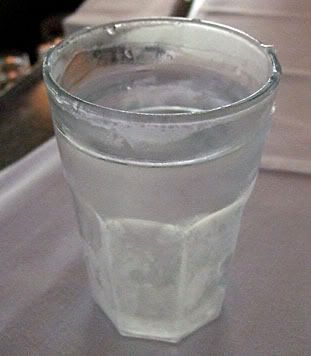 Ahhh, I finally got the Grilled Ahi Burger that I had been craving. The burger is made from chopped tuna mixed with some herbs and vegetables, then coated with breadcrumbs and spices and griddled until it develops a nice crunchy exterior, but the inside is juicy and very tender.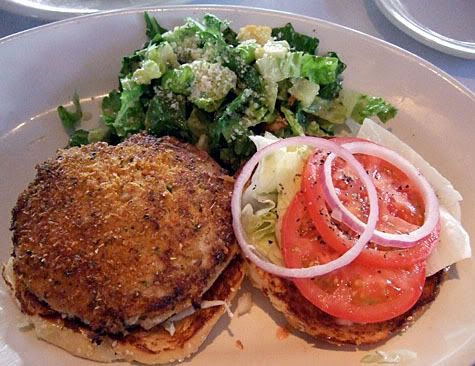 It's luscious and meaty but succulent, the texture is similar to seared tuna and I can't get enough of it, although this time I didn't get any pickles…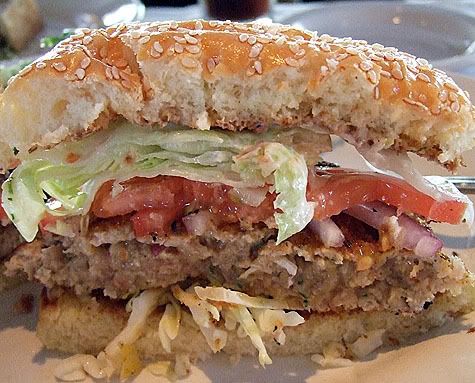 And I ordered a caesar salad on the side instead of fries because I'm seriously feeling chubby after months of prolonged gluttony! Good thing that we got bikes to burn off some of the muffintop pudge… I don't know if you can tell, but there was way too much dressing on this and the cheese looked like it came out of a green tinfoil covered shaker… It was harsh and bitter and so I promptly reached over and began to help JT with her big pile o' fries.
The fries are cut thin and in the revered style of McD's that we all love. JT seemed very happy with her Cheeseburger, although she ended up discarding the bun at some point claiming there was too much bulk.
DDr's Grilled Chicken Sandwich looked delicious, sprinkled with with spices and with two plump filets.
P had the French Dip Sandwich, which is the other sandwich from Houston's that I get cravings for…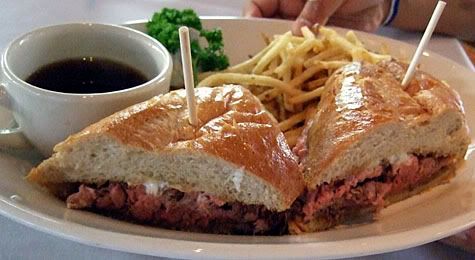 It's generously proportioned and perfectly cooked.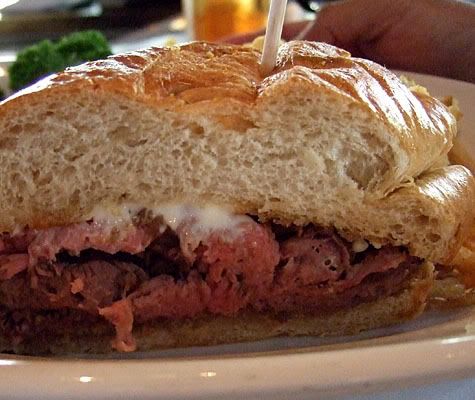 The prices are rather high, I generally spend about $20 for lunch, so it's not an everyday sort of place, but there are plenty of groups of office workers as well as a few tourists. We never seem to get there early enough to grab one of the outside patio tables, which have lovely views of the Embarcadero and bay.