pier 33 @ bay street, the embarcadero, san francisco | tel: 415.864.8999 | website
previous visits: 3-10-08, lunch 9-27-07, happy hour 10-14-07, 11-01-07
This is one of the nearby work lunchspots we go to for work lunches or sometimes I can't resist the urge for their kobe beef burger, or the shaking beef cobb salad, and then there's that decadent shrimp bisque with puff pastry topping… Yes indeed, this is definitely not low calorie dining… Most of the seats have a nice view of the bay and it's relaxing to watch the ship traffic chugging by and for the adventurous there are some rickety tables along the pier in back…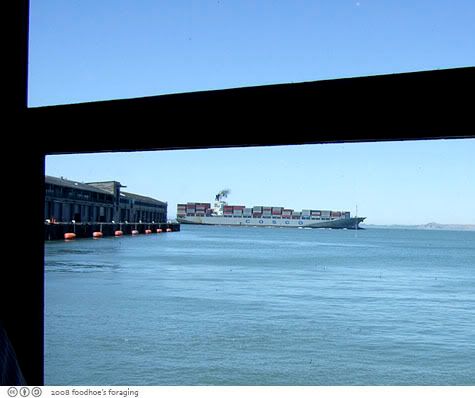 Let me reassure you that this is my final Dine About Town post for 2008! StevieB had been trying to arrange a lunch for the longest time and everything finally fell neatly into place for a grand Dine About Town (DAT) lunch. Even though I've eaten here many times, it's hard to say no to a 3-course lunch for $25. We dined with Jody who obviously had been here for the DAT as she assured us that the appetizers on the DAT menu were the regular size so that we could all share. And so we started off with Sonoma Liberty Duck Confit Spring Rolls ($9) served with a Chinese hot mustard and honey dipping sauce. The rolls were full of luscious fatty duckmeat, very rich and the kind of thing that needs to be served with a stack of lettuce to roll up in to lighten the richness (hint hint)… The sweet and sour dipping sauce had an addicting horse-radishy kick to it and went very well with the rich duck meat.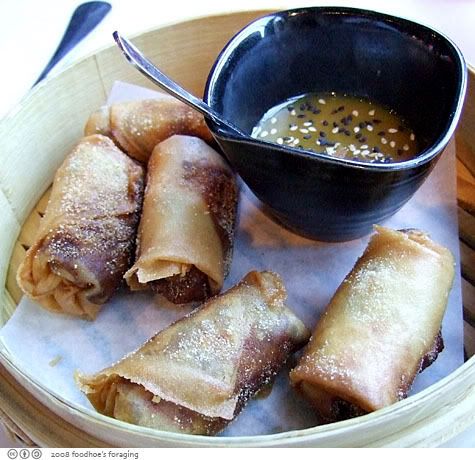 Fire Fried Calamari ($10) served on top of Ponzu and Lemon Dressed Cucumbers was sprinkled with toasted garlic and micro cilantro, then drizzled with Tabasco Remoulade, basically a spicy tartar sauce.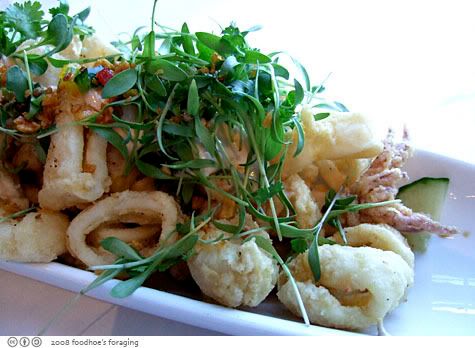 I was craving something light as I have really been stuffing myself on an epic scale recently! I had the Classic Caesar Salad ($11) which came as a stack of Romaine lettuce, a few Parmesan Croutons, and topped with Fresh Grated Parmesan Cheese. It definitely required some cutting up into more manageable pieces and was the perfect antidote to my recent glut of fried foods…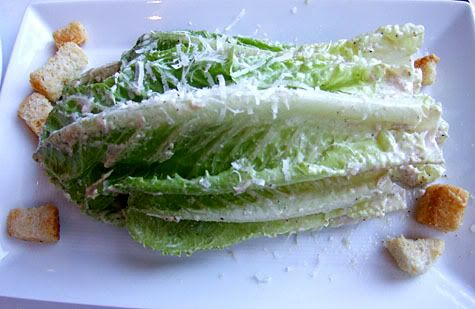 I had the Kobe Beef Albondigas Soup to complete my lunch of soup and salad. It was a rich beefy broth with an intriguing combination of large black sticky tapioca pearls, tender pieces of stewed beef, some tiny meatballs and was topped with a delicious crispy rice cake that was like a crouton. This was garnished with a handful of micro cilantro and fresh bean sprouts that added a nice fresh crisp element to the dish, very like pho and I thought it would be even better with jalapeno slices and a squeeze of lime. The flavors were a mix of mexican and vietnamese with a fantastic variety of textures – albondigas meets spicy vietnamese beef stew with tapioca pearls.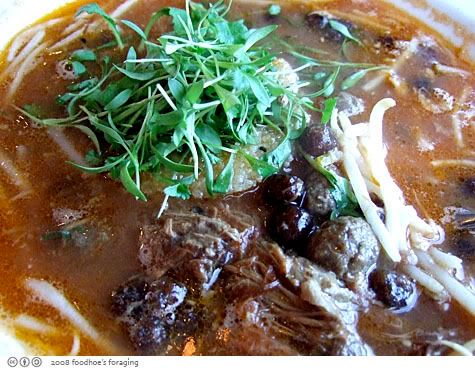 StevieB had the Turmeric Grilled Snapper with Sizzling Onions and Herbs ($14) that came in a smoking hot cast iron pan. It crackled and snapped and emanated tendrils of delicious fragrant smoke that wafted up from the pan.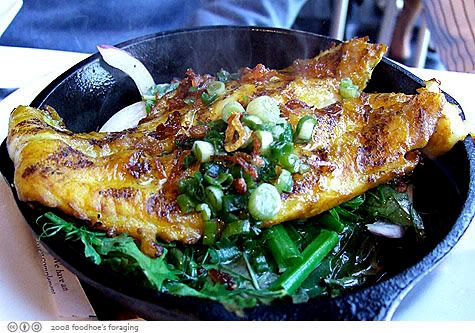 On a separate plate were served Cold Rice Noodles, Vietnamese Herbs Salad, "Nuoc Cham" Dipping Sauce.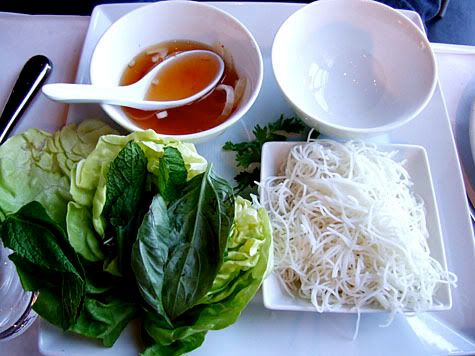 It was a big pile of food and StevieB gladly offered to share. Using the butter lettuce, I put some of the fresh mint and basil leaves, then some noodles and a chunk of the snapper in and rolled it up. It was really delicious and I'm thinking that I can do this at home…
This is Jody's Pan Fried Shanghai Garlic Noodles ($10) mixed with tomato and garlic confit, green onions, and toasted garlic. She asked for hot sauce and was given the choice of Tabasco or Tapatio. This selection seemed odd at first, since the restaurant is very much Asian-influenced, I would have expected Sriracha Hot Chili Sauce
, or maybe Chili Garlic Sauce
, but in the spirit of fusian cuisine, we had to assume that was intentional and not an oversight…

Scotty, Jodys' associate had Mesquite Grilled Tuna "Nicoise" (14) which was served in a vertical presentation topped with a creamy egg remoulade then garnished a layer of plump fried smelt and sprinkled with spicy daikon sprouts (kaiware). Encircling the plate were stacks of thin slices of new potatoes and a scattering of nicoise olive tapenade.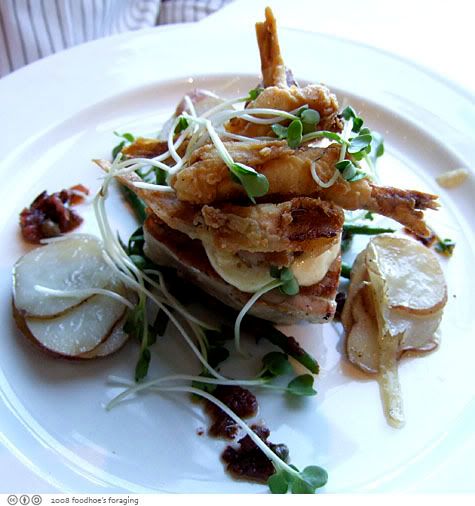 We shared a Creme Brulee which was rich and creamy under the crisp caramelized topping.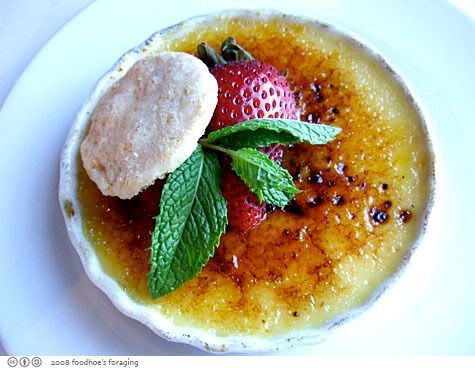 And the Chocolate Molten Cake with espresso ice cream was like a brownie with a sticky gooey center, which while it did not exactly flow like lava, it was rich and chocolaty and perfect with the slightly bitter espresso ice cream.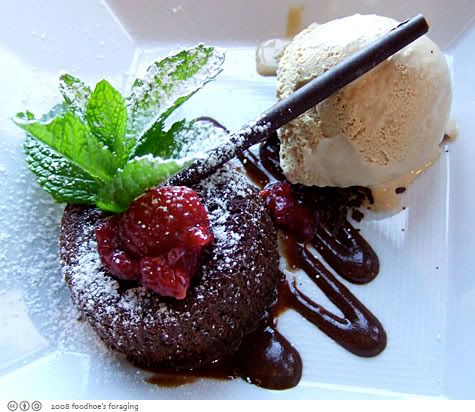 I'm not sure that I would be such a frequent diner at Butterfly if it weren't so close to the office where I work, but I'm glad that it is because it really gives me the opportunity to explore the menu in detail. I was excited to have found another interesting dish to my lunchtime possibilities. It gets consistently negative reports on both yelp and chowhound, which I do refer to when I'm looking for somewhere to eat, so it makes you wonder. But then, you can't account for some peoples taste… least of all the foodhoe's! The only complaint that I consistently experience is the slow and forgetful service, which is surprising when you consider that it is so close to the financial district.